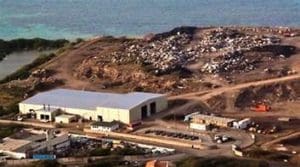 The Virgin Islands Waste Management Authority (VIWMA) advises the public that there was an error in a recent communication from Government House regarding its tipping fees.
For clarification, tipping fees are still in effect for all commercial/business solid waste haulers.  The only exceptions at this time are for those solid waste haulers that are contracted directly with the Waste Management Authority to pick up from bins, homes and convenience centers throughout the territory (i.e., STT/STX house-to-house collection, STT/STX bin site collection, Peter's Rest Convenience Center, etc.).
Tipping fees are essential to fund necessary functions at the landfills including daily operations, equipment purchases and environmental monitoring. The tipping fees are set at $2.50 per cubic yard with an annual increase of $1.25 over the next 5 years of implementation.
Reach out to Floy Sackey, director of solid waste, if there are any questions.