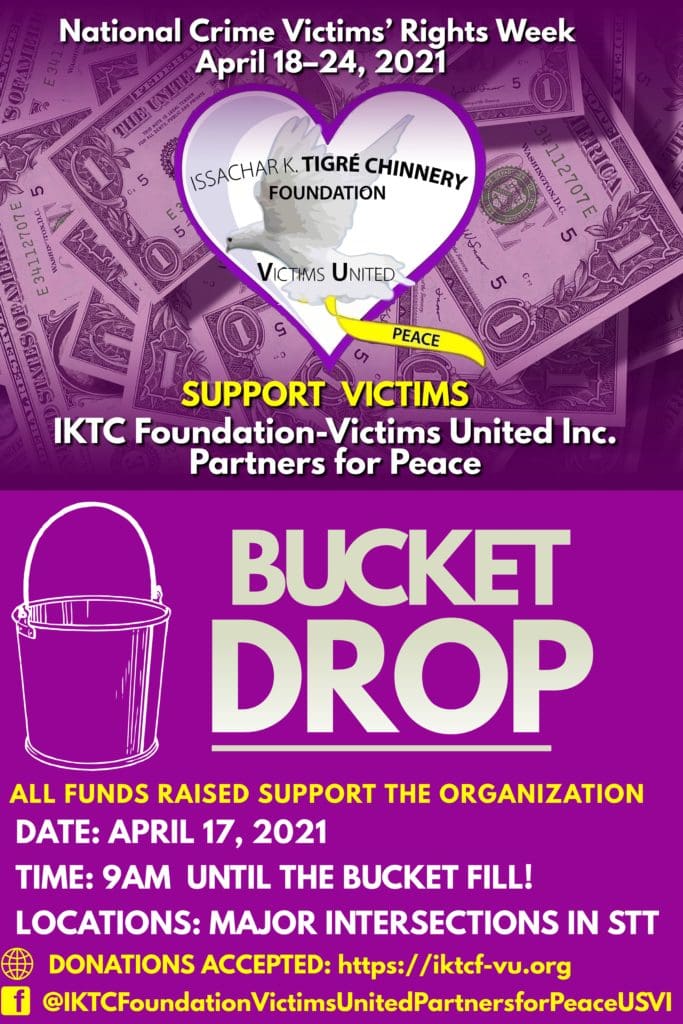 Members and supporters of Victims United will be taking to the street corners around Charlotte Amalie with buckets on Saturday morning to raise money for the organization, which was started in 2009 just months after founder Bernadette Gonsolves lost her son Issachar Tigre Chinnery to gun violence.
In the absence of any significant funding in the recent past for the organization – which has over the years provided a myriad of support services for the families of homicide victims, training for professionals in the field and tirelessly advocated on behalf of its clients – Gonsolves and the team of volunteers are taking matters and buckets into their own hands. Support from NGOs for survivors is particularly important since many are disqualified from compensation, which pays for among other things funerals and burials only if the murder victim's conduct did not "contribute to their own deaths," according to legal statutes in the Virgin Islands and mainland U.S.
Gonsolves' idea for the bucket brigades was born out of "determination," she said. "We are not giving up; we are not giving up on the survivors; we are not giving up on the caregivers; we are not giving up on the community."
If you use a factor of 10 survivors for every homicide victim – which is the factor generally used, according to Gonsolves – and if you multiply that using the number of homicides in the territory since the Source has been tracking them until today, 919 – that is conservatively 9,190 survivors who could use support services.
The timing for the fundraising was not random. Sunday marks the beginning of National Crime Victims' Rights Week.
Initially, the effort was to go from 10 a.m. to 2 p.m., but volunteers said they didn't want to limit the time. Gonsalves changed the poster to read, "9 a.m. till the bucket fill." Also, the effort was planned for corners around Charlotte Amalie but has expanded as far as Red Hook. In between, there will be bucket drops at Omar Brown Fire Station across from Barbel Plaza and George Scott Fire Station in Tutu.
Senators, student advisors, students and many others have stepped up to volunteer to be guardians of the buckets and advocate for families and friends of survivors.
"We wanted to give the community the opportunity to become involved," Gonsolves said. "And they have."
If you wish to volunteer, call 340-642-5204. To donate go to https://iktcf-vu.org/.