Miss St. John Festival Queen Kinia Blyden, St. John Festival Princess Ashyria Kelly and Festival Village Honoree Ira Wade cut the ribbon to officially open Wadesville on Wednesday night, June 29, with the help of Lt. Governor Gregory Francis, Cheryl Francis, Delegate Donna Christensen (front), and Senator Ronald Rusell, Senator-at-Large Craig Barshinger and Senator Shawn Michael Malone (back).
The sound of steel drums rang through the air as Ira Wade beamed with pride on the stage during the opening ceremony of Festival Village in the U.S. Custom's parking lot in Cruz Bay on Wednesday evening, June 29.
Wadesville officially opened with the cutting of a white ribbon at the Festival Village entrance, but not before government officials and St. John residents took the opportunity to honor Wade.
As the St. John Deputy Commissioner of Operations for the Department of Public Works for the past 16 years, Wade has played an integral role in helping the island recover in the wake of natural disasters.
As a volunteer with the Love City Pan Dragons for the past 17 years, Wade takes great pride in the youth steel band's impressive performances on Love City and throughout the territory.
The Pan Dragons seemed to play with extra gusto on June 29 as St. John gathered to open Festival Village in honor of Wade. Following a powerful rendition of the National Anthem by Shikima Jones, the Pan Dragons played the Virgin Islands March and Jane Johannes welcomed the crowd to the 58th annual Festival Village opening.
Introducing Wade, mistress of ceremonies Alecia Wells talked about his hard work and dedication to the community of St. John.
"Everyone knows that if there is a hurricane, Ira is going to be out there," said Wells. "Everyone knows that if there is a natural disaster, Ira is going to the be out there. He started at FEMA and then Human Services and finally he ended up at Public Works, where he has been for 16 years."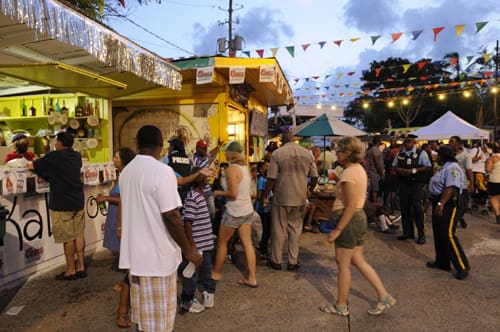 Residents packed Festival Village on opening night, above.
Drawing on his 30-year military career helps Wade run an efficient department, Wells added.
"With his military background, Ira doesn't stand nonsense," said Wells. "He is a time-oriented person and he always gets the job done. Ira is the type of person if someone is not moving fast enough, he takes it over and then it becomes his job."
After years of turning down the offer, the reluctant honoree finally agreed to stand on the stage and accept his accolades, Wade explained.
"I've been fighting this for four years," Wade told the crowd at Festival Village. "I didn't want to come here and stand up in front of you all. I like to be in the background watching them cut the ribbon."
When Wade arrived in the Virgin Islands more than two decades ago, he didn't know the first thing about Festival or steel pan music, he explained.
"When I came here 22 years ago, I didn't know anything about Carnival; I didn't know anything about steel pan; I didn't know anything about Public Works," said Wade. "What I knew was 30 years of military training. Then I met someone named Hugo on September 17, 1989 and everything changed."
"I came here to retire, not to work," he said. "I had two weeks off when I first got here and those were the last two weeks I've had off in 22 years."
Wade has also worked with the St. John Festival and Cultural Organization, as the chairperson of Pan-O-Rama and is responsible for constructing the village and pageant stages. Most of that time has been positive, Wade told the audience at Festival Village.
"My experience with the Festival Organization has been 99 percent positive," he said. "Sometimes it is challenging. We are a small group of hard working people who all have their own ideas."
Wade took a break from the microphone to share a special gift with the organization and the crowd — the Love City Pan Dragons.
"I would like to give something to the committee and the crowd," said Wade. "We spend hours with these children and I would like them to pay tribute to the platform guests and the audience. Hear these children play.
The Pan Dragons wowed the crowd with their rendition of Johann Sebastian Bach's Toccata and Fugue in D Minor.
"See what we can get out of these children if you invest time and a little bit of money," said Wade about the Love City Pan Dragons. "I want you all to see if you invest time, what you can get out of the future of St. John. That is the future right there."
While handing Wade a plaque in honor of Wadesville, Johannes had one reminder for the man of the night.
"This does not mean that your work is over," she told Wade.
Delegate to Congress Donna Christensen, Senator at Large Craig Barshinger, Senator Shawn-Michael Malone, Senate President Ronald Russel and Lieutenant Governor Greg Francis each took the microphone to honor Wade and urge the crowd to enjoy the sights, sounds and flavors of Festival.
As the Pan Dragons kept the crowd entertained, St. John Festival Queen Kinia Blyden, St. John Festival Princess Ashyria Kelly and Wade gathered with other dignitaries to cut the ribbon at the Village entrance and officially open Wadesville, but the party was just getting started.
A huge crowd sampled the food in village on June 29 and stayed to dance to Cool Session Brass and Poison until late into the night.