The Winston Wells ballfield went to the dogs on Saturday evening, May 12, when more than 500 St. John residents and their pets attended the seventh annual Wagapalooza island dog show.
The show, which is the main fundraiser for the Animal Care Center of St. John, raised more than $30,000 for the shelter.
"It went great," said Wagapalooza organizer Nancy Louis. "This was a busy one. We figure we had more people this time than ever — 500 plus."
Money was raised through the sale of raffle tickets, refreshments and the sale of ad space on the Wagapalooza t-shirts.
Logo Contest
"We have to thank the St. John Board of Realtors, who give us $3,000 every year," said Louis. "Our other big advertisers are Caravan Gallery, Mongoose Jun-ction, 776-POOL and FirstBank. Premiere gives us liquor, and of course all the publicity we get from the St. John Tradewinds is always a good thing."
The t-shirts featured a design by last year's contest winner, Gifft Hill School fourth grader Nadia Sharif. Julius E. Sprauve School fifth grader Shemaera Fahie won this year's t-shirt design contest. Her design will be featured on Wagapalooza 2008 t-shirts and posters.
"The logo contest is our way of trying to involve the schoolkids more with the idea of being kind to animals," said Wagapalooza organizer Suzanne Kirk. "They want to come to the event to find out who won."
One of the more popular raffle prizes — a dog house from St. Thomas company Doggoneit — ironically went to the Donnelly family, owners of Coral Bay shop Jolly Dog, who started Wagapa-looza eight years ago.
Senator, Nurse as Judges
"We had a raffle for a dog house from Doggoneit — she donated one for the raffle, and one is at the shelter — and Jen Donnelly won the dog house," said Louis. "The irony of that is they're the ones who started Waga. They have three dogs, so they can definitely use the dog house."
The island's dogs had the chance to show off their special skills, including best costume, best kisser and best trick.
Judging the dogs were Senator at Large Carmen Wesselhoft, De-partment of Public Works St. John Deputy Director Ira Wade, Public Health Nurse Jane Washburn and professional dog show judge Paul Jordan.
Allen Greathouse's three-legged dog Mitzie, who was dressed as a pirate — complete with hook — was popular with the judges.
"I had no idea that the hook was because he really only has three legs," said Washburn. "He was a crowd favorite."
Entertaining Antics
Mitzie walked away with the best costume and best in show awards.
The biggest lap dog category had the crowd roaring with laughter, as only one dog got up on his owner's lap.
"We were all laughing so much at the large lap dog category," said Washburn. "Richard (Singerle's) dog (Mali) just laid down next to him. Only one dog would get up on the owner's lap — what a laugh."
The dogs' antics kept the crowd entertained, explained Kirk.
"It was just sheer joy to see so many people laughing and enjoying themselves," she said. "The crowd seemed to be laughing at the silly antics of the dogs who wouldn't do what they were supposed to do."
Also providing entertainment were the Love City Pan Dragons and donkey rides, Kirk added.
Radio personality Roger W. Morgan, the event's emcee, kept the crowd laughing in between contest categories.
Hope Wins Babe Award
"He really made a big difference, getting the crowd really involved," said Kirk. "He did great spot for us in advertisements. Having him come from St. Croix was great."
The most heartwarming category, the Babe award — which goes to the ACC dog with the best success story — went to Hope, who is happy and healthy today despite her sad former life.
"Hope was found at someone's house tied with a chain that you'd pull a tractor with, and she could hardly stand," said ACC Shelter Manager Connie Joseph. "I picked her up, put her in my car and brought her back to the shelter. Emily, one of our volunteers, helped me carry her downstairs because she couldn't walk."
After spending some time at the ACC, Hope's condition began to improve, explained Joseph.
"After about a month, she got enough strength to move around and go on short walks," she said. "Her second month here, she learned how to play. She went from under 20 pounds to about 60 pounds."
Hope was then injured, but she soon recovered and found a loving home, Joseph continued.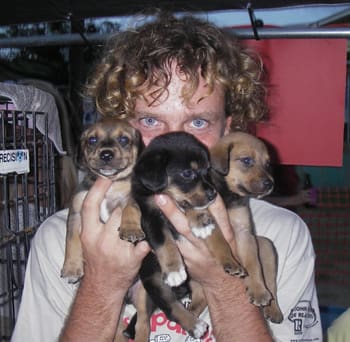 Puppies, Kittens Adopted
"She was playing one day and she slipped and ripped the ligaments in her leg," she said. "One of our volunteers paid for her operation, and Emily, who helped me with her her first day here, ended up adopting her."
The kittens and the litter of four-week-old puppies on display at Wagapalooza proved irresistible for some of those who attended.
"We got two puppies and two kittens adopted," said Joseph. "The two kittens will stay here, and the two puppies are going to the states. Someone else is coming in on Saturday, May 19, to adopt a kitten they saw at Waga."
Wagapalooza t-shirts and grocery bags are still available at the ACC, and at the adoption clinic at The Marketplace every Wednesday.
"The idea with the grocery bags is people will use them instead of those plastic bags," said Kirk. "We'd love to get people moving toward a more green way of life."
Wagapalooza Winners:
Best Island Dog – Kirsten Lindsey with Pepper; Peter Alter with Lucielle; Jen Service with Ginger
Best Trick – Deana Somerville with Sweetie; Marijean Williams with Rosie; Sheila Karchar with Choppy
Best Costume – Allen Greathouse with Mitzie; Justin Hold and Sharin Moran with Roxy; Ted Mueller with Choppy
Aged to Perfection – Sandi Stein with BoJo; Steve-O and Susie with Rosie; Sheila Karchar with Choppy
Puppy Love – Donnelly family with Tamarind; Fran Soloman with Stella; Jennifer Lynn with Rocky
Biggest Lap Dog – Dana Barlett with Red Dog; Rich Singerle with Mali; Patty Mahoney with Mr. Bud
Best Tiny Tugger – Barbara Hervy with Rafi; Kirsten Lindsey with Pepper; Donnelly family with Tamarind
Best Kisser – Barbara Hervy with Rafi; Kirsten Lindsey with Pepper; Donnelly family with Tamarind
Best Doggy Dancer – Dana Barlett with Red Dog
Best in Show – Allen Greathouse with Mitzie, the three-legged pirate
Babe Award – Emily Evanoff with Hope