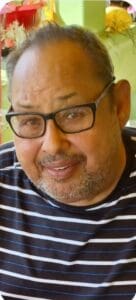 We are very saddened to announce that Wallace William Phaire Sr., of Estate Catherine's Rest, Christiansted, St. Croix, U.S. Virgin Islands, passed away on April 2 at Tampa General Hospital in Tampa, Fla., on a beautiful Palm Sunday afternoon. He was 71 years old.
He was surrounded by an abundance of much love by his "Forever Loving Bride" Estrid Beryl Harthman Phaire, along with his five amazing children: Allison Monique Phaire Walters, Wallace Austin Phaire II., Wallace William Phaire Jr., Arthur William Phaire and Bruce William Phaire.
He was preceded in death by his sisters: Doreen A. Phaire Solis, Norma Phaire Brown and Dawn Christina Phaire; father, Wallace Austin Phaire; mother, Evelyn Elita Audain Phaire; and daughter-in-law, Stefanie Crosier Phaire.
He is survived by his father-in-law, Arthur E. Harthman Sr.; brother-in-law, Arthur E. Harthman Jr.; sister-in-law, Dianne C. Harthman; son-in-law, Ian O. Walters; daughters-in-law: Karmina Melendez Phaire, Raquel Daluz and Natasha Mathurin Phaire; nieces: Karen A. Solis, Margarita J. Solis, Faith V. Solis and Norma M. Solis Barnes; and nephews: Carl A. Solis, Neils P. Solis and David L. Solis.
He is also survived by 11 awesomely wonderful grandchildren:  Avondre' Iyanni Walters, Monique Eileen Walters, Breana Zoe Walters, Wallace King Phaire, Jamon Austin Fisk, Madison Frances Phaire, Marsden Phillip Phaire, Ariana Daluz, Londyn Taylor Phaire, Dazonte Armando Mathurin Phaire and Dazjanna Adorable Phaire; godsons: Dale Peters and Le'Andre Marshall.
Wallace's related families are the James, Percy, Cartier, Pettersen, Armstrong, Bough, Finch, Clenance, Kings, Motta, Pedersen, Shuster, Encarnacion, Linquist, Audain, Lindesay, Spencely, Harthman, Reese, Daniels, Esquerdo and Francois families; the tenacious St. Croix Central High School Class of 1969; as well as other family and friends too numerous to mention.
Future plans to lay Wallace to rest will be announced at a later date.  Professional services are entrusted to the James Memorial Funeral Home Inc.