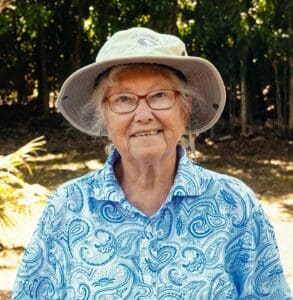 Trudy (Waltraud Torinus, *Gartung Aug. 21, 1937 – July 16, 2022)
Trudy Torinus was only two when World War II began. Her childhood in Germany was marked by the constant threat of bombs, sirens, separation and loss. She spent her youth navigating through the ruins and rubble to attend high school. With a strong interest in the sciences, she began studying economics at the University of Braunschweig, which was unusual for a woman of her time in Europe.
She met her future husband – Siegfried Torinus – at a music performance in her small village. He had accepted a position with Volkswagen, which would take them to the Virgin Islands on a cargo ship full of Volkswagen beetles in 1958. They arrived on St. Thomas amid Carnival season, where Trudy met the carnival queen Florine who became a lifelong friend. Three children, Sigi, Harold and Elmar, were born.
Driven by her deep curiosity for science, nature and art, Trudy took on various studies. After completing a certificate in practical nursing in 1963, she worked in the practice of Dr. Enrique Salgado. Later, a social science graduate of the College of the Virgin Islands, she enrolled in English as a Second Language at the Inter American University of Puerto Rico Graduate Program.
She also loved photography and majored in photojournalism at the School of Modern Photography. Trudy took on assignments for the Daily News and The Home Journal, through which she met celebrities such as Jackie Kennedy Onassis, John Lennon and Yoko Ono, Joe Frazer and Muhammad Ali. In 1970, she was appointed an elementary school teacher and worked at Nisky School, now Ulla F. Muller Elementary School. She taught high school mathematics and biology in Germany in the 80s and 90s before retiring to her St John home.
Trudy was a kind and gentle spirit, always open to learning new things and sharing her knowledge of the natural world. She loved birds and nature, which took us to visit the Galapagos Islands. Watching birds has never been the same since. Soaring above our everyday challenges. May she have that same peace wherever she is now.