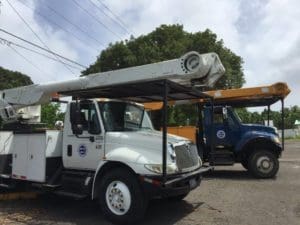 The Water and Power Authority governing board approved a contract price increase and extension for phase two of the Frederiksted waterline rehabilitation project on Friday.
According to WAPA, this work will significantly improve water quality to customers on St. Croix's west end while reducing system losses.
The board approved several other items relating to the electric system, ongoing water projects, physical security, insurance coverage as well as the procurement of varied materials and supplies.
Approved unanimously at the March 25 meeting were:
– A contract extension for equipment installation at the Estate Richmond Power Plant. The contract is with Fortress Electric, and the equipment will enhance the operability of the power plant while providing increased safety features.
– Time extension on a contract with RG Engineering. The no-cost extension will ensure greater levels of operational redundancy at the St. John electrical substation. The contract also provides for emergency testing of a transformer at the newly constructed east end electrical substation on St. Thomas. The testing is required prior to the activation of the electrical distribution system at the substation.
– Buying cables and other equipment from American Wire Group for the St. John electrical underground project.
– 24-month contracts with Comprehensive Security Concepts, Inc. for security guard coverage at facilities territorywide.
– Limited contract extensions with Comprehensive Security Concepts Inc. and Vigilant Investigative Services LLC for guard services at territorywide facilities. The extensions are necessary to facilitate the execution of new two-year contracts for security coverage.
[adrotate group="6"]
The board also approved the Bovoni Point Wind Project on St. Thomas and revised contract administration guidelines.
Board members also OK'd a general liability insurance contract with Theodore Tunick & Company for a three-year period beginning in April.
In executive session, the board reportedly discussed and later voted publicly to authorize the governing board's counsel to oversee all WAPA litigation matters as well as the implementation of all policies approved by the governing board. The law firm of Mc Chain, Hamm and St. Jean, LLP was previously retained as legal counsel to the board.
Board members in attendance included Chairman Anthony D. Thomas, Vice Chairman Jed JohnHope, secretary Juanita Young, Directors Joel Lee and Kyle Fleming, Elizabeth Armstrong, Hubert Turnbull and Cheryl Boynes Jackson.