The V.I. Water and Power Authority will likely enter the 2021 hurricane season without windstorm insurance, as it did last year, because it does not have the funds to pay for a policy.
"As you know, the authority did not do windstorm coverage last year, it's extremely costly, and again this year it comes to the tune of another million dollars," WAPA Senior Director Joan Foy told board members at their meeting on Thursday.
"It comes with a price tag. It doesn't matter whether the authority wishes to mitigate against a potential storm and feels that the million-dollar price tag is well worth hedging against our risk of a storm," Foy said. The money simply isn't there.
The board did vote unanimously to renew its annual property insurance policy for almost $2 million. But the hurricane insurance policy was moved from being an action item on the agenda to a discussion, due to a lack of funds.
Complicating the issue is that WAPA is still working to settle its claim from the twin Category 5 hurricanes of September 2017, which decimated the power grid on all three islands, and insurers have taken note of that, said Luke Reeve-Tucker, head of Central America and the Caribbean for Willis Towers Watson, a primary and reinsurance broker with offices at the Tunick Building on St. Thomas.
"WAPA is in quite unique circumstances," Reeve-Tucker told the board. "Firstly, it's in a very exposed part of the Caribbean, so there is a limited number of markets that are willing to cover the windstorm element, under the traditional property policy. Secondly, WAPA has the ongoing outstanding claim from Irma and Maria. Whereby, and this is before our involvement in the account, the loss from Irma and Maria was noted by two insurers officially, I think two years after the fact, and it is now going through the legal process."
"So, all of the markets that were available to write the policy covering windstorm in the Caribbean, because they are under this legal process on the outstanding claim, they weren't willing to offer that windstorm cover. New markets who aren't involved in that legal process were not willing to offer cover at a reasonable price," Reeve-Tucker said.
To afford some measure of protection, Willis Towers Watson is proposing a $10 million "parametric" policy that would pay out incrementally depending on the strength of the storm: 15 percent of the amount for a Category 3 storm; 50 percent for a Category 4; and 100 percent for a Category 5, Reeve-Tucker said.
The policy would not cover a Category 1 or 2 storm, Reeve-Tucker said, but typically the deductible in a regular hurricane insurance policy would exceed the claim from a lesser wind event, he said.
The payout from the parametric policy would be automatic, and could be spent on whatever WAPA deems necessary, avoiding the drawn-out process the utility has faced with its Hurricane Irma and Maria claims, Reeve-Tucker said.
"While it's a slightly different setup to what you might be used to, in terms of not being a traditional insurance policy, it does solve the issue of providing you with that windstorm coverage in the event of a storm passing over the USVI. And it provides you with that very quick injection of cash," said Reeve-Tucker. "That cash you can spend on whatever you want. It could be to cover costs of business interruption; it could be to reinstate transmission and distribution lines that wouldn't be covered under a traditional policy. It could be for the fact that you lose customers, or something like that."
"It's quite a neat solution, particularly considering your past experience with windstorm," Reeve-Tucker said. "This kind of product is becoming increasingly popular because it provides that simple trigger mechanism for the cover and a very quick payout."
"It's not necessarily strange to us. I think every time we get some kind of disaster, insurance companies find ways to avoid having to pay out for those simple things. So that's not unusual, but I do understand our situation and where we are at," said board Chairman Anthony Thomas. "We are something like Arkansas and Kansas, or those places that are Tornado Alley. We are Hurricane Alley. We realize where we are, and I think we need to be conscious that it may not be a Category 5 storm. And it may not be a Category 3 storm, but there still is a likelihood that we need some kind of coverage to protect us."
A lack of funds isn't only impeding WAPA's ability to buy hurricane insurance, it's also affecting its ability to secure fuel at cheaper prices, interim Executive Director Noel Hodge told the board.
"In terms of our propane to oil usage, we continue to do better than what we had targeted. We had filed our rates assuming 80 percent versus 20 percent propane to oil. Instead, we are currently at 84 percent to 16 percent, which is good. However, we continue to see the rising price of propane to oil. To that end, we have begun discussions with our hedging consultants," Hodge said.
WAPA did well two years ago hedging on the price of fuel, "so we wanted to at least start looking to control risk in terms of escalating fuel prices," Hodge said. However, updated financials and the 2019 audit are needed to secure a line of credit to do hedging, he said.
Fuel hedging is when companies agree to buy fuel in the future at a predetermined earlier price, with the hope that with rising prices, they will come out ahead.
"It is our plan, once we get our audit done, to come back to the board and present options in regard to fuel hedging," Hodge said.
WAPA's contract with Glencore Ltd., which supplies the utility with No. 2 fuel oil to run its power plants, expires this month and an evaluation committee is reviewing bids submitted in response to a Request for Proposal, Hodge said. He hopes to have a new proposal for the board's consideration during May, even if it requires calling an emergency meeting, he said.
"This is a critical issue. In particular, we want really to get rid of that barge arrangement that we have that is costing us a lot of money. So, I am pushing that we get this to the board as soon as possible," Hodge said.
Meanwhile, accounts receivable with the government of the Virgin Islands remain at $12 million, with Waste Management and the University of the Virgin Islands accounting for the bulk of the outstanding bills, but the government is on track with its payments of about $2 million a month, Hodge said.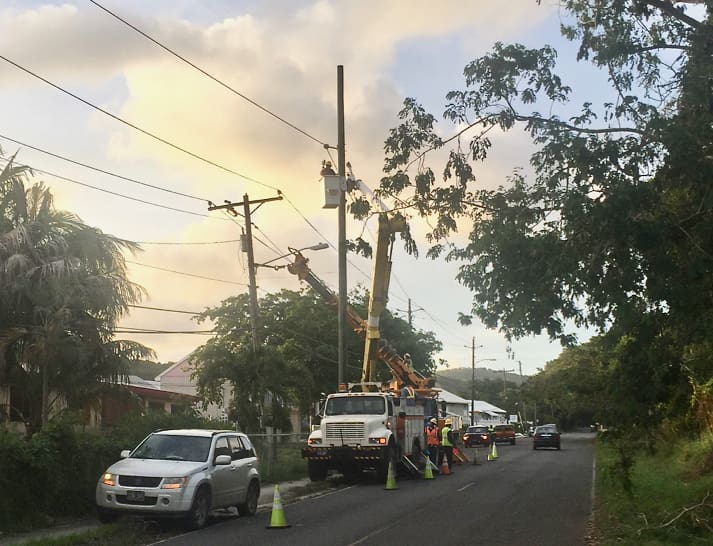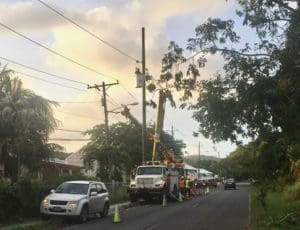 After a few hiccups, the $75 million contract with Wartsila for the engineering, procurement and construction of four new generators and a battery storage system at the St. Thomas power plant is moving ahead, Hodge said.
"They had some payment issues, and they had given us a work stoppage notice. I was able to speak to the Housing Finance Authority Director Griffin to make sure to expedite payments and got $6 million to pay Wartsila and they have said they will resume the project," Hodge told the board.
The high-efficiency units that can burn both propane and light fuel oil are on schedule for delivery in August, with a conservative installation schedule of about 12 months, Hodge said.
According to a July 2020 WAPA news release issued when the contract was announced, the units will allow the power plant to operate more efficiently and reliably on 100 percent propane. The battery storage system will be capable of providing nine megawatts of electricity for up to two hours and will be used for plant stabilization when an outage occurs, according to the press release.
The project is being funded 100 percent by the Department of Housing and Urban Development, and will allow WAPA to end its generator lease and decommission its older, less reliable units, then-Executive Director Lawrence Kupfer said at the time.
WAPA also continues to work to reduce its reliance on estimated billing from the current level of 8 percent down to 2 percent, which would make it eligible to apply for HUD funding for infrastructure repairs and upgrades, and the utility currently is meeting a 30-day billing cycle, Hodge said.
To that end, WAPA is hiring temporary meter readers to help with the workload, and is drafting an RFP for the replacement of defective meters, Hodge said.
"WAPA is hiring – there are a few jobs open. If you know somebody who doesn't have a job and they want a temporary job, you know, it might lead to something permanent," Thomas said.
The board also voted 7-0 to begin interviewing for a general counsel in a more than hour-long executive session at the start of Thursday's meeting.