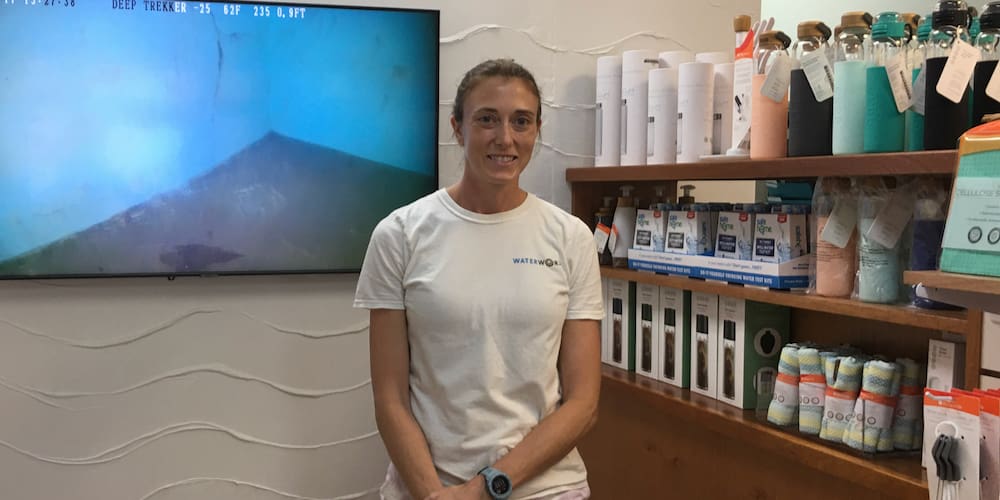 If you live in the Virgin Islands, chances are you depend on a cistern for supplying at least some of your household's water needs.
"Approximately 95 percent of the territory's residents collect rainwater and store it in cisterns attached to their homes or businesses," the USVI Hurricane Recovery and Resilience Task Force reported in 2018. (Download report here.)
Most Virgin Islanders, however, don't drink their cistern water but choose instead to buy commercially bottled water. In 2019, the Virgin Islands Department of Health found that less than 20 percent of Virgin Islands households drink the water directly from their cisterns.
There's good reason for that.
In a study involving 400 households throughout the territory, the Department of Health "identified that 80 percent of cistern water (taken directly from the cistern hatch) tested positive for E. coli contamination while 58 percent of tap water (taken from kitchen tap) sourced from cisterns tested positive for E. coli contamination," according to an Oct. 4, 2019, news release.
Virgin Islanders are right to be cautious about the quality of their drinking water, but there are multiple ways for residents to make their cistern water safe to drink.
Now a St. John company is happy to show island residents what they can do. In June, sister-and-brother Mary and Kevin Vargo opened the doors to WaterWorx on the first floor of the Marketplace on St. John.
The business isn't exactly new. More than a year ago, the Vargos started out by providing assessments of cisterns and recommending filtration systems for homes on St. John, but they soon realized there was far more they could do to help residents get clean drinking water from their cisterns.
"After talking with property owners, we learned that although many of them have filtration and UV systems installed at their homes, they are not in the habit of inspecting and maintaining those systems or changing the filters and bulb regularly," says Mary Vargo. "The size of a treatment system and a household's water usage affect how frequently filters need to be changed, and the UV disinfection process becomes less effective as filters get dirtier."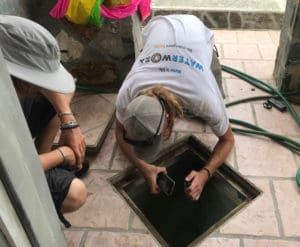 WaterWorx recommends and provides the service of water testing so that owners can be confident that the water sourced from their cisterns is safe to drink – and so they can inform tenants and rental guests that there is no need to buy disposable plastic bottles. WaterWorx performs some tests in-house and also facilitates testing through the EPA-certified Ocean Systems Labs on St. Thomas.
WaterWorx installs and services whole-home and point-of-use residential water treatment systems, including filtration, UV disinfection, and reverse osmosis. Under-the-sink systems range from $275 to $470. Whole-home UV systems with pre-filtration range in price from $650 to $2,000 depending on the size and flow rate.
On St. John, only a small percentage of island residents – those who live in Cruz Bay – can get access to the central water supply system operated by the Water and Power Authority. Although WAPA water is tested, Vargo said some WAPA customers still choose to install a water treatment system in their homes.
Since most St. John residents rely entirely on cistern water, WaterWorx offers them some cool technology. Kevin Vargo, whose job it is to go out on site, can deploy an underwater drone with a high-resolution camera that can cruise the inside of a cistern to determine if repairs are needed.
Some of what the camera has revealed has been surprising.
"We've seen whole trees growing in cisterns through cracks in the concrete," said Mary Vargo.
Although homeowners often put it off, cisterns should be checked for repairs and recoated with a waterproof coating safe for potable water every six to ten years, Vargo advises.
"Many owners are reluctant to do this because of the expense and the need to empty cisterns to perform the job," says Mary Vargo. "We have a cleaning method that involves vacuuming the inside of the cistern to remove organic debris and sediment without having to empty the entire cistern. If this service is done annually, then a full cleaning that requires emptying the water can be stretched out to every 8 to 10 years."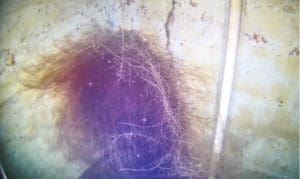 As part of its assessments, WaterWorx collects a water sample from inside the cistern to test for several water quality parameters. She notes that following manufacturer specifications for applying waterproof coatings is important because the application impacts the longevity of the coating and water pH level. Contractors who rush through the process can produce unfortunate results.
"We want to get an idea of the water quality before it enters a filtration/UV system because it can affect the system's performance, and it helps us provide a suitable recommendation," says Mary Vargo.
In their new retail space, WaterWorx customers can get a chance to see some innovative technology, including two types of leak detection systems with remote shutoff capabilities; if a toilet keeps running or someone leaves a garden hose on, the systems send an alert to the owner or manager's phone and turn off the water so the cistern isn't drained. One device can "learn" and report water use by fixture type. The other allows the user to set a daily limit on water use.
WaterWorx offers a variety of services, including cistern level monitoring and swimming pool and spa maintenance. With several years of experience servicing and managing pools on St. John, Taylor Schrock heads up the pool side of the business. In their retail space, they sell handy household items, like Soda Sense seltzer makers, water purifying machines that fit on a counter, and even tiny cleaning brushes for reusable straws.
Having earned a master's degree in business administration with a focus on environmental sustainability in 2014, Mary heads up the business side of WaterWorx. She first became aware of the complexities of water use in the Virgin Islands when her family visited St. John in 1994 and were warned to conserve water. She continued to monitor her water use when she moved back to the States and later attained her bachelor's degree in environmental studies.
Vargo taught science in the Bahamas and at the Gifft Hill School on St. John; she's also worked on grants for stormwater control with the Coral Bay Community Council.
"There's a real need for education about water use," she said. "Many people have an 'out of sight, out of mind' attitude towards cistern conditions and water treatment, which can result in a lack of confidence in water quality. So many people don't know that cistern water can be potable. It is disheartening to see how many single-use disposable bottles we go through on St. John."
To request an appointment for a free assessment, contact WaterWorx online here.