The newly sworn in Virgin Islands Board of Elections marked its first meeting Thursday with a new set of officers, with then-Chairman Arturo Watlington telling members he would decline nominations for the chairmanship, and Raymond Williams eventually voted into the position.
On Thursday, member Epiphane Joseph moved to elect Williams as chairman and Alecia Wells as vice chairperson, with member Lisa Harris-Moorhead adding Epiphane's name as secretary. Members Frederick Espinosa, Lydia Hendricks, Shikima Jones, Atanya Springette, Harriet Mercer, Glen Webster, Joseph, Wells, Williams and Harris-Moorhead voted in favor; Watlington voted no. Members Jevon Williams, Barbara McIntosh and Maurice Donovan were absent.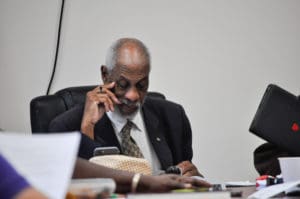 Watlington, who joined the Elections Board in 2000, served as chairman for a roughly four-year period, punctuated by a short chairmanship by McIntosh. Watlington said he could not trust some of the current board members, specifically those who "surreptitiously took the board to court," referring to McIntosh and Williams who both approached the Office of the Attorney General in matters where they opposed the board's decision.
"I don't need the notoriety," Watlington told the Source about relinquishing the post. "I just don't want to be hypocritical. I'm very opinionated on the things I hold a position on…you don't see some of the confusion, the rancor that exists in terms of emails that go back and forth, the struggle in terms of getting the system to do what is right."
Williams, meanwhile, laid out his priorities as chairman, including bringing back a committee system that will allow members of the board to accomplish tasks by convening in smaller groups and reporting back to the full board. The committee meetings, according to Williams, would be subject to the same rules that govern board meetings, including the requirements for a quorum and being accessible to the public.
The committees, according to Williams, will address various issues concerning the Elections Board, including straightening out personnel procedures and policies and clarifying certain aspects of how the board functions. Other standing committees will also split work related to preparation for the elections to accomplish objectives faster without waiting for a full board meeting, according to Williams.
"So immediately, I think what we're going to move to do is establish committees, establish standard meetings dates where everyone can know in advance when we're meeting unless it's a special or an emergency meeting," said Williams.
With the board now functioning as one body, Williams said he will be pushing for in-person meetings in an attempt to avoid disruptions caused by video-conferencing glitches. Williams also said the unified board concept may need revisiting.
"The body here, as a single board, if they want to go backward to being district boards, that's something we'll discuss and something that we'll have to propose to the Legislature," said Williams.
On Thursday, the board scheduled its next meeting for Feb. 1 at which they will tackle the upcoming special election on senate reapportionment. In March, the special election ballot will contain a yes-or-no question asking voters if they are in favor of an initiative by the St. Croix Government Retirees, Inc. to restructure the Legislature.
"That has to be fast-tracked because there's significant planning that has to be done there, like the calendar and locations," said Williams. "There's no such thing as an easy election. There's a lot of considerations that have to be met and made, and we just want to make sure that we dot our I's and cross our T's."
The special election is projected to cost $145,000, an amount the Legislature allocated to the Election System in October. On Thursday, board members still had questions on what the board's actual responsibilities are as it relates to the implementation of the special election.
"As long as it's not our responsibility to educate the public, I'm fine," said Hendricks.
Watlington, however, who still serves as board member until the end of his term in January 2021, said they need more meetings before February to properly prepare for the special election.
"I've already seen some missteps. We're already far behind in terms of where we should be in preparing for the special election. We have a draft ballot that needs to be approved," said Watlington. "But I'm not about to tell people what they want to do."
Watlington said he also has concerns about the question on the ballot, which legal counsel has deemed in non-compliance with the "one man, one vote" mandate, he said.
The board also unanimously voted to require the Elections Supervisor to resume the evaluation process for deputy supervisors. Springette, Jones, and Espinosa were attending their first board meeting after getting elected in November. It is also Mercer's first elected term.