The Women's Coalition of St. Croix will kick off the month of June with its annual Women Race. This year marks the 39th year of this race and it will be held virtually, with a live race scheduled in Frederiksted.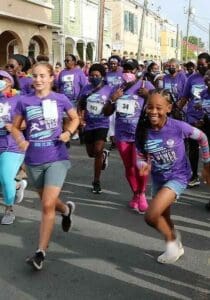 The virtual races will take place from June 2-3, while participants can gear up for the live race in Frederiksted on Sunday, June 4.
The annual Women Race provides an opportunity for victims/survivors of violence to enjoy a healthy sport in safe and supportive spaces, wherever they are in their healing journey. Many victims/survivors participate year after year.
The annual Women Race was created by Mary Mingus, a co-founder of WCSC, and Wallace Williams, Olympic runner and long-time supporter of the organization's mission, in 1984. Williams is also the leader of the VI Pace Runners, organizers of the Women Race with WCSC.
"This community event is a favorite of long-time and new participants. We invite everyone who can't register to join us in cheering on the Women Racers or to do the two miles in support of them," commented WCSC Communications Coordinator Debra Benjamin.
Medals will be awarded for overall and age category first, second and third place finishers at the live two-mile Women Race. Virtual "Women Racers" will have two days– Friday and Saturday–June 2 and 3, to complete two miles and post their time online by 11:59 p.m. AST on June 3. Virtual participants may complete the two miles by running, walking, dancing, skipping or even on a treadmill, indoors or outdoors, wherever they are located.
Women and girls who use wheelchairs are welcome to participate in the Women Race. Teams of five or more can participate. All participants will receive certificates.
"It's a fun event with purpose. Community members come out and cheer on the women and girls; victims and survivors can participate and feel supported, here and all over the world," said WCSC Executive Director Clema S. Lewis.
Online pre-registration for the two-mile Women Race is available through June 3, with special, in-person registration to be held on May 27 and June 3. Only women and girls may register for and participate in the Women Race. The pre-registration fee for women is $20.00; girls 13 years old and under can pre-register for free. Pre-registration information updates will be available on WCSC's registration webpage and social channels.
Proceeds from the Women Race benefit people impacted by violence and families in need. The Women's Coalition of St. Croix's mission is to support and empower people impacted by violence. For more information, call 340.773.9272, or visit WCSC's website, to learn more about their annual events, advocacy, programs and services for victims/survivors of violence.
For more information:
WCSC on Facebook
Closet To Closet on Facebook
WCSC on Instagram
WCSC on Twitter
WCSC on YouTube