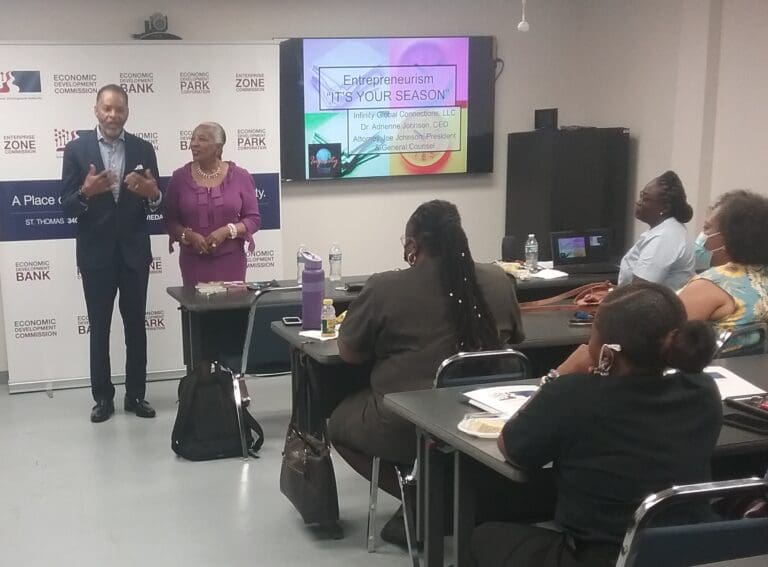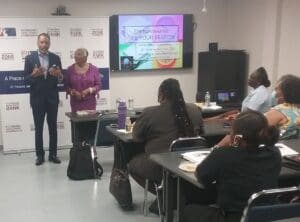 A group of women and high school students gathered Wednesday at UVI to take a look at what it takes to create a successful enterprise. A workshop held by the Economic Development Authority featured speakers on the subject of women as small business operators.
The workshop took place Wednesday at UVI's Small Business Development Center. Organizer Shanell Petersen appeared at its "Women Striving for Success" conference Tuesday, where she introduced the topic of entrepreneurship and invited conference participants to attend the next day.
Among the many ways women can succeed at work is by running their own business. Those who accepted the invitation for Wednesday's workshop were joined by students from Charlotte Amalie and Ivanna Eudora Kean high schools, many enrolled in the Career and Technical Training program.
Petersen – the agency's managing director for marketing and Vision 2040 – said information shared at the workshop was intended to raise awareness about the resources available through the commission for local business owners and those seeking to start a business. Because the agency is often thought of as the place where big-business operators from abroad get tax breaks to set up shop in the Virgin Islands, the locally focused programs are often overlooked, she said.
[adrotate group="6"]
One bit of information participants found surprising was that the commission acts as a lender of last resort for local businesses who have been turned down by the banks. "There are quite a few businesses we see that have been denied by the bank. A lot of those people are needing a loan for something specific, like kitchen equipment, a farm machine, or something to make their lives easier," Petersen said.
That gave one of the messages directed towards students in particular greater impact: It's not too soon to learn about credit, savings and proper money management.
When workshop facilitator Cusa Holloway asked how many students have after-school jobs, a few raised their hands. When she asked how many save their earnings for future expenses, fewer hands went up. Those kinds of considerations struck a chord with Eudora Kean 11th-grader Anissa Warren, who said starting a business is part of her plan to pay for college.
"When I'm in school … I want to be in business on the side, making my own money," Warren said, "so this would help me with my business and making sure that I know what I'm doing with the financial part."
Kean High ninth-grader Jah'kayda Mahoney, taking an introductory business course, said she also gravitated towards the financial discussion. "I was interested in the opportunity when I heard it was a women's seminar and I was interested in learning more about business," she said.
Charlotte Amalie High School senior Anju Sujanani said she's wrapping up her business, career and technical training courses while working a part-time job after school. Her plans after graduation include leaving home for college, but coming back to start a business after gaining job experience.
She said Wednesday's workshop taught her, "that to be a successful business owner, you have to learn to take risks. There are going to be downfalls before you are the strongest in your career. It was important for me to come to this seminar … to learn how to own a business and the steps to get there."
Petersen said she felt humbled by the level of engagement the students displayed. "When they first came in they saw themselves as doing a job. I want to believe, based on some of the comments they made towards the end of the session … they saw themselves as business owners, and (had) the potential of being business owners," she said.
Students and adults attending Wednesday's session were greeted by former Sen. Janette Millin-Young, organizer of the annual Women Striving for Success conference. The workshop was a second-day offshoot of that event. Millin-Young introduced the day's guest speakers, Dr. Adrienne Booth Johnson and attorney Joe Johnson.
The husband and wife team spoke about their global enterprise, Infinity Global Connections and the ways they helped people in Ghana and other African nations get started in small business.
Adrienne Johnson described how that initiative came to life while she was conducting her duties as celebrity marketing manager for a U.S. soft drink company. Her husband, Joe, shared his story of becoming a lawyer, an author and a partner in the family enterprise.
"I'm just a city boy from East Detroit and she is just a country girl from Kentucky. If we can do it, you can do it too," Joe Johnson said.
No one at the workshop gave the impression that achieving success was easy, simply that it was possible with persistence and hard work. "The intention of the post-conference event was to be able to continue the enthusiasm from the conference event. It was for women who wanted more advice on either starting their business or they are already in business and need to know about the resources that EDA provides," Millin-Young said.