Cristina Kessler's Latest Book Is Published
As we all know, Joe and Cristina have left St. John for a while as they fight Joe's battle against cancer. They face the daily challenge with tremendous determination. Joe and his staff at the Friends of the National Park office are in constant communication as they carry out his wishes while looking forward to his return.
We all admire his bravery and Cristina's 24/7 encouragement.
In the midst of caring for Joe, moving out of their Estate Carolina house, moving in to their temporary home in Sarasota, Cristina's book "The Best Beekeeper of Lalibela" was published.
This is the latest of her many tales from Africa written for children. An inspirational story of a young girl in Ethiopia who shows that she can achieve her goal in spite of criticism from her elders.
The artwork created by Leonard Jenkins is beautifully done, complimenting Cristina's wonderful story.
Holiday House, Inc. of New York City is the publisher. Cristina's last four books were recognized by a variety of organizations, including the ASPCA "Henry Bergh Award" for Best Young Adult Novel going to "Our Secret, Siri Aang" in 2004.
"The Best Beekeeper of Lalibela" will soon be on sale at The Marketplace Book and Bean store.
As though Cristina needed something else to occupy her time, she is finishing her final draft of "Trouble in Timbuktu," to be published next year.
Congratulations to our creative author, along with our prayers and love to Cristina and Joe.
What Did You Do on Mother's Day?
You had a choice of Saturday night's Wagapalooza, Sunday's recital at the Art School, BPW's Madness With Milo's Kings at Fred's and the Jazz Islanders at The Beach Bar featuring our own Victor Provost on tenor pan (he's back with beautiful Rachelle for two months).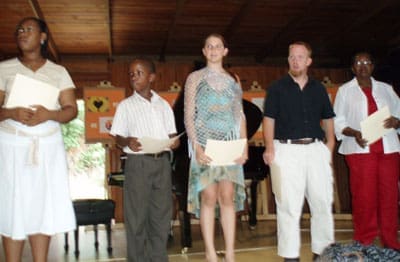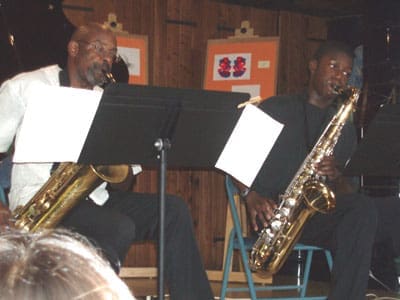 SJSA Music Recital
A packed house of families and friends cheered our music students on as they performed.
Students taught by William Johnson (saxophone), Dale Francis (guitar and violin), Jan Kinder (piano and voice), Tera Tidwell (piano) excelled as they performed with confidence. Imaginative artwork was on display taught by Karen Samuel.
BPW Dance to Milo's Kings
It was a delightful gathering of old-timers and new members who celebrated Mother's Day at Fred's. All to benefit our scholarship fund.
Jazz Islanders at The Beach Bar
Steve and Helen Simon return this week, Victor adds his tenor pan rhythms, Ryan Diehl is the new hot drummer, the standbys keep it all together with their solid beat — Sundays, 4 to 7:30 p.m. It's the bright spot in everybody's week! No one worries about nine stories, noise, trucks or colossal machinery digging up our hillsides. (Personal note to Bob O'Connor: I don't think we're against development — it's the lack of constructive thinking and planning).
More Taurus Birthdays
Add Corine Matthias, Beverly Biziewski, Karen Jarvis and Cristina Kessler. All very gifted, and maybe, a little stubborn. It's amazing that so many Amazon Women found their way to St. John.