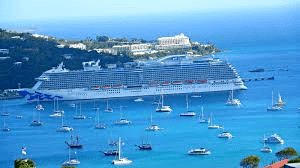 The West Indian Company Ltd. (WICO), owner of the U.S. Virgin Islands premier cruise ship dock, will mark its 109th year of continuous operation on Sunday, Dec. 12.
Anthony Ottley, WICO president and CEO, felt this anniversary to be especially significant, saying, "After 18 months without cruise ships berthing at our facility, this 109-year event is one to celebrate as we welcome the major cruise lines back to our dock."
"The West Indian Company is one of only three major companies still in operation since the islands' Danish era, making WICO a rare company maneuvering through the ups and downs of more than a century. We are proud to have successfully managed through the pandemic and of our continued legacy of service to the Virgin Islands."
The history of WICO is indeed substantive. Through a charter issued by the Danish Government, WICO was founded to assist in the economic development of the then Danish West Indies, with maintenance and dredging the Charlotte Amalie harbor as one of its responsibilities.
The company constructed a dock on Long Bay's southeastern shore to provide bunkering and transshipment services to ships in anticipation of the Panama Canal's completion. In addition to constructing the West Indian Company dock, the company's accomplishments include introducing electricity to downtown Charlotte Amalie and building seven cottages on St. John's K.C. Bay, the current location of Caneel Bay. WICO also initiated regular ferry service between St. Thomas and St. John.
The West Indian Company was the forerunner to many local industries and businesses. It opened the territory's first gift shop and served as agent/distributor for European and American brand goods imported to the territory. Only Cruzan Rum and I. Levin have surpassed the century mark with WICO.
"WICO's vision, ingenuity and flexibility over the past 109 years transformed our islands from a popular Danish colony to a premiere tourism destination," said Ottley. "We are honored and proud to continue this legacy into the future for the Virgin Islands."