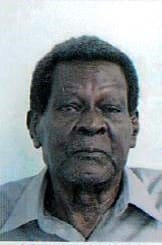 William Arnold Boatswain of LaVallee died on April 16. He was 92 years old.
He was proceeded in death by his wife, Gladys Boatswain and son, Desmond Boatswain.
He is survived by his daughter, Patricia Boatswain; son, Anthony Boatswain; brothers: Henry Boatswain, Jimmy Boatswain, Prince Boatswain and Rueben Boatswain; sisters: Mary Kirwan, Easter Daily, Ann Boatswain and Olive Cameron; grandchildren: Conethia, Latisha, Brian, Keturah, Eddy Jr., Tyra, Desmond, Maria and Anthony Jr.; and 12 great-grandchildren.
He is also survived by nieces: Mary Bramble, Rita Dooshie, Catherine Ryan, Erna Dooshie, Mary Harris, Val Dooshie, Carmen Boatswain and Althea Dooshie; nephews: Raymond Boatswain, Wilfred Chambers, Joseph Bramble, Kenrick Bramble, Berris Ford and many more too numerous to mention; special friends: Chester Williams, Otis Johoannes, Mr. Daniel, Rosie, Sally, Ms. Donahue, Ms. Sylvia, Mark Vinzant, Morris Benjamin and Warren Cornelius; as well as other relatives and friends too numerous to mention.
There will be a viewing at 9 a.m. followed by a funeral service at 10 a.m., Friday, May 13, at Friedensfeld Moravian Church. Interment will be at Kingshill Cemetery.