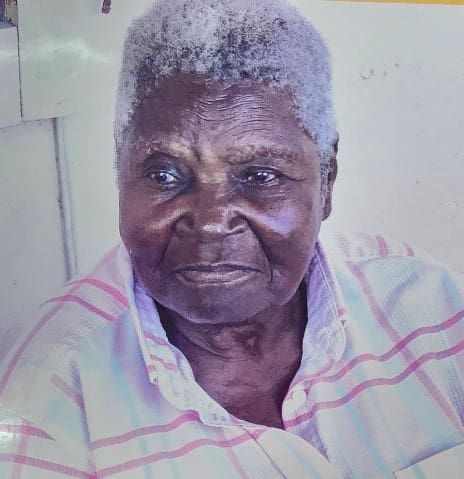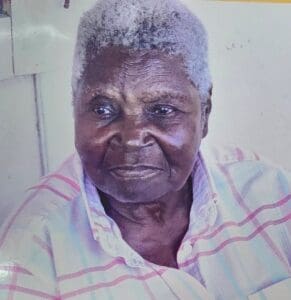 Winifred Justina Rebecca Lawrence of Estate St. John died on Thursday, April 6. She was 92 years old.
She was preceded in death by her mother, Leona Williams; father, Theodore Bostic; stepfather, Francis Williams Sr.; husband, Gustave Josephus Lawrence; daughter, Shirley Lawrence; son, Sheffield Lawrence; brothers: Oneal Williams, Ira Williams, Francis Williams Jr. and Lincoln Williams.
She is survived by her daughters: Alicia E. Lawrence and Joyce C. Lawrence Martin; sons:  Gustave J. Lawrence and Wilfred E. Lawrence; son-in-law, Gerald Martin Sr.; and grandchildren:  Alton Lawrence, Natasha Lawrence-Bivens, Chijioke Farrelly, Safiya Farrelly, Gerald Martin, Mark Martin, Shaniqua Johnson-Sudler, Bruce Johnson, Jaheem Lawrence, Carlene Lawrence-Lopes, Kareem Lawrence and Jamele Lawrence.
She is also survived by great-grandchildren:  Josephine Davis, Tristan Bivens, Ojore Farrelly, Safire McIntosh, Samia Cruse, Charles Martin, Anthony Martin, Haile Martin, Michael Martin, Kaijah Sudler, Janiyah Sudler, Jermere Sudler, Sierra Johnson, McKenzie Johnson, Janice Lawrence, Jordyn Lawrence, Jesse Colon, Destiny Lopes, Omayra Farrelly and Octavia Lawrence; brothers: Lucien Williams Sr., Elroy Williams Sr. and Bennett Williams; sisters:  Merle Serrano and Annette Jackson; adopted niece,  Juanita Rawlins Williams; and special cousins: Carlisle Andy Joseph, Rosalind Barrow, Jennifer Joseph McIntosh, William Joseph Jr. and Vaughn Hendricks.
Other survivors include adopted cousin, Denise Joseph; special friends: Maria Samuel and family, Maria Marks Williams, Josephine Hector, Dalton Carty, Justin Harrigan, and Arthur Petersen Jr., the Moravian Church family, Rev Alicia Ross-Floyd, Rowena Brown, Ineta Hector, Jean Smalls, Heslin Reynolds,  Doreen Gerard, Yvonne Rhymer, Carmen Mills, Aquita Sarauw, Unica Georges, Egerton Trotman, Muriel Charles and family, and Marie Christian; countless nieces, nephews, cousins and other relatives: the Parker, Bostic, Carlisle, Barrow, Joseph, Gerard, Lawrence and Williams families; and other relatives and friends too numerous to mention. as well as the devoted staff at Continuum Care.
A Memorial Service will be held on Thursday, May 18, at Friedensthal Moravian Church.  Tributes will begin at 9 a.m. and service at 10 a.m.