Children were playing, the freshly-painted bleachers were filled with carolers and Santa Claus rode in on a fire truck — it officially became Christmas time in Coral Bay on Wednesday evening, December 19, ushered in by the annual tree lighting and sing-along at the basketball court.
Just like Coral Bay residents have been doing for the past 40 years, different neighborhoods gathered to join in seasonal songs and watch Santa distribute presents to the children.
The tradition began in the early 1960s when Coral Bay area residents wanted to come together to mark the holiday season, explained master of ceremonies Alvis Christian.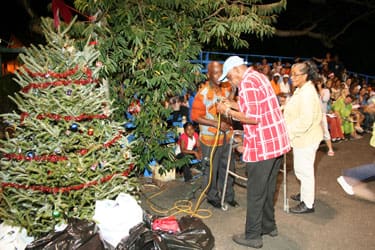 "This didn't just happen this year or last year," said Christian. "This tradition started in the early 1960s when a few community members decided it was important to get together and unite with new friends and old friends, with people who lived here thousands of years and people who just moved here."
The first gatherings were in Sputnik's Bar and then the Guy Benjamin Elementary School, before the crowd grew too large for those venues.
"We kept getting bigger and bigger until we ended up here," Christian said. "This is one point in time when we can all come together and we will keep doing this."
Forty years after the first sing-along, only two members of the original group remain, George and Eirleen January, who entertained the crowd with a rendition of "Silent Night."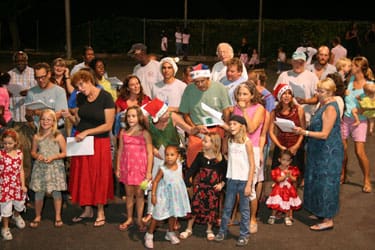 "Only two people are left from the group that started all of this — all the others have gone on," Christian said. "Eudora Marsh, Herman Prince, Emmanuel Hendricks, Ms. Lucy Smith-Prince — we only have brother George and sister Eirleen January."
The evening's gathering was dedicated to the memory of Smith-Prince, who passed away earlier this year. St. John educator and elder Guy Benjamin gave a moving invocation before George January lit the Christmas tree.
A crowd of about 150 residents from Mandahl to Eden to Carolina to Calabash Boom stood in front of the crowd and sang carols.
Although most of the original members of the gathering have passed, the Coral Bay tree lighting has become a tradition for many area residents.
"I don't feel like it's Christmas until I see the St. John singers and come here," said Pam Dolson. "There is a great community here and this is wonderful tradition and I'm happy to be a part of it."
"I love Christmas carols," said Pam Gaffin. "This is the best part of Christmas — the community singing together and the kids playing."
Even for people enjoying their first Love City Christmas, the night was a special treat.
"This is our first Christmas in Coral Bay," said Lee Maunder, who along with her husband Marc, is spending the holiday away from her native-United Kingdom this year. "We came out because the community here has welcomed us so well and we want to join in what they are doing."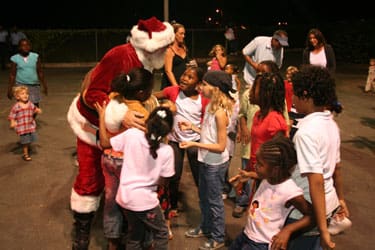 Area residents and members of the Coral Bay Community Council donated presents, which Santa handed out to each child.
Community members also enjoyed a lavish spread of food prepared by John's Folly Learning Institute volunteers.
The sight of delighted children hugging Santa Claus drew tears of joy for some attendees.
"I'm in tears," said Sharon Coldren. "It's a very special night. Every year it all comes together with everyone's efforts."
To ensure the tradition lives on, Christian pressed the crowd to commit to coming back next year.
"We will all make a commitment that when it comes to the Coral Bay tree lighting, as long as we are here, we will be here," Christian said. "Make a commitment and a guarantee. I'll be looking for each and every one of you."
Christian thanked the St. John Administrator's Office, Skinny Legs, Sputnik, CBCC, JFLI volunteers, the Water And Power Authority, Jamie Penn and the Coral Bay Fire Services for their help making the evening possible.
"I also want to thank the community as a whole," said Christian. "Without you this would not be possible."