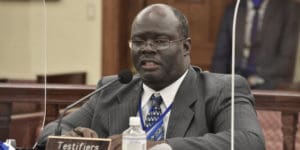 On Wednesday, July 14, the Virgin Islands Water and Power Authority (WAPA) will begin work on a project on underground electrical equipment in Cruz Bay, St. John. The project is one of several funded by the federal government and designed to mitigate damage from windstorms and hurricanes.
"We have secured the permitting, easements and other approvals necessary for the first phase of the project," said Interim Executive Director Noel Hodge. "This is an exciting time for WAPA and our customers as we get shovels in the ground and begin work to create a more efficient and resilient electric system in the territory," he said.
The undergrounding of electrical equipment is one of several enhancements to the electrical system funded by FEMA and HUD in the aftermath of the 2017 hurricanes. The projects are aimed at strengthening the overall efficiency and reliability of the power production and distribution capabilities in the territory.
Other components include the installation of composite poles where undergrounding is not feasible, new generation for the power plants, the addition of microgrids at strategic locations across the territory, and installation of renewables in the form of solar and wind along with battery storage capabilities.
The project on St. John will be carried out by Haugland Energy on WAPA's behalf with project management provided by FX Bonnes.  The initial work will begin near the existing electrical substation in Frank Bay and continue to Seagrape Street.
The first of three phases of the St. John project will see the replacement of overhead lines and equipment with underground facilities. The project will affect traffic flow within the Frank Bay area from 7 a.m. to 5 p.m. daily, and flaggers will be on site to assist with traffic flow.
"We ask for the patience and cooperation of St. John residents and the motoring public while we continue to build a brighter future for the Virgin Islands," Hodge said. When completed, a significant portion of customers currently on St. John Feeder 7E will receive electrical service from underground facilities. More significantly, restoration time following a major disaster will be significantly reduced. St. John remained without electrical service for more than 50 days following hurricanes Irma and Maria four years ago.
The St. John electrical undergrounding project is funded 90% by FEMA with a 10% local match. WAPA continues to pursue HUD monies to satisfy the match requirement which would make the project 100% federally funded.