By Amy Roberts
Some people will do anything to get attention, and fortunately for us, their efforts contribute to the planet's beauty and the public's amusement. Such is the case with Air America, a charter airline company based in Puerto Rico.
When he re-launched the business in December 2014, company president Luis Feliciano wanted to do something to make his fleet of aircraft stand out among the competition. Feliciano and his team came up with the idea of using designs created by Caribbean artists to decorate his aircraft, and the results are "plane" delightful.
Feliciano showed off planes decorated by St. John artists Lisa Etre and Janet Cook- Rutnik at a press conference at Cyril E. King Airport on St. Thomas on March 22.
[adrotate group="6"]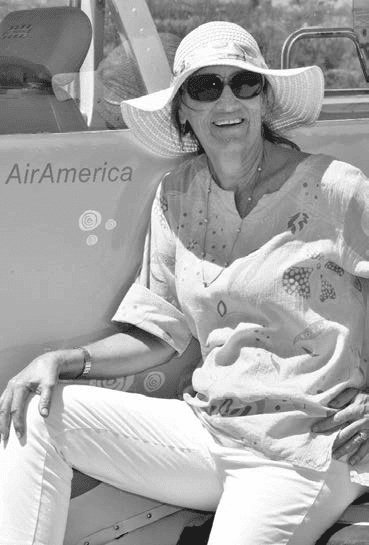 Cook-Rutnik's plane, the "Queen of the Caribbean," features a woman's colorful pro le as she gazes upon a sailboat and an island. Etre's plane, informally entitled "Fish that Give Color to the Sea," is decorated with 50 multicolored sh.
"The reaction is amazing," said Felicia- no, who wanted something "alive and enter- taining" to brand his new company. "People are engaged with the colors and images."
New York Knick's star Carmelo Anthony, arriving in San Juan on another airline's flight, did a double take as he spotted the Piper Aztec decorated with Etre's fish, and then backtracked and asked to have his picture taken next to it, Feliciano said.
Both Etre and Cook-Rutnik said that they were amazed last summer when they first received an email query from Air America soliciting their designs.
"I was about to delete it because I thought it was spam," said Cook-Rutnik
Both artists became known throughout the Caribbean for their colorful graphic imagery in their earlier years, but each had changed the focus of her work over time. Cook–Rutnik now develops more con- temporary, conceptual art projects which include video, while Etre has lately concentrated on more painterly work and experimented with ceramics.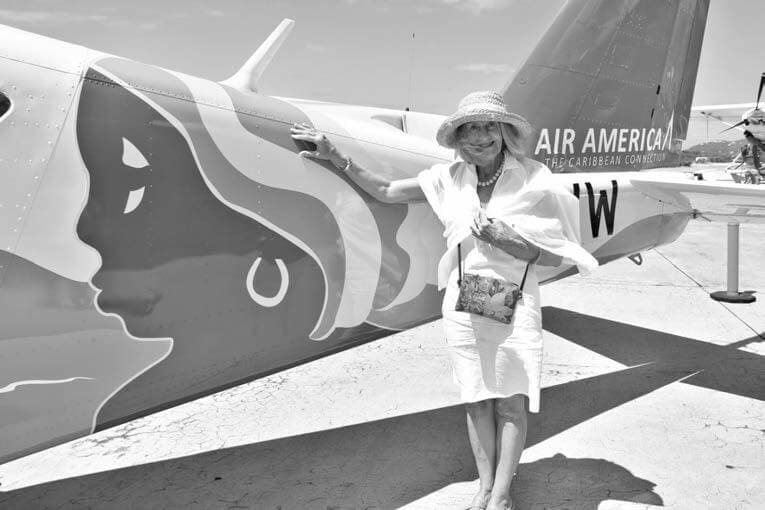 Etre found the process of decorating the plane to be relatively simple, she said.
"I sat down with a set of colored markers and a pencil and played," said Etre.
Cook-Rutnik, on the other hand, said she found the project challenging.
"I was trying to think about the volume of a plane while working on an 8×10-inch piece of paper," she said. "I had done a lot of graphic art for tee-shirt designs in the 80's and 90's, and I drew from that source."
Two artists from Puerto Rico, Carlos Davila Rinaldi and David Zayas, have also contributed their designs to Air America's fleet.
Air America is not the first airline to invite artists to take their work to a whole other level. Braniff International Airlines commissioned sculptor Alexander Calder to paint the exteriors of several planes between 1972 and 1976.
"Now they're doing this kind of thing on cruise ships," said Etre. "It's awesome."
When he set about creating a new image for Air America, Feliciano wanted to reflect the beauty of the tropics and encourage his clients to feel the festive nature of a vacation from the moment they saw the plane. His efforts have paid off; the company has grown 23 percent in the past 15 months of operation.
Air America's planes fly to 30 destinations, although the bulk of their charters involve travel among the U.S. and British Virgin Islands, Puerto Rico, Vieques, and Culebra. The fleet of five includes planes which accommodate five, seven and nine passengers.
The company does not currently have desk space at the airports in the Virgin Islands, but passengers can book flights on their website at www.airamericacaribbean. com. Air America flights generally leave from Gate 10 at King Airport.