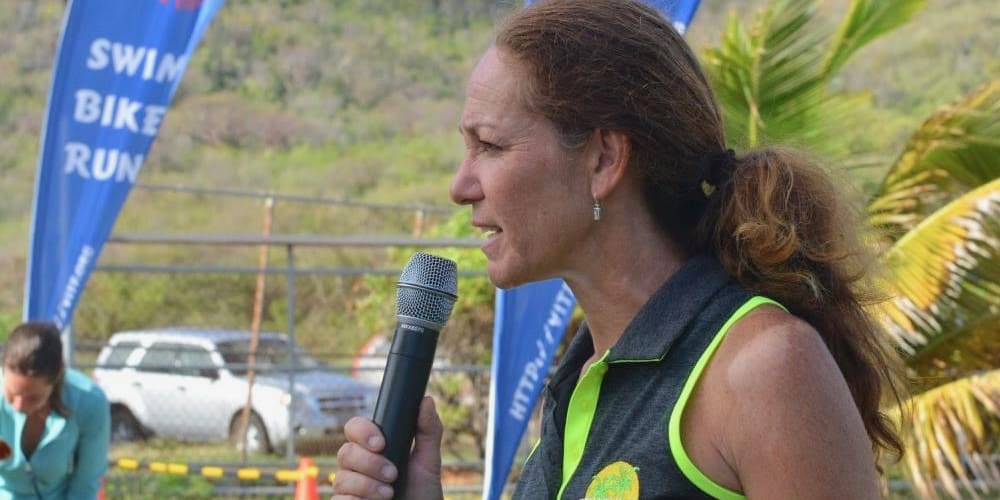 The World Triathlon Federation honored Theresa Harper of St. Croix with the Women's Committee Award of Excellence for her service to the Virgin Islands community, especially to women and youth.
"It came as a big surprise, I got an email saying 'Congratulations,'" Harper said. "There were nine other very strong candidates."
Harper accepted the accolade from her home rather than in Paris where the ceremony had been scheduled pre-COVID. The nine other award nominees and representatives of 146 member nations were virtually present at the World Triathlon Congress.
Scott Fricks, president of the Virgin Islands Triathlon, has worked with Harper for more than 12 years on sporting events such as triathlons, duathlons, aquathlons and road races. He nominated her for the award.
"Theresa Harper operates quietly in the background. She doesn't toot her own horn; she's not the kind of person who seeks recognition for her efforts," Fricks said.
He said that Harper donates an inordinate amount of time, energy and personal finances to the local multisport community.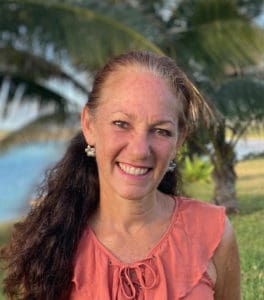 "If there's a swim-bike-run event or a multisport race of any kind, she is involved," he said. "That's why I nominated her; she deserves recognition," he said.
World Triathlon is the international governing body of the Olympic sport of triathlon and oversees the sport worldwide. It established the Women's Committee Award of Excellence in 2012 to acknowledge women, or organizations, that have made outstanding contributions to the involvement of women and girls in the sport of triathlon, according to the V.I. Triathlon news release.
When Harper accepted the award, she talked about the challenges Virgin Islanders face while living and working in a small island community.
"The conditions of the roads, social perceptions about the sport and reluctance to step out of one's comfort zone are all barriers to jump when promoting the sport," she said.
Harper is the secretary for the Virgin Islands Triathlon and the Virgin Islands Cycling Federation and co-directs the St. Croix Beauty and the Beast Triathlon with Fricks, a race she says requires 10 months of planning and feels like a full-time job.
She works upfront and/or behind the scenes on the annual Women's Coalition of St. Croix Women Race, the St. Croix Scenic 50, the Caribbean Classic Triathlon, the Dolphin Sea Swim, the Mermaid Mixer – which she helped create – as well as about 19 other multisport events a year.
She also coaches students at Good Hope Country Day School in cross country running and trains young athletes one-on-one for triathlons.
"Some of the kids have competed in CARIFTA triathlons – Caribbean Free Trade Association. CARIFTA includes many different sports at its championships, maybe six," Harper said.
She loves one-on-one coaching because she gets to know the kids better and can watch them progress.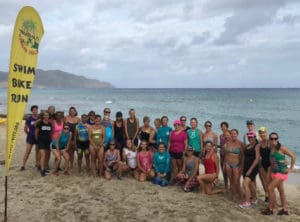 "A handful of kids I started working with in middle school ended up representing the Virgin Islands in their high school years and beyond," she said.
No matter which event she is working on, she shoots for a diverse group of participants. She appreciates that St. Croix can offer a variety of multisport races throughout the year. Someone who doesn't swim can enter a run-bike-run duathlon. Others can sign-up for an aquathlon, which is swim-run, and skip the biking.
"Multisport simply means more than one sport, back to back," Harper said.
Six years ago, she started the Mermaid Mixer, a fun swim-run that introduces women to the concept of multisport. She considers it more of a social event.
"You sign-in as a runner or swimmer and then we randomly draw and make the teams," she said. "It's nice. It brings women together in a social, non-competitive way and hopefully, you are matched up with someone you don't know. You walk away meeting someone new that day."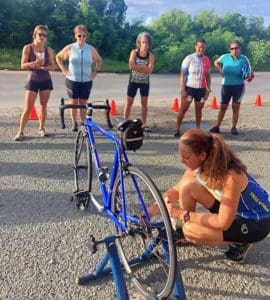 With grant money from Women for Tri, a foundation of women that encourages other females to embrace the sport of triathlon, Harper put together the Bella Bike Clinic. She teaches women how to change a tire, change gears and bike positioning, and then the group takes a ride together and enjoys brunch afterward.
"The whole idea behind my award was to acknowledge my encouragement of women. The sport of triathlon struggles with getting women involved," Harper said.
She hopes to inspire girls to try the sport and said that getting into a routine and dedicating an hour a day to fitness should be everybody's lifelong goal, whether it be walking, running or swimming.
"We're surrounded by water, there's no reason why you can't jump in on the weekends and paddle around a bit," she said.
Harper took part in her first triathlon in the spring of 1995. She has completed 68 since then and has run 20 marathons, including the Boston Marathon. These days she no longer competes. While she claims to be "too old and broken," a serious bike accident in 2006 actually shut down her racing days.
"I am still part of the triathlon community, but I now pour my energy into the other side of the sport, which is directing, coaching and organizing," she said.
Fricks credits her with spearheading multisport events throughout the territory without any compensation for her time and effort.
"She will do registration and timing for the Dolphin Sea Swim coming up in January and handle race set up, volunteer coordination and timing for the St. Croix Scenic 50 on Jan. 24."
Harper figures that volunteering is in her blood. She joined the Peace Corps right out of college and went to Costa Rica for three and a half years.
"Volunteering is just who I am," she said. "Once a volunteer, always a volunteer."