On Aug. 13, the WTJX 50th Anniversary Gala provided the University of the Virgin Islands Association of Black Journalists (UVIABJ) with a unique experience to engage with media practitioners, industry leaders, and government officials from the territory.
This year's theme, "Celebrating 50 Years of Milestones and Momentum," featured live music by Gyasi Clarke, Cool Session Brass, and Stanley and The Ten Sleepless Knights. Attendees had the opportunity to socialize, take photos, and walk the red carpet during the outdoor cocktail reception. A dinner service and formal program occurred after, featuring keynote speaker John P. Wheatley, award-winning director, producer, and entertainment consultant from the U.S. Virgin Islands.
"The WTJX Gala provided an extraordinary level of exposure for the organization," said Sharon Honore, faculty advisor of UVI ABJ and associate professor in the Communication Unit, Department of Communication and Performing Arts at UVI. "I felt the students were given an opportunity to debut their organization and network with future mentees, colleagues, and media professionals," she added. "The UVIABJ students and I were so excited to be included in this historic event. We were surprised and humbled to attend as per tickets from James Asiendo, who sponsored a table of 10."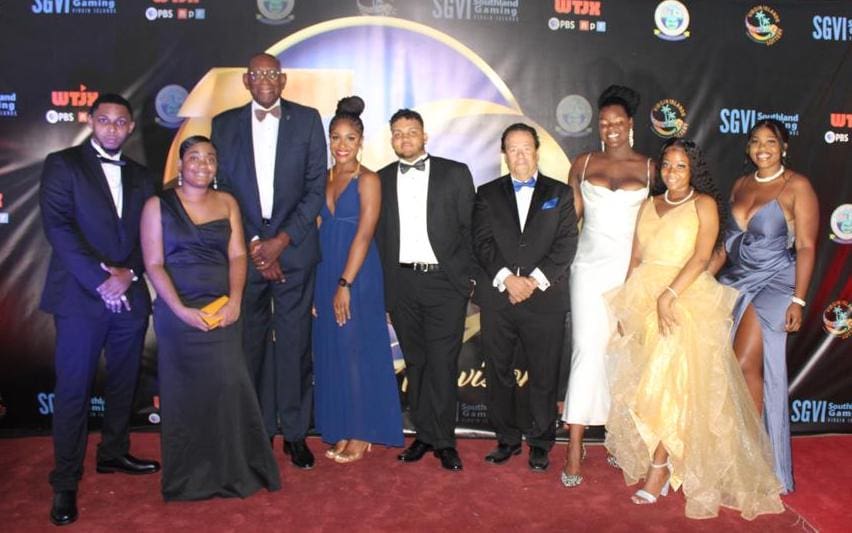 Lana Cuffy, undergraduate advisor for UVIABJ, stated, "I received a first-hand opportunity to represent UVIABJ, the first student and only National Association of Black Journalists (NABJ) affiliate chapter in the Caribbean. I experienced a formal gathering of like-minded people, engaging entertainment speeches and presentations that told WTJX's history, and meaningful conversations." Cuffy continued, "It was an event to celebrate all the accomplishments for the WTJX Public Broadcasting System."
WTJX broadcast countless memorable events and documentaries for five decades, including political commentary and coverage of the territory's annual festivals and parades. Local programs and talk shows were also created from the WTJX studios that included "The Teacher Is in," "Rigmarole," "Mid-Week," "Face to Face with Addie Ottley," "Behind the Headlines," "Story Time," "Undah de Taman Tree," "Up Mountain One Time," "Graffiti Street," "Topics," "Getting Together with Marielu Burnette," "The Peoples Pulse," "Both Sides with Natalie," "Painting with Pastels," "Rediscover St.Croix," "Home Grown," "Ritmo Del Doce," "Newsline 340," "Horse Races," "School Days Happy Days," "Out in De Yard," "Hall Pass," "Justice Matters," "The Welcome Mat," "The Bookcase," "Recovery in Focus," and "In Conversation with AARP VI."
Nadege Barber, president of UVIABJ, said the "WTJX 50th was sophisticated and welcoming. It is a remarkable celebration that not only showcases the accomplishments of the entire WTJX team but also serves as a way to express gratitude to the people who support, love, and work for the organization." Barber remarked, "We had a wonderful time dining and conversing with distinguished people, and it was wonderful to have this incredible chance on behalf of UVIABJ."
Barber is appreciative to the UVI ABJ team for giving her the opportunity to represent them. "I'm humbled and proud to have this leadership position, and although I'm definitely still learning, I'm grateful that I get to participate in events like the WTJX gala because I want to learn everything I can to help the students achieve their goals," she said.
"It feels satisfying and amazingly fulfilling to serve as faculty advisor to this wonderful group of students who comprise the UVIABJ organization," said Honore. She added, "I am beyond proud of the fact that the founding members set distinct tones of professionalism, ethics, and integrity as the major foundations for this chapter. They will forever have the distinction of being the first and only student chapter affiliate of the renowned NABJ. As you know, all of their activities are student-oriented and led, and subsequently, it is such an honor that they trust me to help chart their paths to becoming accomplished convergence communicators."
Cuffy suggested several tips for someone interested in pursuing a communications career. "Take communication courses and practice interpersonal skills. We require practice, patience, and passion in any field of study. We should never stop learning in life, and we should be able to communicate our thoughts and ideas effectively. We have to create our opportunities, recognize our efforts, and embrace change," she said.
The UVIABJ club will continue to establish itself as a premier student media organization in the territory, Caribbean, and among other student NABJ chapters. For the third year, UVIABJ entered three national competitions sponsored by the Southern Regional Press Institute (North Carolina), Kennedy Center American College Theatre Festival (Washington), and Institute of Journalism Advocacy. Collectively, they won 12 awards and received national recognition.
For the upcoming academic year, the three major goals for UVIABJ are hosting the Caribbean Cinematic & Artistic Film Festival in spring 2023, competing for the NABJ Student Chapter of the Year in spring 2023, and the Annual Journalism Summit this fall. UVIABJ will also interact with the Diversity in Cannes Festival. In 2020, students attended the UVI Journalism Summit, which was supported by Erica Loewe, White House African American media director.