St. John community members in attendance at the Youth Town Hall meeting last week.
Photos provided by Amy Roberts.[hr gap="1″]
When youth advocates held a town meeting on St. John on Thursday, August 25 at the Legislative Center in Cruz Bay, the message stayed positive in spite of many concerns raised by community members.
"St. John is a small community.  We're a tiny dot on the map, but we can shine brightly," said Sergeant Bridget Conow, a representative from the V.I. Police Department's Crime Prevention Bureau.
Conow was one of more than a half dozen officials representing the departments of Sports, Parks and Recreation (DSPR), Education, and the Police who presented their plans for programs for youth for the upcoming year.  The meeting was convened by St. John Administrator Camille Paris "We're all working together for the first time," said Ian Samuel, recreation officer for the Department of Sports, Parks, and Recreation, who said their programs for children ages 6-9 and 9-12 begin in September with girls' softball and boys' baseball. (On October 7-9, DSPR will be hosting a baseball tournament for boys 12 and under with teams from all three islands.)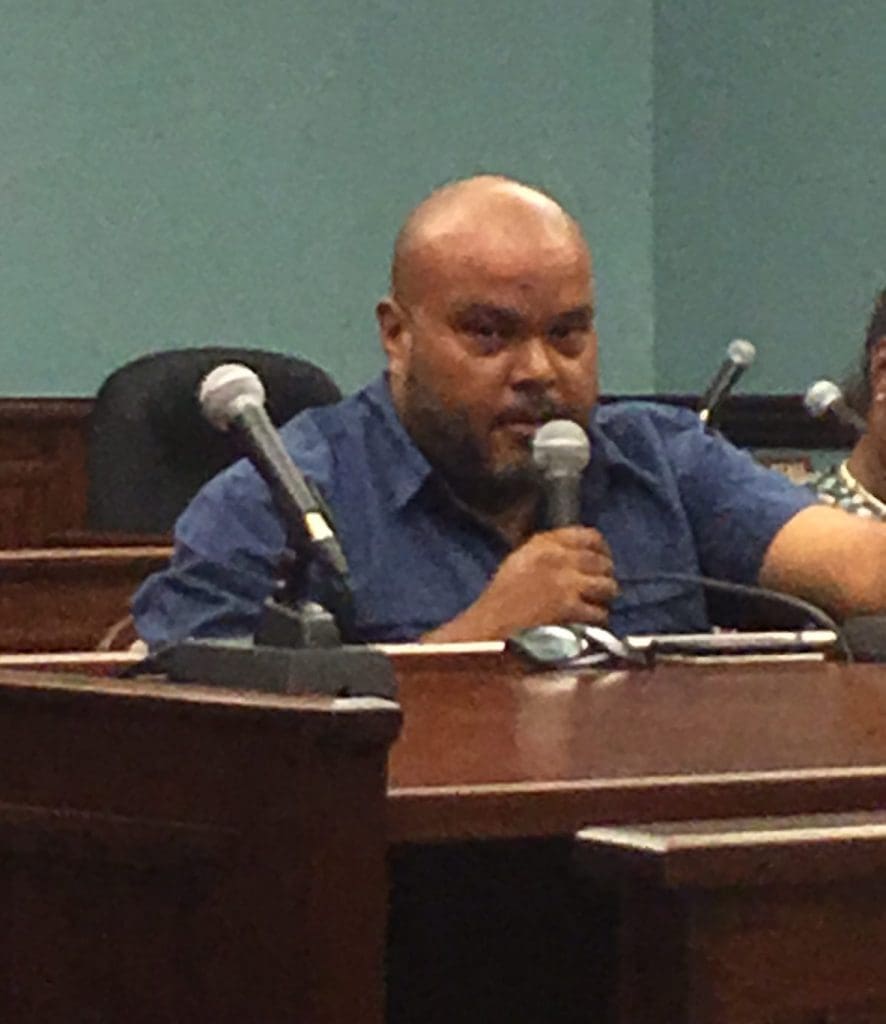 DSPR Commissioner Pedro Cruz said the department's attempts to reach out to youth is working.  When he became commissioner under Gov. Mapp's administration in early 2015, the department had around 2,800 children in their programs.  So far in 2016, 5006 young people have signed up for programs.
Cruz said plans are in place to upgrade the Recreation Center, where many of the programs for youth are based in Cruz Bay. Improvements include new bathrooms and an upgrade of the dugout and press box at Winston Wells Ballpark.
Enrichment programs for the Rec Center scheduled for the fall include the Pan Dragons Steel Band, and courses offered through the St. John School of the Arts including Drumming, Jazz Dance, and A Capella Ensemble (singing), which are available for only a $20 registration fee.
"We all cry that there's nothing for kids to do, but there are so many things," said Shakima Jones, recreational coordinator for DSPR.  "You, as parents, have got to get involved."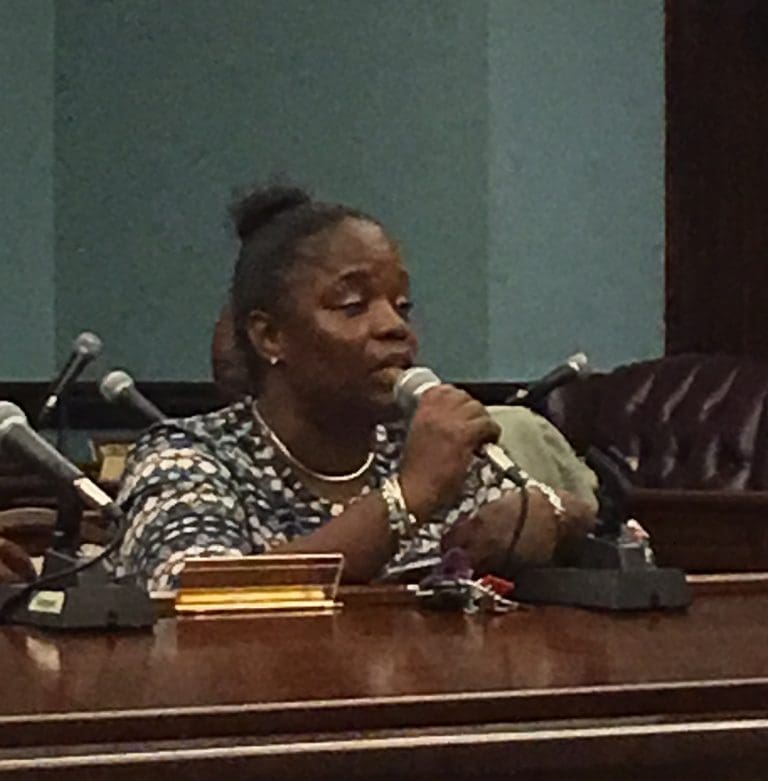 Jones admitted that getting children to activities and back home again is a problem for parents who work during the day.  There are approximately 75 children living at the Bellevue Housing Community on Gifft Hill and 85 children dwelling at the Calabash Boom Housing Community beyond Coral Bay.
"These children are harder to reach; we need to find some way to set up a 'buddy pickup' or car pool," Jones said.
Her remarks prompted taxi driver Kenneth Louis to volunteer to provide transportation on his safari bus for school children except on days when he attends church.
One innovation that will improve accessibility to programs for children in the Coral Bay area was announced two days prior to the town meeting. The Guy Benjamin School, the Coral Bay elementary school which was closed in 2014 because of declining enrollment, is reopening as a community center under an agreement between the Partnership in Hope and the V.I. Department of Education.
For the first time this fall, children living on the East End of St. John will be able to attend after-school classes at GBS taught by faculty of the St. John School of the Arts. Classes on the roster now include Acro (tumbling), Tae Kwan Do, and Mixed Bag of Movement. (Click here for the fall Schedule for STSA.)
Coral Bay residents got some dispiriting news, however, regarding the repaving of the basketball courts in Coral Bay. When community activist Alvis Christian asked about plans to refurbish the courts, which had been arranged in partnership with the St. John Rotary Club under the deJongh administration, Commissioner Cruz said he was unable to sign the documents to move the project forward.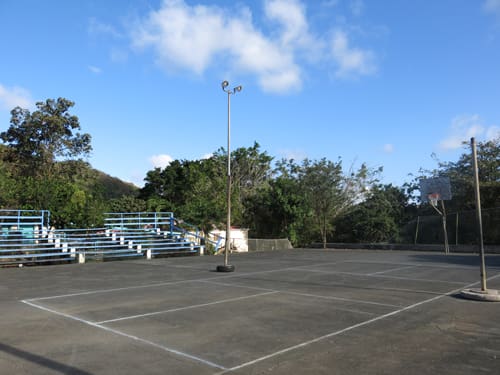 The basketball courts are located on property owned by the Moravian Church, he said, and government lawyers had determined that the DSPR was not the proper entity to accept liability for the project.
Elroy Hill of DSPR said Education Commissioner Sharon McCollum was hoping to meet with Moravian Church officials to find a way to get the paving project back on track.
In spite of this dispiriting news, the wave of volunteerism was running strong at the town meeting.  Zelphia Frazer, president of Intercessor Ministries International, offered to lead a spiritually-based performance group through DSPR.  "I see that our children are so gifted," she said.  Frazer has been working with a group of young actors, singers and dancers at the Bellevue Housing Community on Friday nights, she said.
Shakima Jones also volunteered to establish a Gospel Choir at the Julius E. Sprauve School when retired teacher Eddie Bruce questioned Department of Education officials about the declining number of classes available in the music, art and other subjects.
The meeting attracted participation from several members of the community who had grown up on St. John and had experienced the benefits of youth programs, including Cooper Penn, Jaurel Harley, and Matthew Gibney.
Penn spoke about the positive influence of the KATS sailing program and the importance of establishing a course to teach swimming.  Harley asked for cooperation in maintaining a safe environment at the Cruz Bay tennis courts where her mother, Patrice Harley, directs a youth tennis program.   Gibney spoke about the need for more vocational programs on the island.
Raquel Berry-Benjamin, deputy superintendent for the St. Thomas-St. John District, agreed with Gibney's point but said the Department of Education did not have funds to pay skilled tradespeople at the rates they usually get.
When she asked for volunteers to teach these courses, Elaine Penn suggested she tap into groups like Island Green Living Association and the Hotel Association.  Nita Penn suggested finding volunteers using the extensive listings on file with the St. John Community Foundation.
Berry-Benjamin urged parents of children attending JESS to enroll them in the 21st Century after school program which includes enrichment activities in reading, math and science, in addition to fun activities.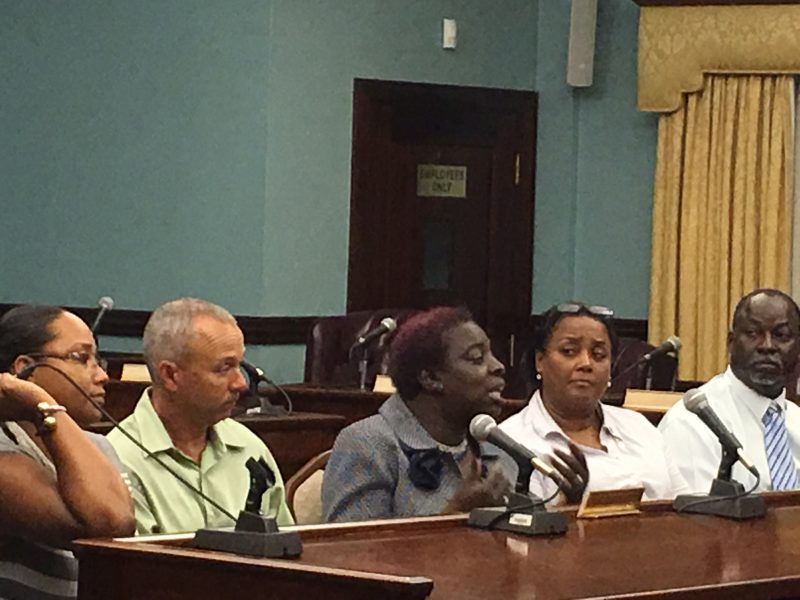 A number of community members registered complaints regarding the police on St. John.  Theodora Moorehead said that the community was setting a bad example for youth when police failed to stop the drug dealing at corners like the one near Connections in Cruz Bay.
Kenneth Louis, who served as a police officer when he lived in Dominica, said some police officers stationed on St. John did not always show self-respect or respect to community members.
"If you have a problem with an officer, fill out a complaint/compliment form which can be downloaded from the VIPD website," said Sgt. Conow.  "This can be submitted anonymously."
Conow said the Police Department was hoping to revitalize its cadet training program within the public schools.  In the past the police also offered an Explorers Program for younger students.
Conow said working with youth takes great patience and understanding. "With the kids that come into our programs, sometimes we have to take a breath before responding. We have to show them a better way."
She urged community members to speak directly to young people when they are misbehaving.  "Let them know you're part of the community.  I don't care whether your color is purple or pink. Talk to the children.  Say 'Good morning, how was your day?' even when they suck their teeth.  We have to love them through action."