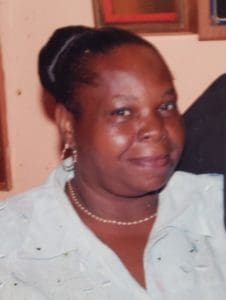 Yvonne Mae VanHolten Gomez died on Wednesday, July 8.  She was born to Rudolph Varlack and Joyce George Reames.
Yvonne is survived by the love of her life, her devoted husband, Roy Gomez Sr.; her loving children, her daughters: Natashia VanHolten, Tanishia VanHolten and Tia Gomez; sons: William VanHolten, Earl VanHolten, Roy Gomez Jr. and Barry Gomez; and the joys of her heart, her grandchildren: Lemech, Ashaan, Adonnis, Imani, Devante, Jahmali, Jahshawn, Jainasia, Eniyah, Ellaria, La'Quasia, D'mone, Nahshon, Royelle, Jerin, Allyah, Tasaquia, Marley and Timmelle; daughter-in-law, Yoshiki VanHolten; son Earl's significant other, Tiffany George; son-in-law, Shawn Price; sisters: Thelma James Niles and Jacquenette Varlack; and her aunt, Marilyn George Stapleton.
Yvonne was preceded in death by her parents: Joyce George Reames and Rudolph Varlack; paternal grandmother, Ethel Varlack who nurtured her with unconditional love and devotion from birth; maternal grandparents: Lambert and Thelma George; beloved son, Nahshon VanHolten; brothers: Dean Varlack, Lucien Reames (Bulby), Larry George (PoPo), Ronald George (Burgan) and Dennis Sewer; sisters: Diane Reames, Donna James Langley and BerylAnn George Todman.
Yvonne also leaves to mourn: five nieces, seven nephews, 11 great-nieces, and four great-nephews.  She was predeceased by four nephews.
Yvonne also leaves to mourn her: members of the Petrus, Wallace, George, Stephens and David families; as well as a host of families and friends too numerous to mention.
Relatives and friends are respectfully invited to attend a funeral service on Friday, July 24, at Celestial Chapel of Dan Hurley Home for Funerals and Cremation Center. The viewing will begin at 9-10 a.m. with the service immediately following. Interment will be cremation.
Due to the global pandemic, coronavirus (COVID-19), and public health guidance, masks or facial coverings must be worn at all gatherings.
Family and friends may offer their support by sharing a special memory or message by going to www.hurleydavisfuneralhome.com
Arrangements are under the care of Dan Hurley Home for Funerals and Cremation Centers of St. Thomas, St. John and St. Croix