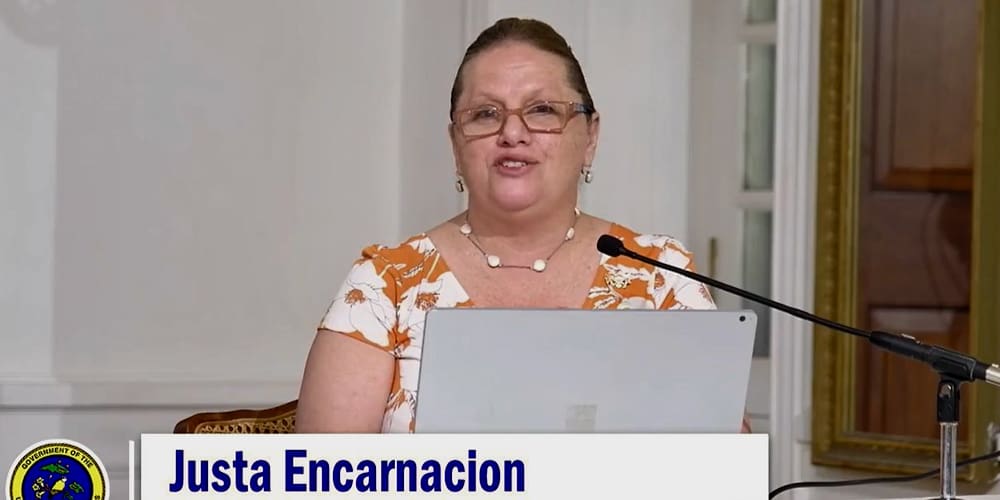 COVID-19 is still alive in the U.S. Virgin Islands, with 27 new cases recorded across the territory over the past three days. Still, Health officials remained positive on Monday about the territory's chance of beating the virus, reminding residents that all response protocols are still in effect, including a mask mandate that should be followed regardless of vaccination status.
Speaking at Government House's Monday press briefing, Health Commissioner Justa Encarnacion said the department is tracking 63 active COVID cases – 38 on St. Croix, 22 on St. Thomas and three on St. John. A total of 92,216 residents have been tested overall. Of that number, 2,998 tested positive.
Current positives include four patients at Gov. Juan F. Luis Hospital on St. Croix, one of whom is vented, along with one vented patient at the Schneider Regional Medical Center.
To report COVID cases, Health's hotline remains open seven days a week from 9 a.m. to 10 p.m. Residents can call 340-712-6299 on St. Croix and 340-776-1519 on St. Thomas.
"COVID is still very much with us, but we can beat this," Encarnacion said on Monday.
This week's pop-up testing sites and times are:
– St. Thomas at Home Depot on Tuesday from 1-3 p.m.;
– St. Thomas at Lionel Roberts Stadium on Thursday from 1-3 p.m.;
– St. Croix at D.C. Canageta Ballpark on Tuesday from 10 a.m. to 1 p.m.;
– St. Croix at Buddhoe Park on Thursday from 10:30 a.m. to 1:30 p.m.; and
– St. John at the V.I. Port Authority Gravel Yard on Wednesday from 1-4 p.m.
Encarnacion stressed on Monday that getting vaccinated is the most effective of all the mitigation efforts, as the more residents vaccinated pushes the territory closer to achieving herd immunity. The government continues to work with the Federal Emergency Management Agency to increases its allocation of the vaccine, and Encarnacion advised residents with questions to seek information from reliable sources, such as the Health Department.
With community vaccination clinics open now for the past six weeks, 31,305 residents have received at least a first dose, while 20,004 residents are fully vaccinated. Residents can make an appointment by calling 340-777-8227 or visiting the Department of Health website.
The vaccine is available to all residents age 16 and older.
In other news, Government House Communications Director Richard Motta Jr. said on Monday that both the Bureau of Internal Revenue and Finance Department have confirmed receiving the money needed to begin distribution of the third round of stimulus checks, which would total $1,400 for each eligible taxpayer and their dependents.
Motta said BIR is finishing this week the second round of $600 checks and once that is complete, the third round could start being distributed as early as next week. Those residents who have not filed their 2019 taxes will not be receiving either check but can claim them on their next tax return.