Officials seized 475 pounds of cocaine valued at $4.3 million and detained three men after inspecting a vessel being hauled from the water in Puerto Rico, U.S. Customs and Border Protection announced Tuesday.
According to the press release, the boat had traveled from St. Thomas.
The agency's Air and Marine Operations found the cocaine concealed inside the vessel that was being removed from the water on Sunday at the public boat ramp in Las Croabas, Puerto Rico, the press release stated.
"Our agents continue to interdict unlawful people and cargo approaching U.S. borders, investigate criminal networks and provide domain awareness in the air and maritime environments," said Augusto Reyes, director of the Caribbean Air and Marine Branch.
Marine Interdiction agents were conducting a land patrol near the ramp when they interviewed the occupants of the vessel being removed from the water using a truck and trailer. One of the men admitted to entering the U.S. illegally from the Dominican Republic and the vessel operator admitted to returning from St. Thomas and not reporting entry to Customs and Border Protection, according to the press release.
The agents requested assistance from a Puerto Rico Police Department K-9 that alerted to the presence of a smell it is trained to detect, the release stated. Agents inspected the vessel, finding a hidden compartment containing 202 bricks of a white powdery substance that tested positive for the properties of cocaine, it said.
Homeland Security Investigations special agents took custody of three men and the contraband for prosecution and investigation, the release stated.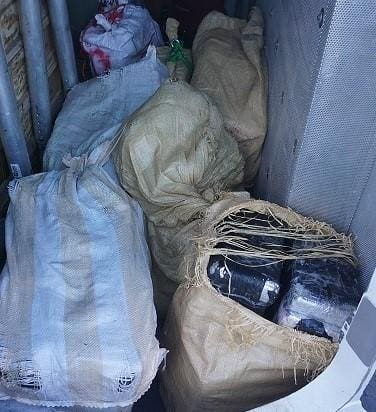 The drug bust is the second in just days in the area. The crew of the Coast Guard Cutter Joseph Napier and Caribbean Corridor Strike Force agents offloaded 626 pounds of seized cocaine on Monday in San Juan, Puerto Rico.
The offload of contraband resulted from a go-fast vessel interdiction on April 28 in Mona Passage waters near the Dominican Republic, the Coast Guard said in a press release. The cocaine had an estimated wholesale value of about $5.6 million, it said.
According to the report, the crew of a Coast Guard HC-27J Spartan aircraft detected a suspect vessel north of Mona Island on April 28. Watchstanders in Sector San Juan diverted the cutter Joseph Napier to the area, whose crew observed people aboard the suspect vessel jettisoning multiple bales into the water and attempting to flee toward Dominican Republic territorial waters, the release said.
Once in Dominican Republic waters, a Dominican Republic Navy vessel interdicted the suspect vessel and apprehended three Dominican Republic nationals who were aboard, the report stated. Meanwhile, the crew of the cutter Joseph Napier recovered 11 bales from the water, which tested positive for cocaine, the release stated.