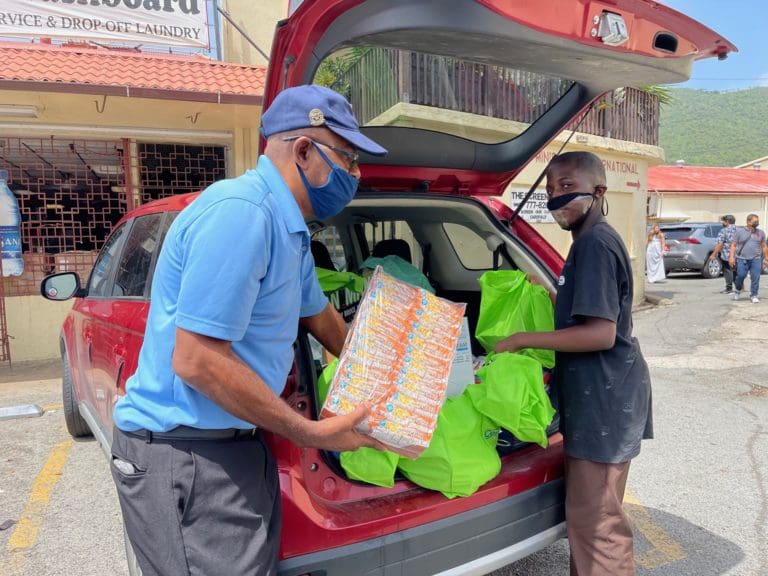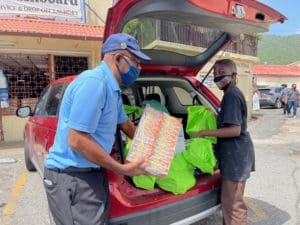 Looking back on food and supply donations that have come in for local retirees over the past year, Citizens and Police Association President Bruce Flamon estimated the total value at nearly $40,000, including gifts through the organization's fund at the Community Foundation of the Virgin Islands.
Sunday morning, Flamon and 11-year-old Liam Hill, a student at Joseph Gomez Elementary School on St. Thomas, were offloading the latest set of collections on St. Thomas, which are picked up every two weeks. The drive started around the time the global COVID-19 pandemic began to set in, with CAPA members looking to see what they could do to aid one of the territory's most vulnerable populations: senior citizens.
Three drop-off points have been set up on St. Thomas – the Fruit Bowl, Moe's on the Waterfront and The Market in Estate Tutu – and Flamon said that once they were set up, donations just haven't stopped. Drop-offs are at the Lucinda A. Millin Home, Ebenezer Gardens and The Celestino A. White Senior Citizens Residence near Foothills Professional Center.
What's more is that the local business community is also stepping in for special needs, Flamon said, adding that most recently, Carlos Furniture donated a brand new bed for a senior citizen in need of a new mattress.
[adrotate group="6"]
"Our theme is 'doing good in our neighborhood,' and people really are," Flamon said. "They are just so excited to give, and I have to tell you, our seniors are grateful to be on the receiving end of such incredible generosity."
On St. Croix, the drop-off point for food and supplies continues to be Speak the Word Ministries in Christiansted.