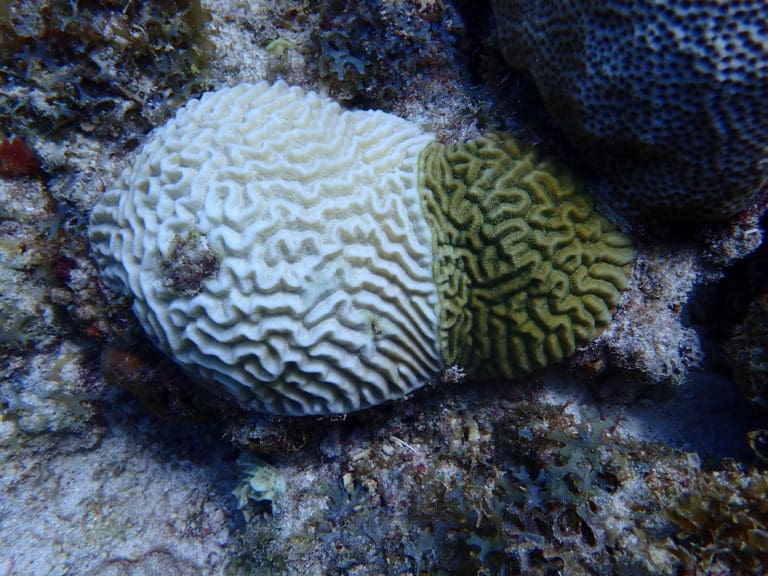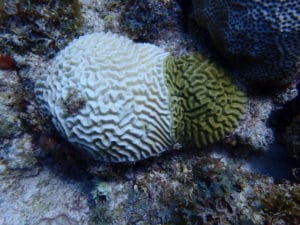 The Department of Planning and Natural Resources received $279,976.90 from the U.S. Department of the Interior in an effort to protect coral reefs and combat invasive species in the territory for the 2021 fiscal year.
The U.S. Department of the Interior's Office of Insular Affairs announced recently that over $2.7 million was allocated to their Coral Reef and Natural Resources Initiative grant funding and was awarded to Guam, American Samoa, the Commonwealth of the Northern Mariana Islands, the US Virgin Islands, Palau, Micronesia, and the Marshall Islands.
According to DPNR Coral Disease and Restoration Coordinator Joe Townsend, the department received two grants,: one that totaled $217,858.00 and is focused on restoration with more resilient corals in response to Stony Coral Tissue Loss Disease; and one that totaled $62,118.90, and is in reference to invasive species management. The Division of Coastal Zone Management will manage programs related to coral reefs and the Division of Fish and Wildlife will manage the invasive species program.
"This funding is crucial in our response effort to Stony Coral Tissue Loss Disease, the latest in fast-acting threats to coral reefs here in the U.S. Virgin Islands," Townsend said. "As a territory that relies on coral reefs for millions in resources through land protection, fishing, and tourism, SCTLD threatens to severely impact our entire territory from the bottom of the ocean up. As this disease has been present for over two years, resource managers, scientists, and community members have already begun to work on a comprehensive response, from further research and collaborative information exchange to in-water treatments on corals to arrest disease movement."
Stony Coral Tissue Loss Disease is a condition that causes tissue loss in corals, and can ultimately kill the animal within days to months. The disease started off the coast of Florida and began to appear in the USVI in 2019.
"In the US Virgin Islands, SCTLD was first observed off of St. Thomas in January of 2019, began to spread until reaching St. John in 2020, and appeared in St. Croix in May of 2020," said Townsend.
More information on the impact of SCTLD in the Caribbean can be found here. 
The Department of the Interior offers a Coral Reef and Natural Resources grant every year to contribute to the health of coral reef ecosystems and other natural resources for long-term economic and social benefit. According to Townsend, DPNR has worked through the Department of Interior's programs before to support restoration of endangered elkhorn corals, and most recently, to fund a majority of the ongoing in-water interventions against SCTLD that is present in the U.S. Virgin Islands.
"As a key facet to this response, coral restoration will be the focus to bring affected reefs back from the brink," said Townsend. "This project aims not only to halt disease, also but look at how humans can actively bring back coral species that have been lost on reefs as a result of SCTLD."
Current efforts include removing diseased coral and treating diseased coral with an amoxicillin antibiotic.
When asked how the funds for the program will be allocated, Townsend responded that in reference to coral disease program, "these funds will be allocated to sub-contractors based on available resources to assist CZM in project completion. CZM regularly works with subcontractors such as the University of the Virgin Islands to complete research and projects that do not fall within the current division capacity."
Currently, the Virgin Islands Coral Reef Advisory Group, a collaborative entity of federal and local resource managers, scientists, non-governmental organizations, and community members, assists with managing the outbreak. They created a subgroup, the Virgin Islands Coral Disease Advisory Committee, that published the official Virgin Islands Coral Disease Outbreak Response Plan. The plan was endorsed by DPNR, the National Park Service offices, UVI, and the National Oceanic and Atmospheric Administration. According to Townsend, there have been "over 200 corals rescued from diseased areas, over 7,500 coral disease treatments placed across the territory since treatments began in January of 2020, and over $2.5 million awarded to UVI by NSF [National Science Foundation] in coral disease research."
For more information on SCTLD spread and reporting across the USVI, click here.
Townsend said that, SCTLD has the "ability to infect over half of all Caribbean coral species and with a greater mortality rate than other similar diseases. In the USVI for example, tissue loss rates may be as much as 10X faster than other coral disease tissue loss rates."
The project for the grant funding has already identified several species particularly important for "reef-building" and will identify the best ways to ensure their survival and growth in the coral restoration process.
More information about DPNR can be found here.