Organizers of the St. John Cancer Fund's major fundraiser say they're putting together an inspired event in 2018. Inspired, they say, because they began by thinking they might not stage the 4th Annual Light Up the Night walkathon at all.
Instead, they made adjustments. Teams of walkers will go round and round the track from dusk but will stop at 1 am instead of ending at dawn in past walks. The host of businesses supporting the fundraiser have not been recruited.
Thoughts of canceling an event highlight were being entertained.
But then, said one organizer, possibilities arose.
[adrotate group="6"]
A local non-profit came through with funding. One volunteer took the lead on staging the Warrior Dinner. Singing groups made commitments and a headline entertainment act said they would perform for free.
So Mary Bartolucci and the volunteers from SJCF said the event would go on.
This year's Light Up the Night takes place in the usual space — Winston Wells Ballpark — with the usual startup time, 4 p.m., on March 24.
But this year it will be a relatively short walk, until 1 a.m.
Bartolucci said a lot of pros and cons were weighed in the process. "We weren't going to do the event. At first, after the storms, we weren't sure what was happening. We thought, 'Well, we'll do a reduced one. We didn't want to ask anyone for money," she said.
Then, SJCF decided to apply for a grant from the Community Foundation of the Virgin Islands. The approval came through and a decision followed to create this year's tee shirt. it's printed in medium indigo, with the Light up the Night logo on the front and a heart on the back. In one corner, along the hem, the CFVI logo.
One sponsor on board, she said, and on with the show.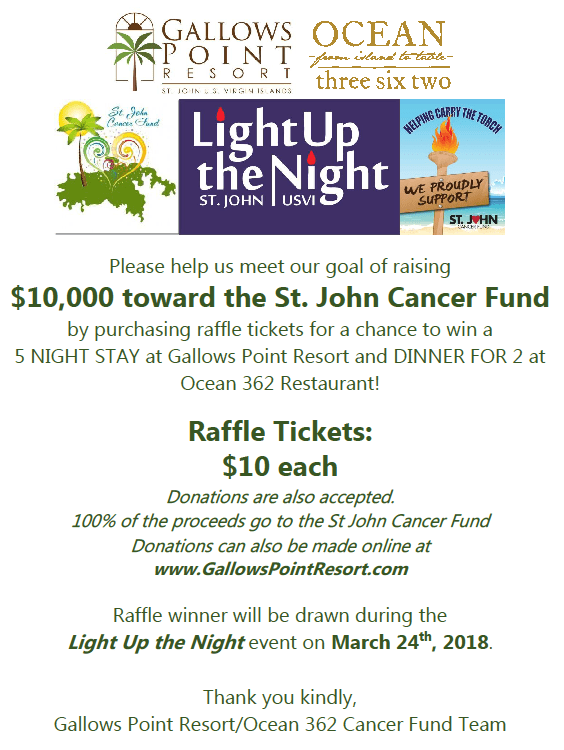 One local business, Gallows Point Resort, also made a commitment. They would provide free accommodations for the husband and wife acrobatic team from New York, Cirque-Tacular.
Cirque-Tacular Entertainment is a troupe that has performed in 40 countries, at public and private events around the world. They are scheduled to appear in two 20-minute mini shows during the St. John cancer walk.
Visiting acrobats will join singer Eric Provost, the St. John School of the Arts Children's Choir and local bands on the entertainment lineup.
The luminary ceremony, where the community decorates the track with paper lanterns to honor the living and the dead, will take place just like it has in past walks. Luminaries are for sale this week at The Marketplace on the second floor across from the PostNet location.
Organizing on a shoestring budget required a new approach to the highlight of the night, the Warrior's Dinner. Six weeks and some original thinking gave volunteer Evanna Chinnery a new approach.
When she first heard that help was needed, Chinnery said she attended a meeting where she expected to sign up as a singer. But she said, she loves to help others, and putting together the Warrior Dinner together was her chance to do just that.
"I grew up on St. John and in general I like helping people. This year is special because we have survivors who lost part of their home in two major hurricanes, but they're still fighting the battle," Chinnery said.
Fifty-five cancer survivors and family members are expected as guests for the meal. Instead of approaching restaurants for donations this year, Chinnery said, she went to St. John churches.
Many of those churches have offered to cook. The dinner organizer said the event is also getting help from Toni Branner from Magic View Villa in designing a menu featuring healthy ingredients.
At least, Chinnery said, there will be few ingredients that would be detrimental to a cancer patient's health.
Over the five years that SJCF has hosted Light Up the Night and other fundraisers, over $500,000 has been raised and close to $400,000 has been dispersed in assistance to patients in need.
In 2018 the need is great. The Charlotte Kimmelman Cancer Center on St. Thomas sustained major damage in Hurricanes Irma and Maria and can no longer serve patients. The Roy L. Schneider Hospital is offering limited care, including some chemotherapy.