Island Roads Corporation poured concrete at a section of Centerline Road near Upper Carolina, above, after weeks of no sign of progress at the site.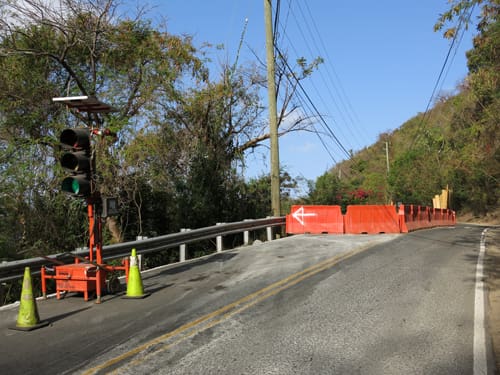 A traffic light, above, allows one lane of traffic around the area where speed bumps still remain, below. A second set of traffic lights around a second repair site is located a few hundred feet west of this area.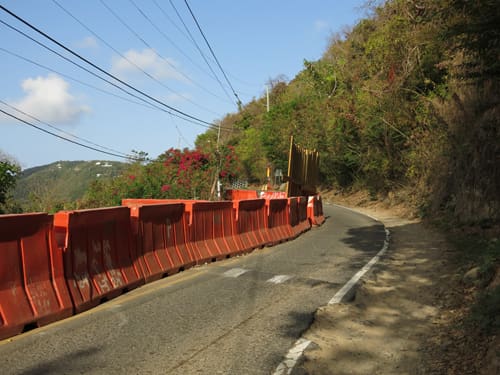 More than two months after beginning emergency repair work on a section of Centerline Road, there has been slow, if any, progress at the site until one day last week.
It took more than three years — and numerous phone calls and petitions from residents —from when the road was initially damaged before Department of Public Works officials awarded the federally funded project to Island Roads Corporation.
More than two months later, with such slow progress at the site, residents are again voicing frustration.
"When are they ever going to resume work on our road," asked one resident.
Centerline Road is the sole federal highway connecting Coral Bay and Cruz Bay. Several portions of the road, including an area near the Upper Carolina subdivision, were initially damaged in the wake of heavy rains from Tropical Storm Otto in 2010. DPW officials did no more than place orange cones in the area until heavy rain in May 2013 sent a section of the road tumbling down the hillside.
Since May of last year Centerline Road has been passable only in one lane near the Upper Carolina subdivision as DPW officials continued assessing damage, drawing up plans and filling out paperwork with Federal Highway of Administration.
Finally, in January 2014, DPW issued the contract to Island Roads and crews moved heavy equipment into place to get started on the planned $1 million project which was expected to last nine months.
Island Roads crews erected two sets of stop lights directing traffic safely in a single lane around the two gaping holes in Centerline Road near Upper Carolina. Crews dug out the holes, put rebar in place and seemed to be ready to pour concrete when work halted.
While DPW Commissioner Darryl Smalls did not return St. John Tradewinds phone calls requesting comment on the status of Centerline Road repairs, several Island Roads crew members said the hold-up was between DPW and Department of Planning and Natural Resources over permits which were not in place.
The project was stalled for at least three weeks as paperwork was filed and residents worried that the now even larger holes would not hold up to the high season traffic, water trucks, concrete trucks, school buses and more.
"Right now there are just boards holding up the road," said one Coral Bay resident. "That won't last forever."
Finally on Wednesday morning, March 19, an Island Roads crew was at the Centerline Road site ready to pour concrete. While the truck didn't arrive until the afternoon, residents were not complaining.
"They were going fast until there was some kind of hiccup," said a Coral Bay citizen. "Then there were three weeks of nothing. Now supposedly everything is supposed to be worked out; we'll see."
"I'm just glad they got some concrete in there," said another Coral Bay resident. "They came in and made the hole bigger and then they didn't come back for a while."
While it seemed that whatever was holding up the project over the past several weeks had been alleviated, there was no further sign of activity at the road site following the March 19 concrete pour.
And residents are again questioning if the road will ever get fixed.
"This is just way too slow," said a resident. "Seems like it's going to take much longer than they originally planned because there is never anyone working there."