Representatives for the owner of three affordable housing communities met with tenants Tuesday and Wednesday to assure them that repairs from Hurricane Irma are ongoing and that rents were being adjusted to reflect the amount of damage in individual units.
"We are now in Phase 2 of construction," said Rick White, director of asset management for AIG, the company that owns Bellevue Village and the Calabash Boom Apartments on St. John, and the Lovenlund Apartments on St. Thomas. The "safety work" – including necessary demolition, removal of downed trees, and urgent repairs – has been completed, he said.
White also said AIG was monitoring the weather and tracking potential storms. If a storm approaches, the crew on site will stop making repairs and shift its priority to storm preparation.
"Regardless of damage, no rent is due in October, November or December," White told residents of the 72-unit Bellevue Village development Wednesday evening. Some tenants became alarmed on Aug. 29 when they received letters indicating a portion of their rent would be due in September, contradicting a letter sent in June which stated that all rent payments would be abated until January 2019.
[adrotate group="6"]
"We are honoring that [June] letter," White said.
White said tenants would soon receive a statement detailing whether they had a credit or a balance due from the months prior to the hurricane, and would receive a new adjusted rate if they suffered damage. He explained that a fund was being established to assist tenants who are still struggling financially as a result of the storm.
"We know that times are tough. AIG, with some assistance from [management company] McCormack Baron, is setting up a $250,000 fund. People will be able to apply for relief based on need," he said.
When someone raised the issue of whether tenants would be able to eventually purchase their units as outlined in their original lease agreements, White said he could not speak to the issue of home ownership.
"I do not know much about this," he said, adding that discussions were ongoing with AIG, the Housing Finance Authority, and Sen. Marvin Blyden. "I can assure you that it is at the top of their minds."
Philip Roy, senior vice president of David Patillo and Associates, a construction management company brought in by AIG to oversee construction, explained to tenants at Bellevue why repairs were taking so long.
"We have 2,000 boards of dry wall on order. We've ordered several hundred windows, plus roofing, gutters, and doors. Some of it is still in the ports, waiting to go through Customs; some of it is still on the ocean."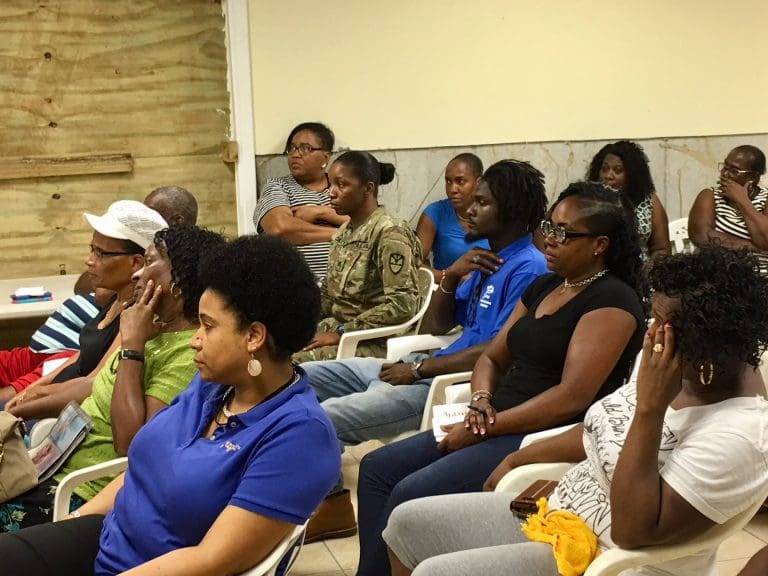 "I know we've dropped the ball a little in terms of communications," Roy added. "We're going to put your home back to better condition. We're not going to put on a band aid. I'm not asking you to trust me. Just watch my actions."
DPA contracted with Shear Construction to do the work at the three housing communities. Dave Marshall of Shear Construction said a crew of 20 was now living on site at Bellevue and making repairs there with the materials available. He said his crew regularly scouted Home Depot and Paradise Lumber for the arrival of new supplies. When the supplies on order arrive, more crew will be hired.
Marshall urged tenants to keep the onsite manager informed of necessary repairs, including problems such as mold and leaking windows that were not immediately apparent when the assessment team first came through last spring.
Bellevue resident Jacquelyn Parsons-Browne said tenants need to be available when crew is scheduled to work on their units.
"If you give them a hassle, you'll get passed over. Make sure you're home," she said.
Tenant Keryn Bryan said that she felt much safer since Shear Construction made repairs to her roof in the past week.
Shared content for Virgin Islands Source and St. John Tradewinds.