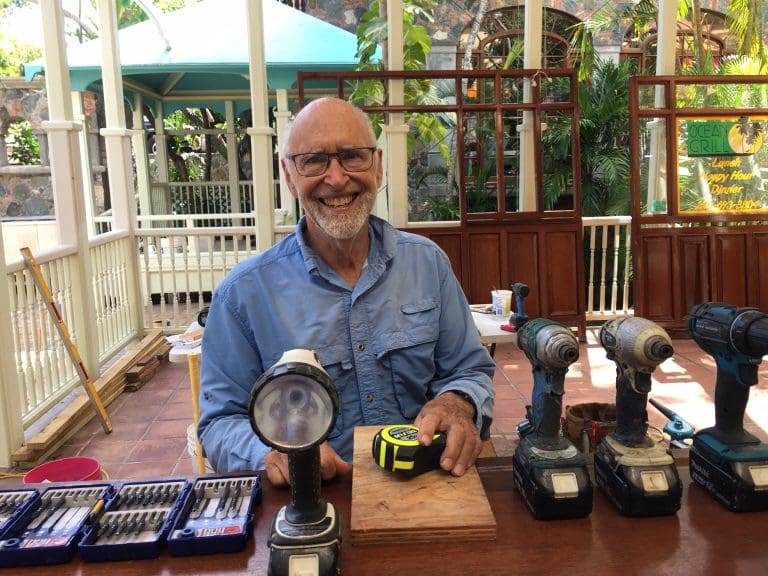 September is traditionally the quietest month for dining on St John. Restaurants take advantage of the slow season to give staff their well-deserved vacations and make upgrades to kitchens and dining areas. People looking to celebrate birthdays and anniversaries are often frustrated to find their favorite dining spots closed this month, but a survey of St. John restaurants shows that many choices are still available.
Most restaurants have taken a hit this past year after Hurricane Irma struck in September 2017. Some were completely destroyed and have made heroic efforts to rebuild, while others continue to struggle to stay afloat in the wake of the closing of the island's two major hotels (the Westin and Caneel Bay) and two popular campgrounds (Cinnamon Bay and Concordia.)
A survey of restaurants throughout the island shows that some have shut down permanently while others have chosen to open in spite of the decline of hungry tourists.
Gone for the foreseeable future:
[adrotate group="6"]
High-end restaurants are definitely more scarce on St. John.   Hurricane Irma took out Zozo's at Caneel Bay, Knox and Ollie's at the Westin Resort, and Asolare at Estate Lindholm.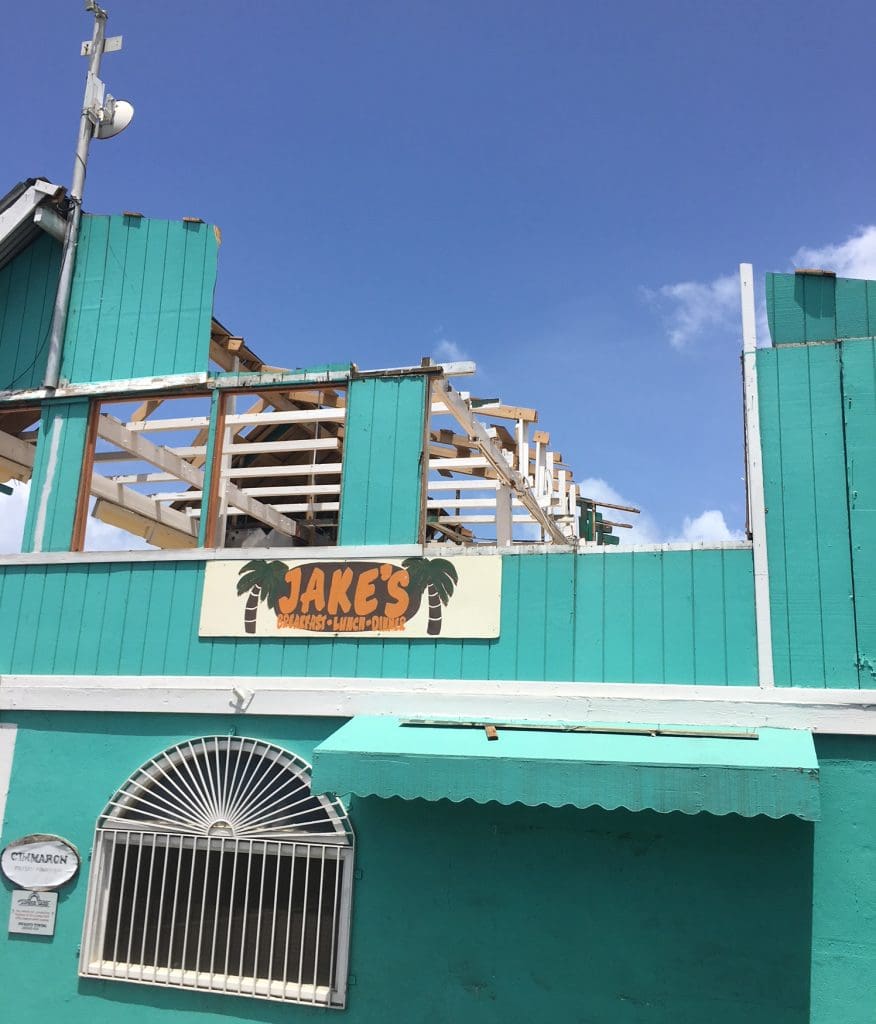 Seafood and dessert aficionados were disappointed to see that Ocean Grill, which had survived the storm,  closed for good in August.  Several days later, Mongoose Junction owner Glen Speer took out the few remaining trees that were dying in the patio portion of the restaurant, promising to construct a permanent covering that "will still be light and airy."   After completing a thorough cleaning, Speer said he will begin to consider offers to open a new restaurant—"something like Ocean Grill, upscale but casual."
Irma destroyed the Lumberyard Complex, taking out the moderately-priced Jake's, Barefoot Cowboy, Driftwood Dave's and Estelle's (aka Sosa's.)  Sosa's is now serving food from a location opposite the old entrance to the barge.
Two Cruz Bay restaurants featuring West Indian cuisine have also shut their doors, Sogo and De'Coal Pot; Candi's Barbecue also never reopened after the storm.
Joe's Rum Hut and the Beach Bar at Wharfside Village also remain closed. Editor's Note: This sentence has been corrected to report that Banana Deck did reopen after the storms. The restaurant is currently closed for a few weeks during the off season.
In Coral Bay, one landmark restaurant, Shipwreck Landing, did not survive the storm, and Island Blues (which had been shuttered for years) remains a pile of rubble to this day.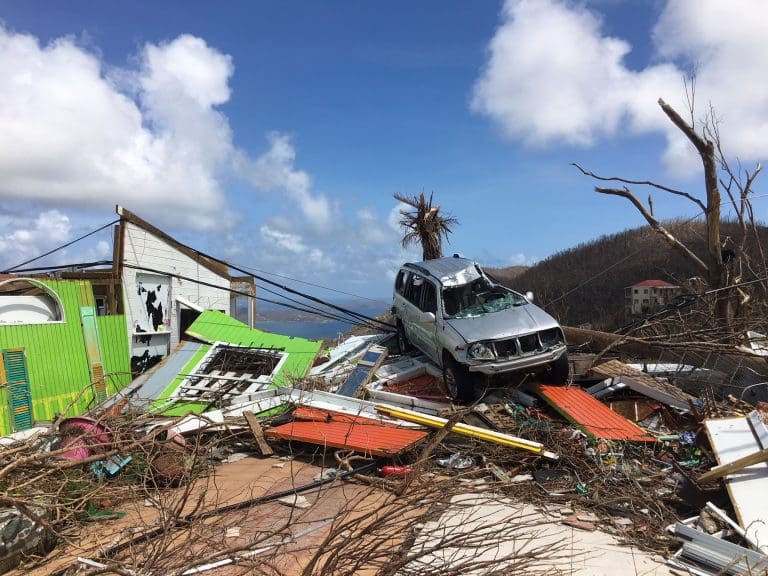 The storm-shattered Chateau de Bordeaux, which had been a favorite viewpoint for photographers, became a popular spot for disaster gawkers when a car landed on the building during the storm. The site has since been cleared.
Rebuilds and Rebirths
The storm also blew apart Morgan's Mango, which had already been rebuilt once following a devastating fire in April 2015. Luckily for owners Carlos and Maria di Blasi, Kenny Chesney's Foundation was on hand soon after Irma to demolish what was left and reconstruct the restaurant which reopened in February.
Skinny Legs Bar and Grill, Coral Bay's famous hangout which was reported to be completely destroyed by Irma, rose like a phoenix following the storm and was up and running sooner than expected.  It is now closed for slow season but will reopen in late October to host its famous Halloween party.
Also in Coral Bay, Pickles in Paradise sustained heavy damage from the hurricanes.  Owner Beverly Melius is still figuring out who will run the bar and restaurant, also the home of Coral Bay's only Open Mic night, now that Kim Edwards and business partner Mark Danishefsky decided not to renew their lease.
In Cruz Bay, Cafe Roma did open after the storms and in June, sold to a new owner, Jerry Mace. Mace says Chef Marilyn, who's worked in the kitchen for 21 years, is still using the recipes from when the restaurant opened 1981.  Mace grew up in the restaurant business on St. Thomas where his parents operated the Driftwood Inn on Mafolie Hill in the 1980's.  Cafe Roma is now offering free appetizers from 4 to 6 p.m., and because parking can be so challenging in Cruz Bay, they're offering curbside pickup and free delivery in town. Editor's note: The first sentence of this paragraph has been corrected. Cafe Roma did open after the storms. The previous owner, John Hiebert sold the restaurant to Jerry Mace in June.
In May, chef Mathayom Vacharat opened Lucky Chops in the site of the former Fish Trap Restaurant at Raintree Mall (which had closed for the season when Irma struck.)  Hoping to fill the void left by Umami, another victim of the storm, Vacharat offers a menu specializing in Asian-inspired cuisine. Saturday is now exclusively sushi night. He has also launched Trivia Night on Thursdays (teams gather at 5:45 p.m.)  Prior to opening his own restaurant, Vacharat operated Mathayom Private Chefs and a catering business. His kitchen was located at the Windy Level, a breezy venue up Centerline Road, where he offered special full moon dinners until Irma blew it all away.
The Tap and Still, a popular burger joint with locations in Red Hook and Havensight, opened at the site of the former Umami in mid-July. Workers worked feverishly to open the bar on July 4th, just in time for St. John Carnival.  Owner Hooman Pedram also operates Rock City, a brewery on St. Thomas, and will soon be selling fresh beer on tap at the St. John location.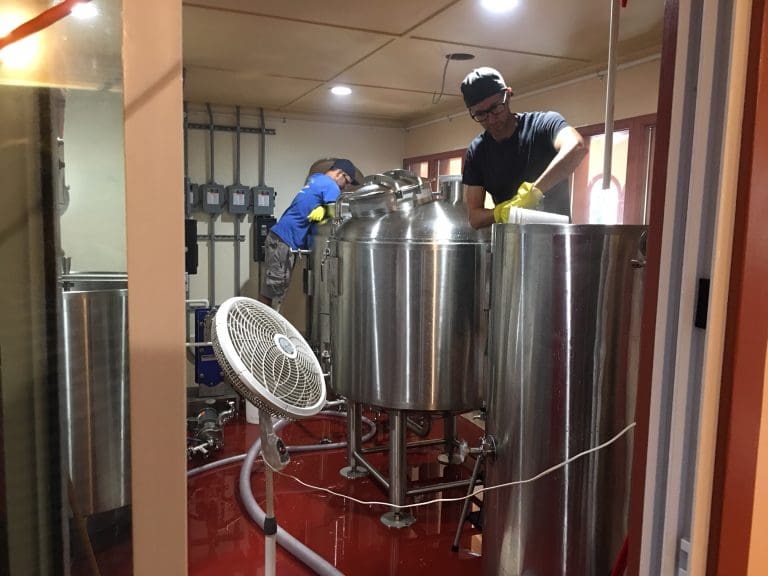 Any discussion of freshly-brewed beer leads immediately to the Tap Room at Mongoose Junction, which also was shut down because of a fire in 2015.  Two months later, it reopened as a cozy little bar and restaurant, and it stayed in this form until June when renovations were completed.  It now includes a much-expanded, air-conditioned dining area, a bar with big-screen TV's, and a brewery located on a mezzanine level.  In the gleaming tanks visible from the dining area, St. John Brewers' Kevin Chipman and Chirag "Cheech" Vyas are now producing their signature beers.
Also relatively new at Mongoose Junction is Greengo's Caribbean Cantina, which opened in February and features multiple giant TV's for sports fans.  It's owned by the same group that has Greengo's in St. Thomas and San Juan, and the Smoking Rooster in Havensight.
Although it has not yet opened, the Marketplace will soon have a new take-out eaterie in the site of the former Etta's.  Shaibu's Gourmet Grab and Go is expected to open in mid-October, according to Julie Downard, who is partnering with Culinary Institute of America-trained chef Shaibu Abdulai.  They'll be using the space for their catering business as well as selling juices, salads and smoothies.
The only beach where food is available on St. John's North Shore is Honeymoon Beach. Accessible by boat or by hiking a mile-long trail from Cruz Bay, Bikinis on the Beach Bar & Grill serves drinks and freshly made sandwiches, wraps, salads and quesadillas in addition to ice cream and St. John-made Irie Pops.
Closed for part of the slow season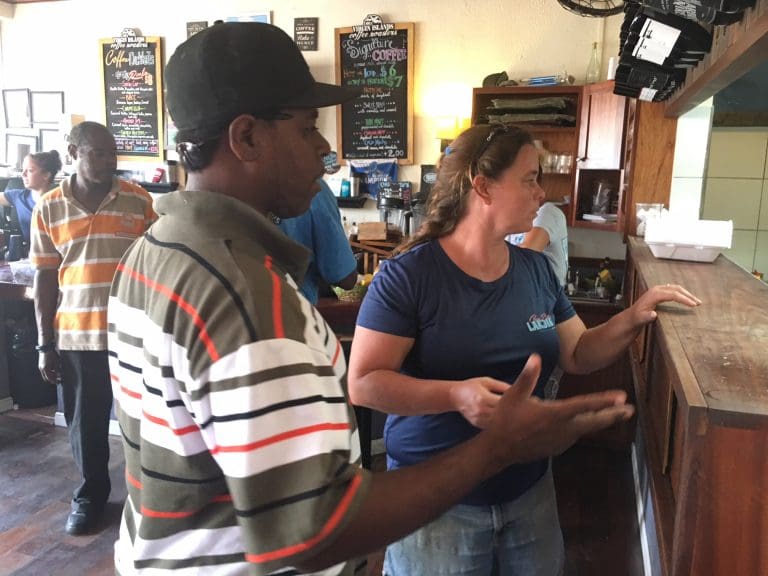 Before you step out to go to your favorite spot for food and drink, be sure to confirm that it is open.  The following restaurants have said that they will close for part of the slow season.
In Cruz Bay
Banana Deck – Closed until sometime in October.
Cruz Bay Landing – Closing September 24-28 only.
Extra Virgin Bistro – Closed until October 5.
Lime Inn – Closed until October 8.
Little Olive – Closed until early October; owner Val Prakas is back on island.
La Tapa – Closed until mid-October except for "Pintxos y Vinos" for four nights (September 19-22) and two "Pottery in Paradise Dinners" September 20 and 22.
Margarita Phil's –Closed until late October.
North Shore Deli—Closed until October 1.
Ocean 362—Closed until October.
Quiet Mon Pub– Closed until  October.
In Coral Bay
Indigo Grill –Closing for at least a month for renovations starting mid-September.
Oasis –Closed since the hurricane; expecting to open sometime between October 15 and November 1.
Doing business pretty much as usual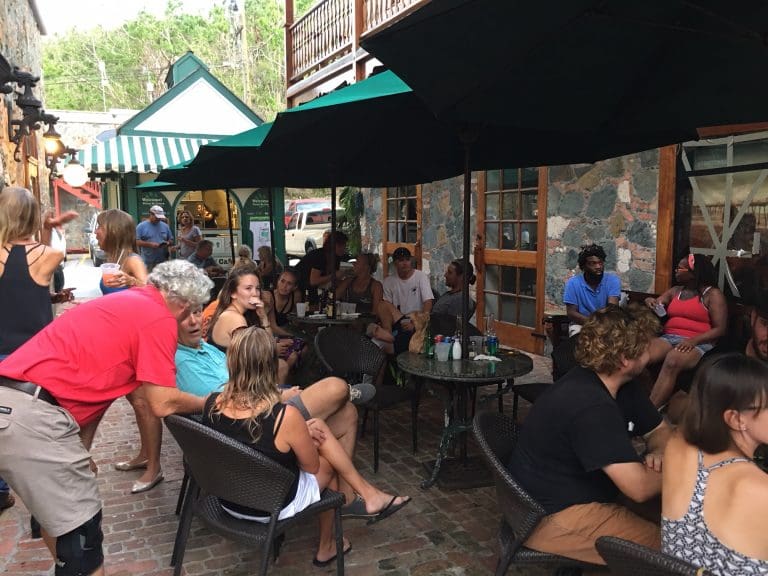 In Cruz Bay
Cafe Roma – Open daily for lunch, 11 am to 2 pm and for dinner, 4 pm to 10 pm.
Da Livio—open Monday through Saturday, according to a message on answering machine.
Dog House Pub –opened two days after Irma and still going strong.
Hercules Pate Delight–opens at 5 a.m.
High Tide –Open 365 days a year from 8 a.m. till 9 p.m.
Longboard – Open seven days a week starting at 3 p.m.
Rhumb Lines—closed on Mondays and Tuesdays; now offering half-priced pupu portions and drinks at the bar from 4 to 6 p.m.
Ronnie's Pizza—Open with "still the best WiFi on island."
Sam and Jack's –Open until 4 p.m. "for now"; closed on Sundays.
Sun Dog Cafe—Open Mic Night continues with Ms. Ingrid every Wednesday from 7-10 p.m.
St. John Provisions–Open for breakfast and lunch Monday through Saturday.
The Terrace—Open Tuesday through Saturday.
Uncle Joe's Barbecue- Open since right after Irma.
Woody's– Mike and Sharon Ramsey are still owners at Woody's, and there are two new owners on board, Chad and Jen Porter.
420 to Center – Open since immediately after Irma.
In Coral Bay
Aqua Bistro – has been open seven days a week since March.
Please note that in Coral Bay, landline phone service is still not available, and internet service is spotty,  We were unable to confirm information about Wok on the Beach, Miss Lucy's, and Pizzabar in Paradise.
Of note:
Love City Lunch Box Gourmet– Chef Faye Aurebach, who's been in the catering business for 25 years,  delivers five full dinners to homes or offices on St. John every Monday for $150.
Shared content for Virgin Islands Source and St. John Tradewinds.