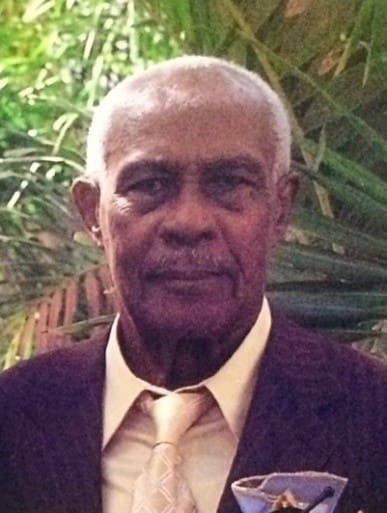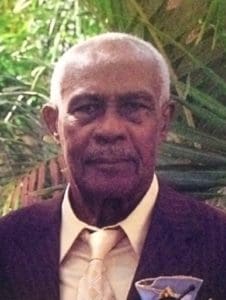 With sadness, the family of Albert C. Simmons, 93, announces his death on Oct. 12.
He is survived by his loving wife of 59 years, Gwendolyn Paulina (James); sister, Adina Dore of St. Thomas, V.I.; cousin, The Honorable Dr. Kennedy A. Simmonds of St. Kitts-Nevis, W.I.; and daughters: Sherril (Dennis) Joseph of the UK, Angela (Douglas) Campbell of Canada, and Dr. Tracey Simmons-Willis of Texas.
He is also survived by sons: Leroy (Jane) Baird of the UK, Paul (Fay) Browne of Canada, Carrington Simmons of New Jersey, Granville (Gloria) Simmons of North Carolina, Clive Irvin (Deslin) and Ricardo Simmons of St. Croix; and grandchildren: Deon, Tracey, Aston, Cleo, Priya, Ayzha, Xaria, Xavier, Jelani, D'Andre, Kwame, Xaden, Xaire, Xamir, Douglas Jr, John-Paul, Hannah-Rose, Isaac Browne, Obi, Sean, Rachel, Leola and Amal.
Other survivors include great-grandchildren: Angus, Ike, Pinky, Tiger, Chico, Halo, Marley, Ruben, Sade, Lawrence, Eden, Faith, Priscah, Peoria, Holly, Pierce, Asa and Leon; great-great- grandchildren: Ava and Pippa; adopted daughters: Monique King and Yvette McMahon-Arnold; special friends: Fredrick and Delores Morton, Jean Berkeley and Verna Joseph; as well as numerous nieces, nephews and friends too numerous to mention.
The viewing will be held from 3-5 p.m., Monday, Oct. 25, at James Memorial funeral Home.
Tributes will take place at 9 a.m., Tuesday, Oct. 26, immediately followed by the funeral service at 10 a.m., at St. John's Episcopal Church. Interment will be held in the church cemetery.
Due to the COVID-19 pandemic and public health regulations, all attendees must wear a mask and adhere to social distancing guidelines.