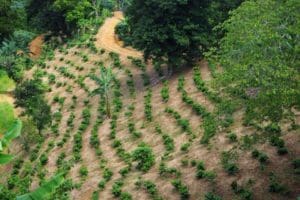 United States Department of Agriculture – Natural Resources Conservation Service (USDA-NRCS) advises the public of the 2022 Sign up for Conservation Programs to Benefit Caribbean Area Soil, Water, Plants and Animals. Attention Puerto Rico and U.S. Virgin Islands farmers, ranchers and forest landowners. Do you want to:
Improve your soil's health and production?
Conserve your farms soil and water?
Create or enhance habitat for pollinators and other wildlife on your land?
USDA Natural Resources Conservation Service (NRCS) offers voluntary conservation programs to help Caribbean area farmers and landowners secure cleaner water and air, healthier soil and enhanced wildlife habitat while maintaining a vibrant agricultural business.

The Environmental Quality Incentives Program (EQIP) is a voluntary program that provides financial and technical assistance to farmers and ranchers to help apply conservation practices on eligible agricultural land.
Through EQIP, USDA-NRCS helps farmers in Puerto Rico and the USVI to improve agricultural production and environmental quality with practices like micro-irrigation, livestock watering facilities, conservation covers, brush management, silvo pasture, high tunnels, prescribed grazing, nutrient management, wildlife habitat planting, rainwater catchments and over 100 other practices.
The Conservation Stewardship Program (CSP) is a voluntary program that helps farmers build on their existing conservation efforts while strengthening operations. The program provides 5-year contracts with minimum annual payments of $1,500 and funding for additional conservation practices and enhancements such as mulching to improve soil health, no-till to reduce soil erosion or riparian forest buffers to enhance wildlife habitat.
Whether a someone is looking to improve grazing conditions, increase crop yields or develop wildlife habitat, NRCS can custom design a CSP plan to help meet those goals.
CSP and EQIP applications are accepted year-round; however, NRCS sets application "cut-off" or submission deadlines to evaluate, rank and approve eligible applications. The following are the cut-off dates for fiscal year 2022:
CSP and EQIP Period 1 cut-off date:  (This date was changed to Dec. 31, 2021)
CSP and EQIP Period 2 cut-off date: April 29, 2022
For information on NRCS Programs and Services in the Caribbean Area, visit www.pr.nrcs.usda.gov or contact the local USDA-NRCS office.