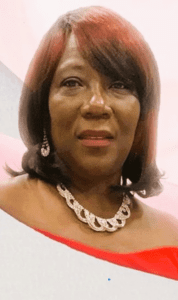 Alexia Callwood Azille died in Tampa Fla. on June 2. She was affectionately known as "Lexie."
Her Going Home Service will be held on June 30, at Faith Christian Fellowship Church Alive in Christ in Hidden Valley. The viewing and tributes will be from 8 to 10 a.m. The service will be at 10 a.m. The Internment will be at Eastern Cemetery.
Left to mourn her are her husband, Romuald Azille (also known as Chef Romeo); mother, Gertrude Parson; sisters: Allegra Callwood, Alicia Callwood Liburd and Arlean Parsons; brothers: Lyston Martin, Elliston Callwood, Celvin Callwood, Lucien Testamark, Ludence Parsons, Lee Parson and Juniel Daniel; stepchildren: Charles Azille and family, Rosemarie Oliveira Azille and family; Latoya Skeete and family; sisters-in-law: Lisa Parson, Lydia Testamark, Violet Callwood, Deborah Martin and Mary Azille and family; and brother-in-law, Mervyn Liburd; and nephews and nieces: Clyde, Donna, Keshawn, Yanella, Deshawn Kamal, Kadeem, Marquette, Kies N'Kaha, Keosha and Loring A. Callwood, Taliba, Neisjah, Brittiny, N'Kyla, Alyssa and Nalanie Parsons, Jahquan, Jordynn and Jaelynn, Daniel, Shakeema H. Rosa, Melicia Liburd, Jahryl Flemings, Shanika Davis, Sharnel Davis, Lucien Testamark Jr. and Rowmaine Charles.
Other survivors include special cousins: E. Tin Tin Hart, Pastor Aldean Henley, Odean Henley, Aldora White, Maloria Hodge, Valencia Chapman, Gwen Donovan, Julien, Ashley Callwood, Carmen Romney, Helen Callwood, Desiree Gumbs, Enid and Elliot Green, Joyce Harrigan, Italia Frett, Mary Blyden Hasting, Vernon, and Melvin Blyden, Lena Gomez, Italia, Winston, Larry and Joycelyn Frett, Jerry and Lillian Dawson, Lorna Christopher, Jerry Dawson Marshall and Jewel Dawson.  She is also survived by numerous great nieces and nephews; godchildren; as well as friends and relatives too numerous to mention.
Expressions of sympathy to the family may be made online at www.turnbullsfuneralhomevi.com.  Professional services have been entrusted to Turnbull's Funeral Home and Crematory Services., 3815 Crown Bay, Suite 10, Charlotte Amalie, St. Thomas, U.S. Virgin Islands 00802. Office: 779-6565 and Fax: 779-6566.