It was all nerves and talent at the local arts school last weekend.
Showcasing their potential, four young, talented and brave St. John School of the Arts students auditioned in front of three judges for the school's third annual Ruth "Sis" Frank Merit Scholarship on Sunday afternoon, June 10.
Sitting downstairs in the small and rather warm office of the arts school, Kamaria Penn, Tyler Stephens, Nicole Goldman and Christin Marsh all indicated they were very nervous as they waited to perform in front of the judges upstairs in the main room.
"I'm nervous," said 15-year-old piano student Penn. "There are many talented students. It's a tough competition."
Penn, who has been playing piano for a total of eight years, admitted she was slightly forced to take lessons and even wanted to give it up a few years ago until she had a change in teachers.
"I wanted to give it up but now I like it," she said. "Miss Jan is a teacher who doesn't give up. She persuades you to keep going — she can make a dog love a cat — she has magical powers."
It is now by choice that Penn takes piano lessons and she even practices 15-20 minutes each day or until she's frustrated.
"I wanted to audition to help my parents out in paying," said Penn. "I've been working really hard and one day you think you'll get one (scholarship)."
Ten-year old Stephens has been taking piano lesssons at the arts school for just two years and a piano career may be ahead for this rising star, who said he wanted to win the merit scholarship before auditions began.
"My parents think when I'm older I'll be a professional piano player," said Stephens. "I do want to be one once in a while. I'd like playing around the world."
It was his father's idea to take piano lessons, according to Stephens.
"He kind of tricked me," said Stephens. "But I'm glad he did beacause people can see how I can play and it gives me a chance to see what I can do on the piano."
"At first, when I started taking piano, I didn't like it," he said. "I had to practice everyday. I couldn't watch TV and missed everything I wanted to watch."
Even though Stephens missed his TV shows, he now says he "didn't really miss anything."
Stephens was nervous to play in front of people at first but he is now getting used to it.
"I'm still nervous but I definitely have more conifidence," he said. "The audience would not know that I'm nervous."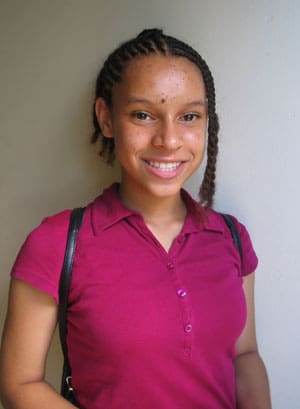 Apart from from the crowd, Coral Bay native Marsh was the only piano student present who wasn't "forced" into taking piano.
"I liked the sound of the piano," said Marsh. "When I heard my music teacher (Mr. Dale Francis) play the piano, he said he would teach me."
An encouraging mother, Debbie Marsh, enrolled her in piano lessons at St. John School of the Arts, after Christin learned the basics of note reading, according to Marsh.
"I asked my mother if I could get more into," she said. "And she said I could take piano at the arts school for the first year and if I liked it I could continue."
Nearly five years later, Marsh is still loving playing the piano.
"It was fun when I started learning my first offical song," she said. "My Mom was so proud of me and she and my sisters would listen to me play."
As a self-motivated student, Marsh practices three times a week for 30 minutes and admits she is a role model for her younger siblings.
"I learn to be creative," she said. "When I'm upset, I play the piano and it cools me down. The music keeps me happy and up."
Playing up-beat, fast songs are a favortie, added Marsh, who says "slow songs are interesting but they put me to sleep."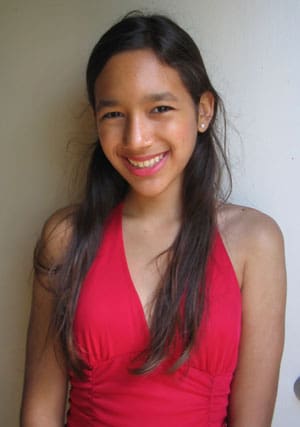 As the only dance performing student of the afternoon, Nikki Goldman was just as nervous as the rest of the competition.
Goldman, 13, attends Gifft Hill School and has been taking tap at St. John School of the Arts for s ix years alongside dance teacher Kim Wild. In preparation for the merit scholarship audition, Goldman videotaped herself performing her "Tango en tap" routine.
"Three weeks ago, we did a video taping to see myself," said Goldman. "For my performance, I have to keep a straight face but still look good. I didn't want to have a blank stare."
Working on keeping her arms and eyes balanced was difficult, according to Goldman, who added everything must flow.
"I worked really hard — practicing at the school once a week and at home — to count the music," said Goldman. "This year I really got the hang of counting beats. You have to be accurate in dancing to the music."
Not only does a tangoing tap student have to keep a straight face and keep up with the music but one must have the right body language, added Goldman.
"You have to have your arms and legs working together with your head and face," she said.
Little did Goldman know, but she actually quit ballet because of it strigent forms.
"I quit ballet because you must always be upright and balanced," said Goldman. "But I'm learning you must be upright in tap too."
All those nerves were calmed after the judges announced the winner of this year's Ruth "Sis" Frank Merit Scholarship winner. Penn and Goldman tied for first place while Stephens and Marsh tied for second place.
Judging this year's auditions were Bern Putnam, Livy Hitchcock and Elroy Sprauve.
"What impressed me the most is that they enjoyed what they were doing," said Sprauve. "I could see the potential but half the battle is enjoying what you're doing."
All the scores were very close and the performances were wonderful, according to the judges.
"It was great to award all to them," said Hitchcock.
Art School Formation
In 1970 a steel band program was established by Rudy Wells followed by the creation of "Steel Unlimited," a performing steel band orchestra, with Ruth "Sis" Frank as the manager.
As of the success of the steel band spread, the concept for St. John School of the Art came to fruition.
Construction of the building, located next to the Legislature, was completed in 1990. Ruth Sis Frank, co-founder of the St. John School of the Arts, was the inspiration for the merit scholarship.
"Her dedication and commitment to the children over the last 32 years, were responsible for the namesake scholarship," according to Jan Kinder, Executive Director of St. John School of the Arts.
All of the students competing for the scholarship, which the school plans to offer yearly, were impressive, according to Kinder.
"I was extremely proud of the students for their talented efforts," said Kinder. "The intentions of everyone at the art school is to be commited to having the merit scholarship every year."
The experience is positive for the students, Kinder explained.
"I know our students benefit from this experience," added Kinder.
"I would like to thank the judges for their knowledge, committement and time," concluded Kinder.