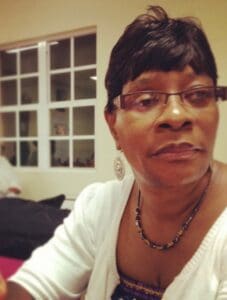 Angela C. Roberts died on July 5, in Tampa, Florida. She was 61 years old.
She was preceded in death by father, Lionel (Nook) Roberts Sr; sister, Lauria Roberts; and brothers: Lionel Roberts Jr. and Mario Roberts.
She is survived by her mother, Gwendolyn Frörup; aunt: Valburg Krauser; brothers: Michael Roberts, Norman Frörup Jr. and Craig Frörup; sister-in-law, Kendra Frörup; son, Ehrin Lynch; daughter, Kymesha Lynch; and grandchildren: E'Miah, Acacia, A'laina and Akaela Lynch.
She also leaves behind to cherish her memory nieces: Tamika and Nyah Roberts, Shanelle and Alexis Frörup; nephews: Mikyjah Roberts and Justin Frörup; a host of cousins to include the Daniel family; extended family; and special friends: Rita Jackson and family, Jeralyn Armstrong, LouVena Warner, Ulette Todman-Hodge, Diane Krause, Natalie O'Bryan, the staff at the Board of Elections, and many others too numerous to mention.
Funeral services are pending.