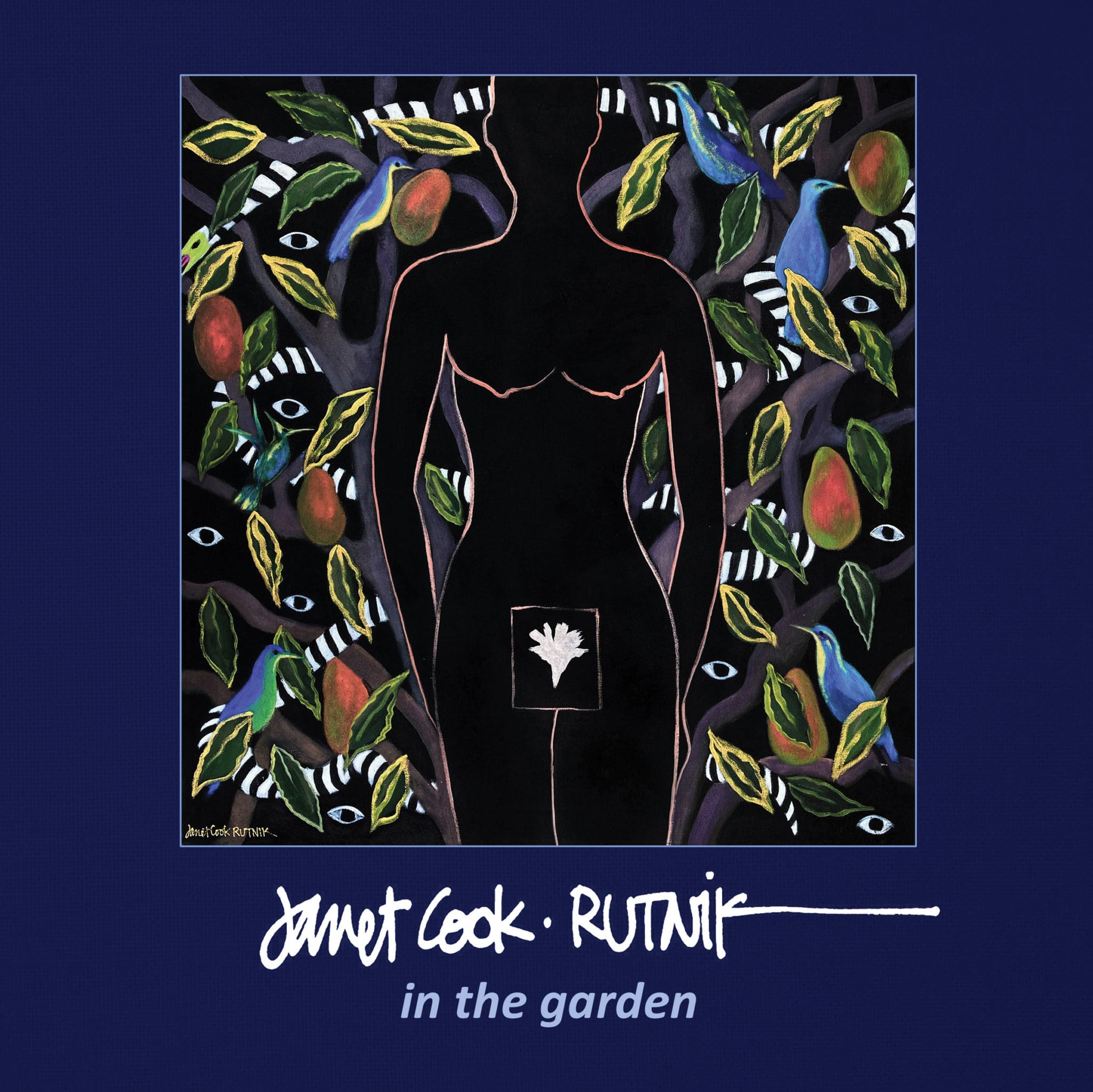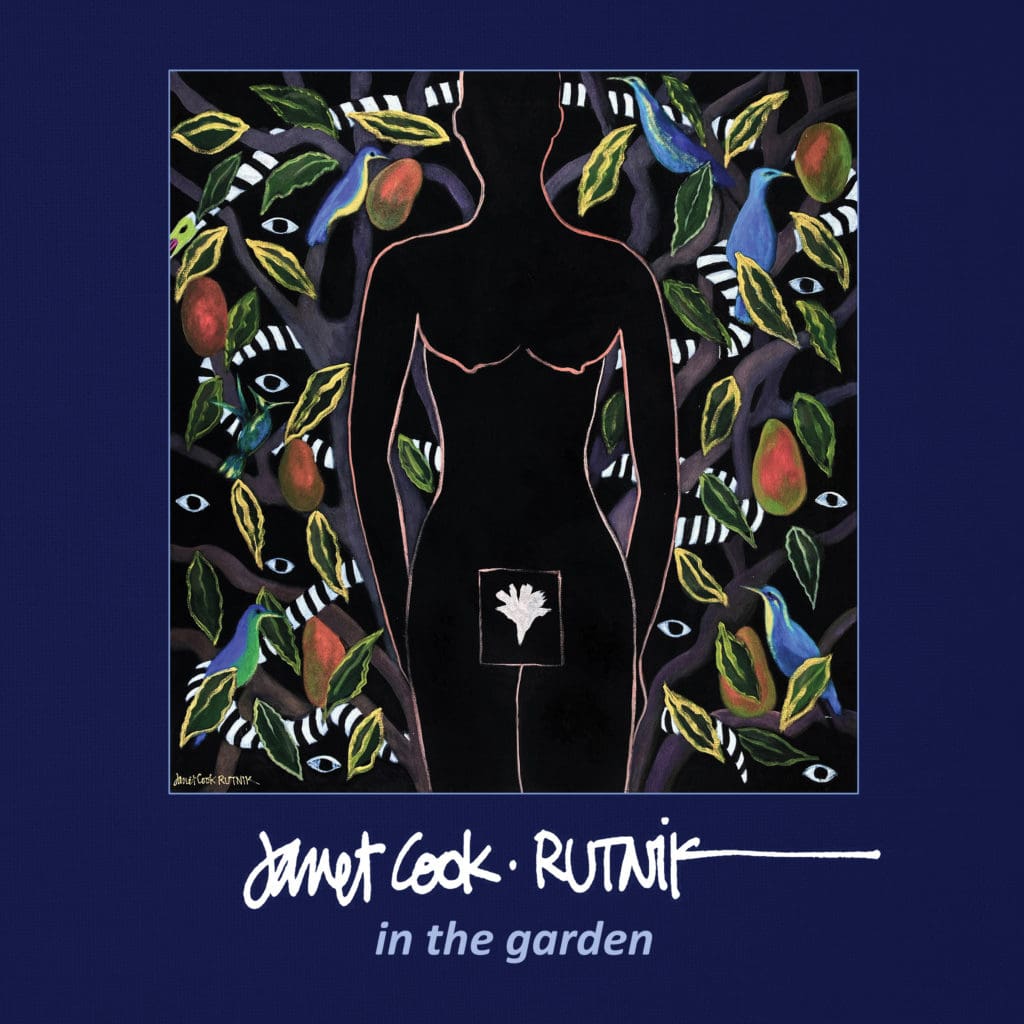 "With her work, Janet Cook-Rutnik is succeeding in helping us understand the beauty, the mysteries and, above all, the diversity of the Caribbean, at the same time that she is constructing a painful but beautiful portrait of herself." – San Juan Star Art Critic Manuel Álvarez, 1997
When Janet Cook-Rutnik celebrated her 50th year of creating art in the Virgin Islands, fellow artists and well-wishers urged her to publish a book that showed the scope of her work.
At first, that project seemed overwhelming. "It's hard to do a retrospective without support," she said.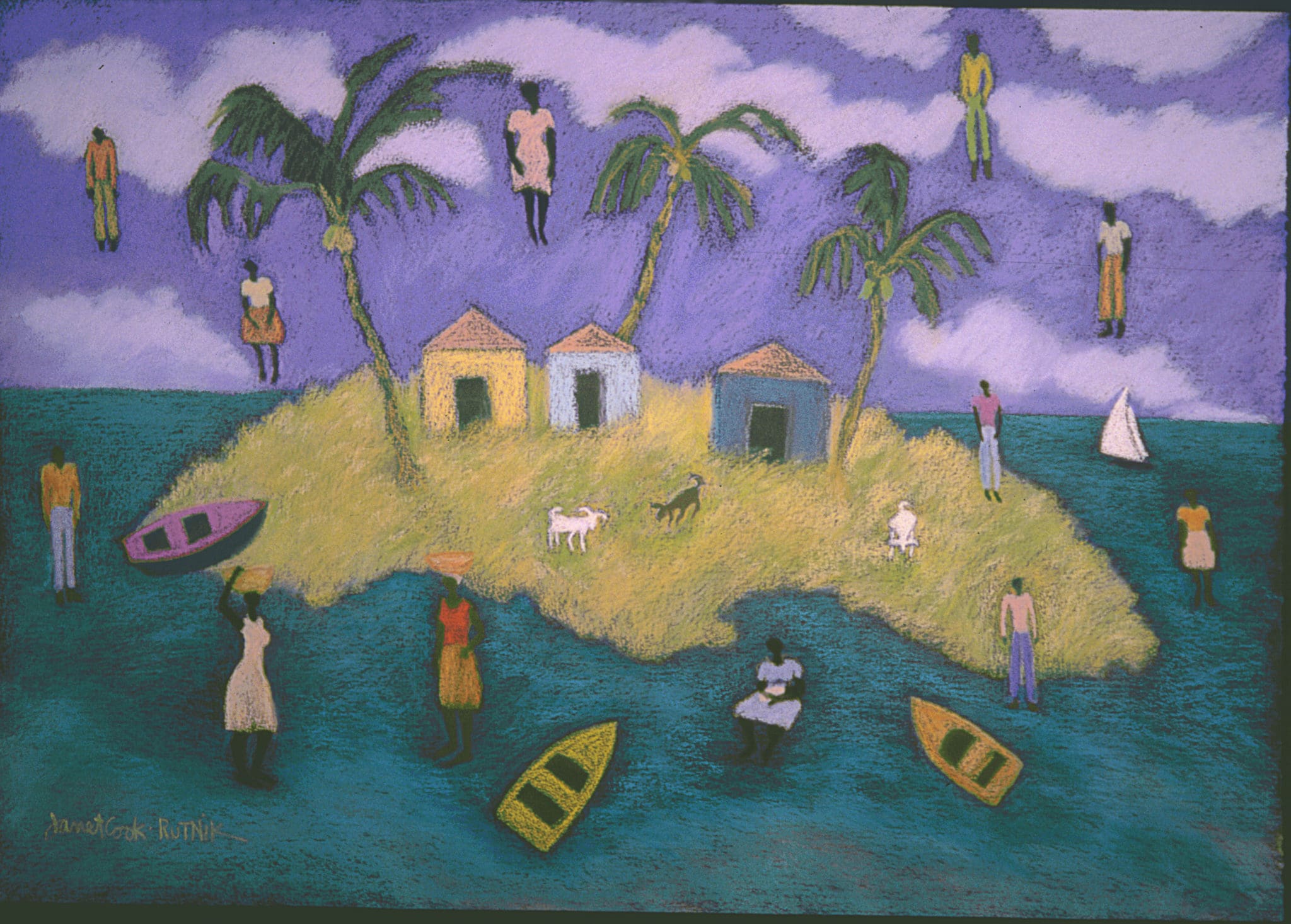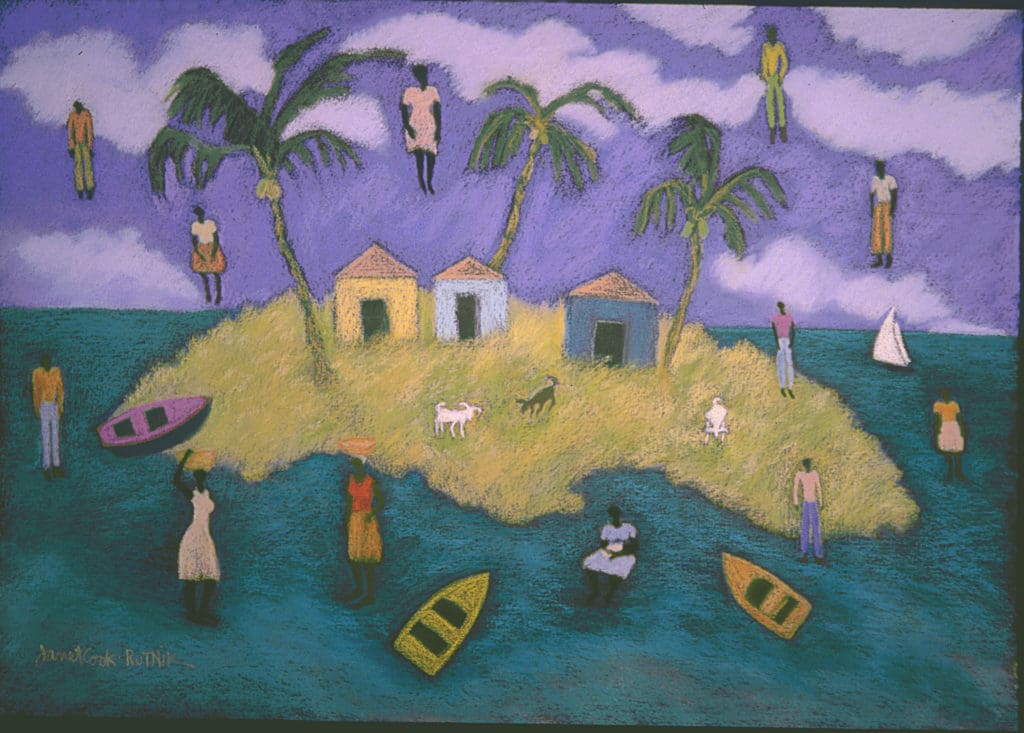 Artists customarily take on a project like that as part of a major museum or gallery show, with a curator, photography staff and experts in publication on hand. Cook-Rutnik said it's painstaking to choose the work, photograph it, compose the text, set the captions and make thousands of aesthetic decisions along the way. "Artists prefer to be in the studio, making new work," she said.
In spite of her qualms, Cook-Rutnik applied for a small grant from the Virgin Islands Council on the Arts and the National Foundation for the Arts to fund the project; when the grant came through, the necessity of meeting a deadline spurred her on.
The result is now available – "Janet Cook-Rutnik – in the garden" – a 120-page compilation of her paintings, collages, sculptures, prints, photographs, installations and film projects from 1969 to 2020.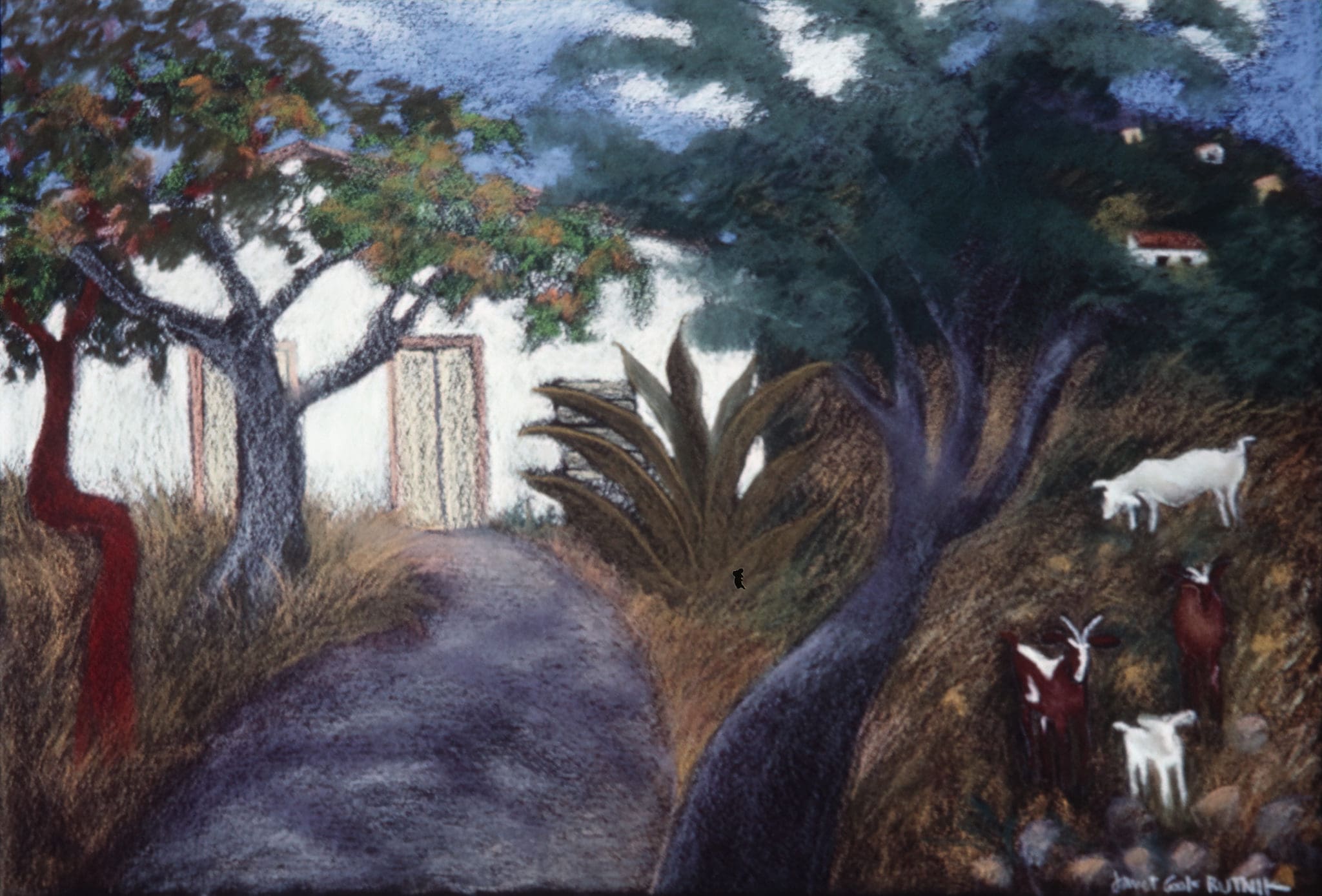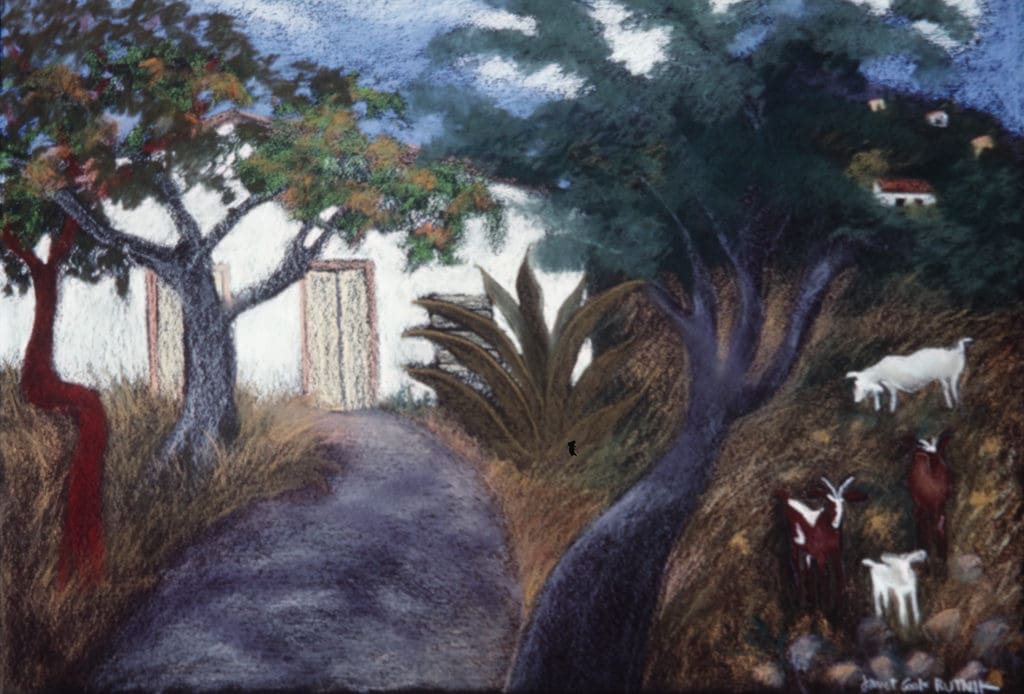 Choosing from her body of work involved poring over more than 3,000 slides. "So much of my work was done before digital forms were available," Cook-Rutnik said. Although some of the slides did not hold up, she said she felt fortunate that most survived Hurricane Irma in 2017.
Working with production assistant William "Bill" Stelzer, Cook-Rutnik was able to capture and transmit to the printed page the saturated colors and evocative designs that define her style.
The text of "in the garden" was written primarily by Cook-Rutnik and notable Caribbean art critics, with editing assistance from David Knight Jr. The commentary illuminates the human experiences and concepts underlying her work without resorting to any stuffy language or alienating "artspeak."
She begins the book by explaining, "Over the past five decades my imagery has evolved from pastels and paintings that captured the changing landscape; dotted with goats, chickens and cows, of the pastoral lifestyle embodied in the typical West Indian cottage as it began vanishing from the island/world around us."
Although she treasures the past, Cook-Rutnik's work never lapses into sentimentality. She carries within her an equally strong bent toward purely abstract forms, as seen in her printmaking.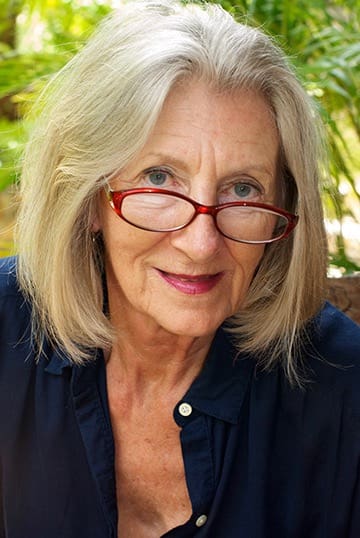 She is also too keenly sensitive to the contradictions and complexities of the history and present culture of the Virgin Islands to wallow in nostalgia.
"My goal is to provoke an investigation of the relationships we have to each other and to our natural and cultural landscape," Cook-Rutnik writes, and "To understand how the social and political hierarchies created through the layered history of colonialism, have impacted these relationships."
Much of her work since the early 2000s has focused on the transfer of the Virgin Islands from Denmark to the United States in 1917.
"The TRANSFER PROJECT, initiated in 2001 with collaborators Edgar Endress and Lori Lee, delves into the past through archived materials proving a rich resource for the images and stories that connect the past to the present," she writes. Using videos, installations, photographic transfers, etc., she breathes "new life into this relatively recent history."
The awareness of time and place is present in much of her work, both in terms of history and also in her personal life.
"In 1996 my life was marked by tragedy and I turned inward using the shadow of my body to record the deep feelings of grief and the power of nature and mythology to heal and transform the soul as death and only death can," she writes.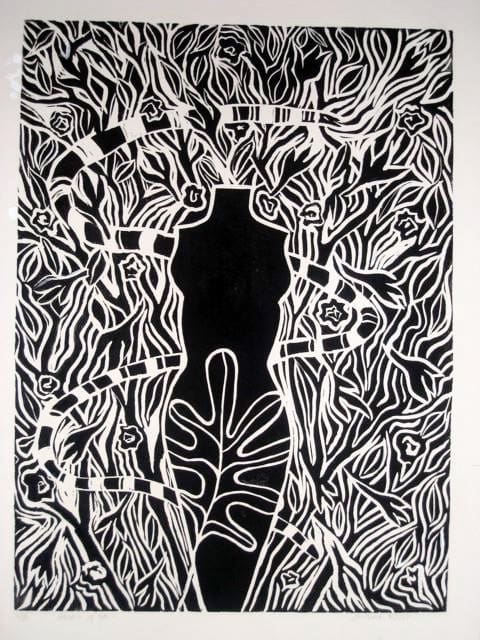 Many of Cook-Rutnik's paintings from this time feature a dress, without a figure wearing it, surrounded by imagery from nature. Artist Endress has written, "the presence of a dress; an inanimate object, implies the absence of the person who was using it. The birds, as witnesses of an endless ceremony, cohabit with the guardian serpent, while the movements of the missing body still echo and imply the fragility of the background, the ephemeral nature of our presence and the landscape."
Not all of Cook-Rutnik's work is disembodied, by any means. "in the garden" features a series of assemblages of female figures –  goddesses inspired by Greek myths and very real Caribbean women – which Cook-Rutnik fashions out of "scraps of handmade paper, old paint rags too beautiful to throw out, dried palm leaves, canvas and other studio and natural debris."


"When I work on these goddesses, I feel like a high priestess or an alchemist mixing a little of this, dabbing here, draping this, pushing and pulling various elements, conjuring up something magical until, all of a sudden, a figure full of personality and life mysteriously emerges," Cook-Rutnik writes.
If all this sounds very serious, well, it is, but much of Cook-Rutnik's work is imbued with whimsy and wit. A "fish out of water" is one of her favorite themes, and her show at Bajo el Sol in 2019 featured photographs of a man fully dressed in a suit and snorkel gear wandering through National Park landscapes.
For now, "Janet Cook-Rutnik – in the garden" is available only at Bajo el Sol Gallery in Mongoose Junction, in Cruz Bay, or by contacting her via email at cookrutnik@gmail.com.