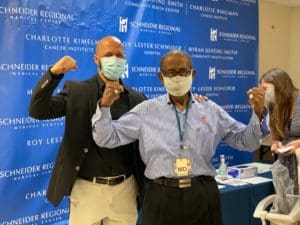 Today, front-line health care workers at the Schneider Regional Medical Center continued their efforts to receive the COVID-19 vaccine, which was recently approved by the U.S. Food and Drug Administration and the U.S. Centers for Disease Control and Prevention. The Virgin Islands Department of Health, along with Schneider Regional, received the first of the territory's allocation of the Pfizer COVID-19 vaccine last week.
Nurses, doctors and even one of the territory's most well-known physicians, Dr. Alfred Heath, took the historic step in the world's unprecedented undertaking to control and end the COVID-19 pandemic.
After taking the vaccine, Dr. Heath stood triumphantly and celebrated along with his fellow health care workers at Schneider Regional Hospital. According to the V.I. Department of Health, about 260 Virgin Islanders have received the vaccine so far.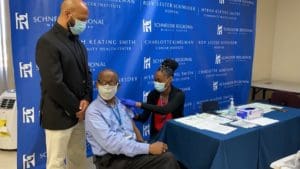 "This is a great day for our families, front-line workers and the Virgin Islands as a whole. Our front-line essential hospital workers have gone above and beyond during this pandemic – including stepping up today to receive vaccines. Once the vaccine becomes available to all, it is my hope that everyone takes full advantage of this opportunity," said Heath.
Nationwide, the CDC estimates people age 65 and older have accounted for 8 in 10 deaths attributed to the coronavirus.
"Older adults are a major priority as well. We are at greater risk than younger people of death or serious complications from COVID-19. I am here today to lead by example. If you're in the elderly population of the Virgin Islands, like I am, get vaccinated."
Even with COVID-19 vaccinations rollout worldwide, the CDC continues to urge everyone to continue to practice preventative measures, such as properly wearing masks, social distancing and frequent hand-washing to reduce the spread of the virus.