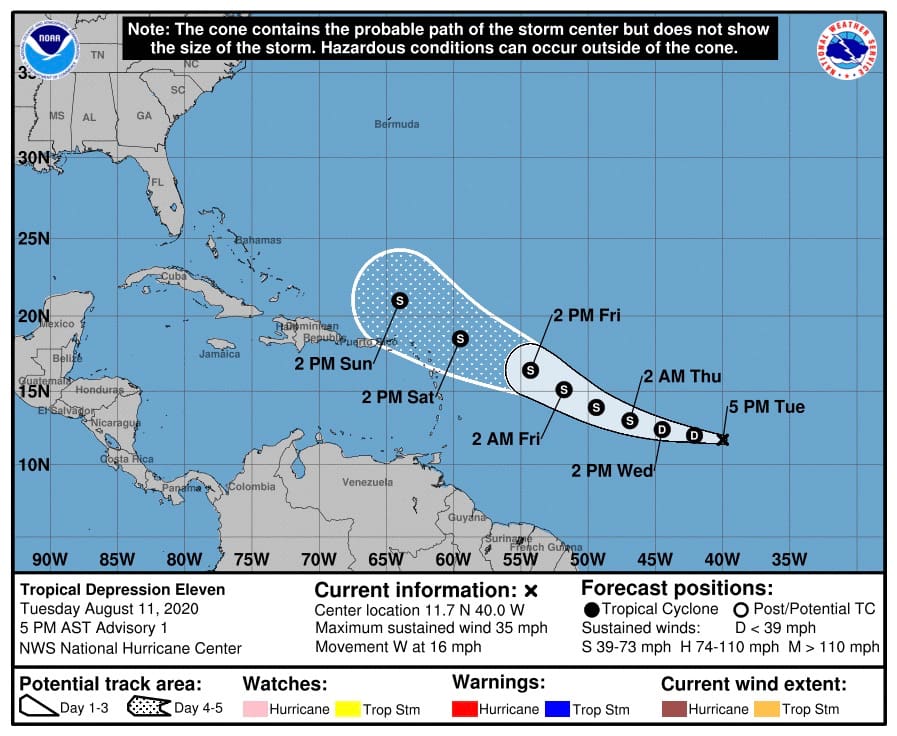 A storm system advancing across the Atlantic towards the Lesser Antilles was upgraded Tuesday to Tropical Depression 11, the National Hurricane Center reported.
According to the NHC's 8 p.m. Tuesday update, the depression evolved out of Invest 95-L, which has been tracking west from the African coast for the last few days. As of the update, the storm was more than 1,700 miles east-southeast of the Virgin Islands, with top winds of 35 miles per hour.
Tropical Depression 11 is tracking to the west at 16 miles per hour and this general motion should continue through Wednesday. A track to the west-northwest is forecast to commence Wednesday night and continue through the rest of the week. Additional intensification is anticipated during the next two days, and the depression may become Tropical Storm Josephine by Wednesday night. If it does, it will be the earliest "J" storm that has ever developed in the Atlantic hurricane season.
On its current track, the center of this weather system should pass approximately 190 miles northeast of the Virgin Islands on Sunday as a strong tropical depression or weak tropical storm, with top winds of 40 miles per hour, according to the forecasts.