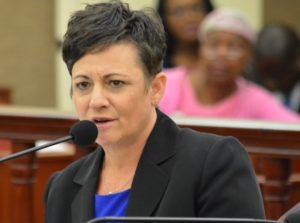 With a system out in the Atlantic designated Tuesday as a tropical depression and heading towards the Caribbean, government officials have been moving to complete preparations, including making ready shelters in case the storm strengthens to hurricane status.
The V.I. Department of Human Services holds the responsibility for keeping residents safe who have no other alternative than to seek public shelters during a hurricane. Human Services Commissioner Kimberley Causey-Gomez said due to COVID-19 and all the shelters being "compromised" in 2017, a hybrid approach is being used in 2020 – fewer large shelters and more individual rooms.
Virgin Islanders need to "shelter-in-place" alone, with family or friends, according to the commissioner. She added that last year only about 15 residents used public shelters in the territory so this year about a half-dozen shelters are being prepared for winds over 74 miles per hour – two on St. Thomas and St. Croix and one each on St. John and Water Island.
Causey-Gomez did not say where the shelters are located, but said "congregated shelters" will be schools used as a "last resort." When the final decision is made, a public announcement will be made as a hurricane approaches about the locations.
Before shelters are opened, hotels and perhaps dormitory rooms will provide safety while allowing social distancing. The decision to open congregate shelters will be made by DHS, Government House, VIPD, the Department of Health and the V.I. Territorial Emergency Management Agency.
People who need to stay at a congregated shelter during a hurricane this year will be required to submit to COVID screening and a questionnaire, Causey-Gomez told the Source.
Staff from Health, police and Education, as well as VITEMA, have helped plan and will help staff shelters. The facilities will be cleaned and stocked with personal protective equipment.
Volunteers are needed for the Red Cross and DHS to work before and during a hurricane alongside staff members including school nurses.
"If we plan as much as we can and have a public and private partnership, we should be in great shape," the commissioner said.
The Centers for Disease Control and Prevention recommends people who need to evacuate to prepare a "go kit" of personal items needed during an emergency including protection from COVID-19. Face covers and hand sanitizers should be included with special food, water, prescriptions and essentials such as contact lenses, asthma inhalers, blood sugar monitors and other medical supplies.
Causey-Gomez agreed with the CDC list and said people on special diets should bring food. The Red Cross will provide one meal a day for three days and the Education Department will provide meals afterward, if necessary.
The emergency kit also should contain electronics and important documents and necessities for infants and children.
Pets must have an emergency plan with food and water and arrangements for safe shelter. Causey-Gomez said no formal plan has been made regarding pets, and that it would be difficult to accommodate at a shelter.
"You should have a plan for your pets that doesn't include a congregate shelter," she said.
Considering the COVID-19 pandemic, the CDC said to practice social distancing and wear face coverings while in the shelter. Children over the age of two must wear masks as well. Don't share food or drinks if possible, and avoid touching surfaces such as handrails and doorknobs. Clean and disinfect the living area and wash hands frequently. Watch for any signs of illness and alert shelter staff about any symptoms.
For those who will stay with family or friends, the CDC recommends social distancing, covering coughs and sneezes, washing hands often and avoid touching their eyes, nose and mouth. Take special care of those who are vulnerable such as the elderly and people with underlying medical conditions. Again, arrangements must be made for pets.