Where on St. John can you see a fire show, a strip tease and a first-rate singing performance?
The St. John School of the Arts Bachelor/Bachelorette Auction, "Let's Make A Date," of course.
The Saturday night, February 10, auction went off without a hitch, and raised $29,000 for the arts school's scholarship fund.
"It was fabulous," said SJSA Director Jan Kinder. "It keeps getting better and better every year. It was two and a half hours of laughs."
Each of the bachelors and bachelorettes brought something special to the stage during their performance, explained the arts school's Kim Wild, who helped put the auction together.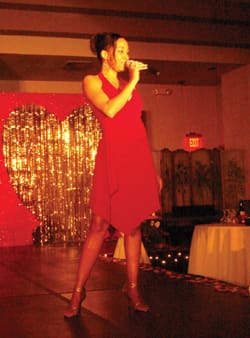 "Shatik Stephens coming out singing 'Fever' was a great opener," said Wild. "She really put on her charm and sassiness. Her voice was beautiful."
Brummell Germain, whose auction date package included dinner for two at Panini Beach, got the crowd going with his cabana boy routine.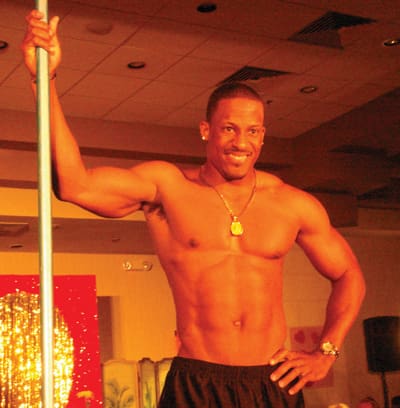 Brummell the Pool Boy
"Brummell was so funny because he came out as a cabana pool boy," said Wild. "He took his shirt off and showed off his muscles."
Germain's crowd-pleasing performance brought in $750 for the arts school.
Crowd favorite Rodney Varlack strutted down the catwalk in style, handing out roses to ladies in the audience.
"Rodney Varlack once again just stole the whole moment," said Wild. "He came out to 'Unforgettable' by Nat King Cole, and it was really cool."
Varlack, whose package in-cluded dinner for two at Stone Terrace and a manicure and pedicure from Grapevine Salon, brought in $1,550.
Zuber Is Exuberant
Jeremy Zuber kept the crowd laughing with his performance, according to Wild.
"To me, Jeremy Zuber just stole it," she said. "He came out with an umbrella to 'It's Raining Men.' He danced with so much energy."
A date package including classical pianist Julian Gargiulo brought in $900 for the arts school.
"Julian Gargiulo, the renowned classical pianist from New York, came out and did a wonderful duet with his ex-wife, who is another classically renowned pianist," said Wild. "They were phenomenal. He was really good about playing to the crowd, trying to get more bids to come in."
The highest winning bid of the evening was for the "Broadway Bound" package, which brought in $3,100 for the arts school.
"That package included two backstage tickets to two Broad-way shows — Phantom of the Opera and Chicago — plus a a gift certificate toward airline tickets to New York, and a two-night stay at the Carlisle Hotel, which is just to die for," said Wild.
Chef John Young tied food into his performance, Wild explained.
"John Young, who is the chef at Asolare, came out with a necklace of fresh strawberries and was throwing them into the audience to all the girls," said Wild.
Wild Fire Performance
The final bachelor of the evening, Kelly Tarrack, had to seek approval from the Westin for his act — a professional fire performance.
"When we were talking with security at the Westin, they were like, 'I don't know, we're not too sure about this,'" said Wild. "Kelly asked if he could speak to security, and he explained to them that he was a professional."
Tarrack was given permission to do his fire performance, which left the crowd in awe.
"He had this cool techno music, and he's throwing these balls of fire at the end of a chain," said Wild. "He'd swing them to the music and twirl them around his head. He was dancing around, and it was awesome."
Honoring Sis Frank
Tarrack brought in $700 for the arts school with his fire performance.
Noticeably absent at this year's auction was the arts school founder Sis Frank, who is in rehabilitation in Florida and recovering well after a recent heart attack.
"We missed Sis, but it was still a great night," said Wild. "She was there with us in spirit. Bucky videotaped the auction, and Craig Dangler from Cruz Bay Photo took pictures for us, which was wonderful."
Varlack asked the crowd for a moment of silence in Frank's honor before his performance, and the arts school founder was auctioned off for $1,550.
"Sis may be back here in a week or two," said Kinder. "She is working really hard."
Despite Frank's absence, the audience had a good time supporting the arts school, explained Wild.
"We laughed the whole night," she said.