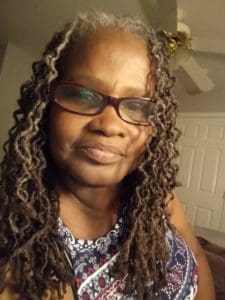 Avril A. R. Simmonds, also known as "Linda," died on Feb. 15.
She was preceded in death by her brother, Raymond Simmonds.
She is survived by her mother, Marion Peters; daughters: Tiffany Pemberton and Stephany Krigger; son, Kevin Krigger Sr.; grandchildren: Avery, Tylia, Kyrisha, Adrian Jr., Kevin Jr., Kunzai, Frank III, Ah'Narie, Kynira and Terry; sisters: Colette "Denise" Simmonds, Castella "Lou" Simmonds, Barbara Simmonds-Thomas, Angelina Yarwood, Migulena Velasquez and Rashana Simmonds; and brother, Daniel Liburd Sr.
She is also survived by aunts: Gwendoly Branigan and Dolirita Burke; special uncle, James Peters; special niece, Akima Forrington Boone; goddaughters: Astou Biteye and Lissandra Boatswain; special friends: Evelyn Watley, Albert Krigger Jr., Amy Steven, Craig Pemberton and Tara LoGuerou; and special cousins: the Magras family, Sonja Nowack, Rodney Joseph, Leslie Phillip, Loleen Christian, Darryl Brannigan and Ivan Hansen.
Other survivors include cousins: the Simmonds family, Magras, Peters family, Archibald family, Williams family, Watts family, Brannigan family, Thompson family and Hector family; nieces: Atasha, Kimberly, Renee, Rhonda, Christabel, Mariana, Medina and Kenisha; nephews: Cleavon, Sinclair, Daniel Jr., Hezekiah, Rodney, Sean, Leon and Sarito Jr. and Em; as well as other relatives and friends too numerous to mention.
Tributes will begin at 9 a.m. followed by a funeral service at 10 a.m., Monday, March 14, at Hope Seventh-day Adventist Church. Interment will follow at Kingshill Cemetery.
Due to the COVID-19 pandemic and public health regulations, all attendees must wear a mask and adhere to social distancing.
Professional funeral services are entrusted to James Memorial Funeral Home Inc.