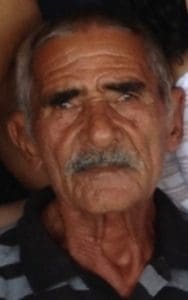 Carmelo Silva Velasquez, also known as "Chico," of Estate Mon Bijou died on Saturday, Feb. 26. He was 87 years old.
He was preceded in death by his wife, Carmen Encarnacion Silva; mother, Petra Velasquez; father, Afortunado Silva; and daughter, Zuzette Silva.
He is survived by his daughters: Nancy Silva Sendar and Luz Silva; sons: Hector Silva, Jose A. Silva and Jose C. Silva; grandchildren: Javier Silva, Jordanee, Jordalie, Jan-niel, Jan-muel, Xiomara Yessenia Silva, Denise Ramos, Neisha and Kiara Sendar, Jomari and Jayden Jacobs, Tatiana Smith, and Jahzion, Jaslene, Carmen and Jiselle Silva; and great-grandchildren: Carlos Fernández Jr., Julian Aguilera, Yaniel and Yaniely Silva, and Arialis, Angelic and Austin Silva.
He is also survived by sisters: Elida, Alicia, Cedinia and Gloria; brothers: Jose (Ńito), Juan (Lalo) and Virgilio; nieces: Maria J., Monica J., Zuraya L., Delvis Q., Patricia Q., Evelyn Finch, Xiomara Encarnacion and Juanita (Emy) R.; nephews: Jorge and Jose Santos, Ramses M., Lawrence and Michael Finch, Luis L., Luis H., Xavier M., Sobrati Nelson Joseph, Fritzgerald Boezem Jr., Christopher and Jeremy E.; and daughters-in-law: Petra Silva and Magdalena Silva.
Other survivors include son-In-law, Lucien Sendar; brother-in-law, Manuel Quiñonez; sisters-in-law: Marcelina Lamar and Petra Encarnacion; special friends: Julio Ayala (Julin), Thomas Santiago, Miguel, Jimmy, Victor, Angel Marin, Jaime Vasquez and family, Daisy Jacobs and family, Lydia Smith and family, Charles family, Melendez family, Hernandez family and La Reine Chicken Shack family; as well as other relatives and friends too numerous to mention.
The viewing will begin at 9 a.m. followed by a funeral service at 10 a.m., Friday, March 11, at St. Ann's Catholic Church. Interment will be at Kingshill Cemetery.
Due to the COVID-19 pandemic and public health regulations, all attendees must wear a mask and adhere to social distancing.
Professional funeral services entrusted to James Memorial Funeral Home Inc.