This is the third in a series of articles about barge companies operating between St. John and St. Thomas. For earlier stories in the series, see Related Links, below.)
As St. John residents endure their second week in a row with only one barge running between St. John and St. Thomas, everyone has been asking, "Where is the Mister B?"
Capable of transporting 40 vehicles at one time, the 129-foot M/V Mister B was the largest barge operating between the two islands until the winds of Hurricane Irma and the surge of Hurricane Maria sent it to the bottom of Enighed Pond in September 2017. Four other barges were damaged or destroyed during the storms.
Mister B was re-floated in January and sent to New Orleans for repair. Cheryl "Cheri" Boynes-Jackson, vice-president of Boyson, Inc., which owns Mister B, said Boyson is currently finalizing its insurance claim on the vessel.
But Boynes-Jackson has exciting news for residents, visitors, and businesses that depend on hourly barge service between St. Thomas and St. John.
"The Boynes family has since been working on its vessel the M/V Cheri B, which should be arriving by the end of September. There is still significant paperwork and finish work to be completed on the vessel."
Boynes-Jackson said the new, 150-foot vessel, which the family is naming in her honor, will be able to transport 50 vehicles.
"We're keeping our fingers crossed that we can get things done sooner rather than later," she said.
The two other barge companies, Love City Car Ferries Inc. and Global Marine LLC, each had one barge survive the hurricanes and have been doing what they can to maintain regular service, but the need to bring in additional construction supplies and remove debris following the storms has added to demand for service.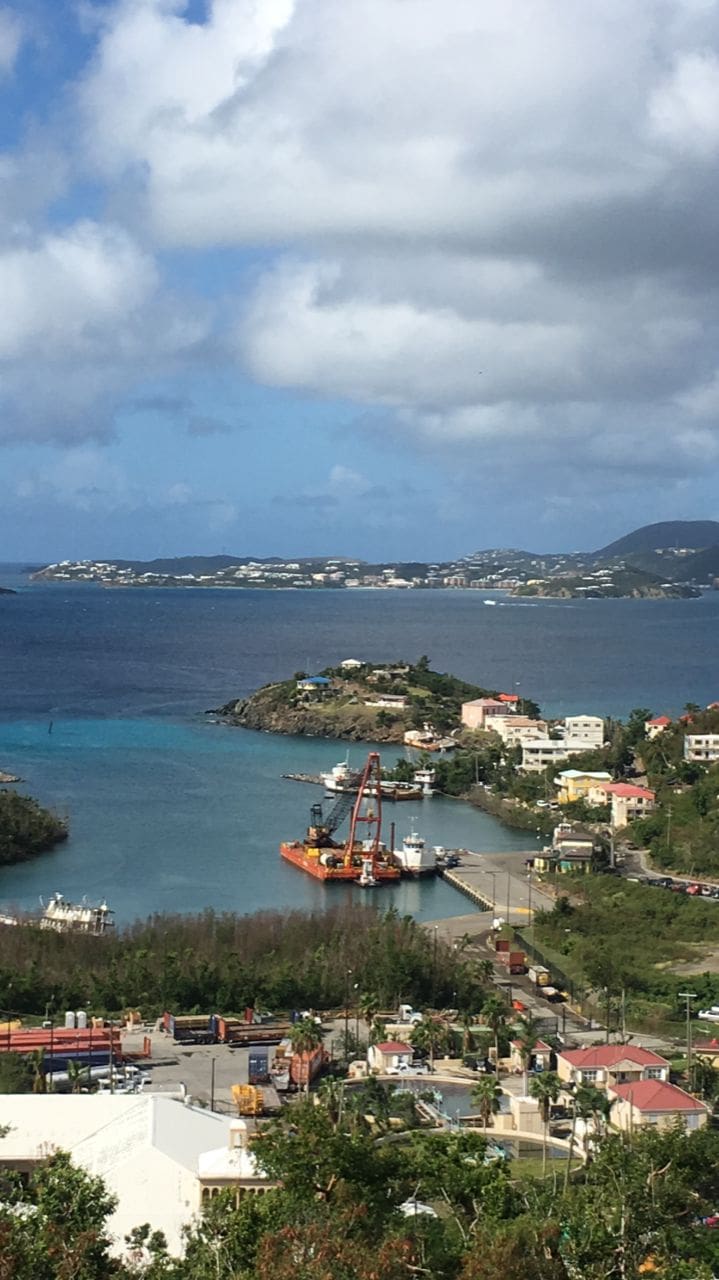 Earlier in August, one barge broke down for several days. As soon as it was repaired, a second barge went into dry dock for its annual Coast Guard inspection, leaving customers waiting in lines for hours.
Boynes-Jackson complimented both Love City and Global Marine "for doing the best they can to keep the traffic moving. The damage that was sustained by the marine industry was tremendous to the islands, especially St. John," she said. "We realized at times [recovery] has been at snail speed. The companies are working feverishly to get all the barges back up and operational again."
In recent weeks, Love City Car Ferries announced that the company has built a new ferry, the M/V Grand Vic, which is undergoing sea trials and is expected to make the passage soon from the shipyard in Alabama to the Virgin Islands.
"Congratulations to Love City on completing the M/V Grand Vic and [we wish them] a safe voyage to St. John. Global Marine will hopefully complete their dry dock shortly and have their vessel back on line," Boynes-Jackson said.
Boyson, Inc., is the oldest barge company to operate between St. John and other islands.
"Capt. Noel Boynes Sr. started in 1973 with two small Bertrands, the M/V Jimmy and M/V Cheri-B, doing water taxi service, fishing excursion, and delivering cargo to some of the islands around St. Thomas and St. John," said Boynes -Jackson.
In 1980 he added barges to his fleet and started moving larger cargo, first with the General (1980,) Admiral (1984,) Admiral II (1986,) Commander – which operated between Puerto Rico and St. John – (1987,) General (1992,) General II (1995,) P'ti Bleu and Auto Transit (1996,) and finally Mister B (2006.)
In January 2016, Mister B. was seized in a civil court action based on non-payment of a loan. The barge remained out of commission for more than a year, causing headaches for businesses and residents who have come to rely on its hourly service. The situation intensified during the summer of 2016 when Love City's M/V Capt Vic and Global Marine's M/V General II were both out of service at the same time.
At that point, residents and businesses started clamoring for new barges to be brought in by other companies.
At a July 2016 board meeting of the Virgin Islands Port Authority, VIPA considered a request by Varlack Ventures to become the fourth company to obtain a license to operate a barge. Varlack Ventures is one of two companies holding the franchise for daily passenger ferry service between St. Thomas and St. John. VIPA postponed taking action, and the subject has languished until this most recent crisis.
Boynes-Jackson joins with the other two barge companies in denouncing the idea of bringing in a fourth barge company.
"We're all working to stay afloat," she said. "A fourth company would create a catastrophe for the three barge companies now operating."
She also agrees with the other two barge companies that further regulation, possibly from the Public Service Commission, which regulates passenger ferry companies, is unnecessary.
"We don't need any regulations," she said. "The help we need is with better docking facilities. If we can keep up a good relationship with the Virgin Islands Port Authority and inform the public [when there's a problem], things will get better. Capt. Boynes and family intend to be back on schedule, continuing to serve the residents of our islands. The Boynes family thanks all for their well wishes and prayers."
Related Links:
Love City Car Ferries Announces New Barge 
Global Marine Sends Barge to Dry Dock, Readies a New One
Shared content for Virgin Islands Source and St. John Tradewinds.