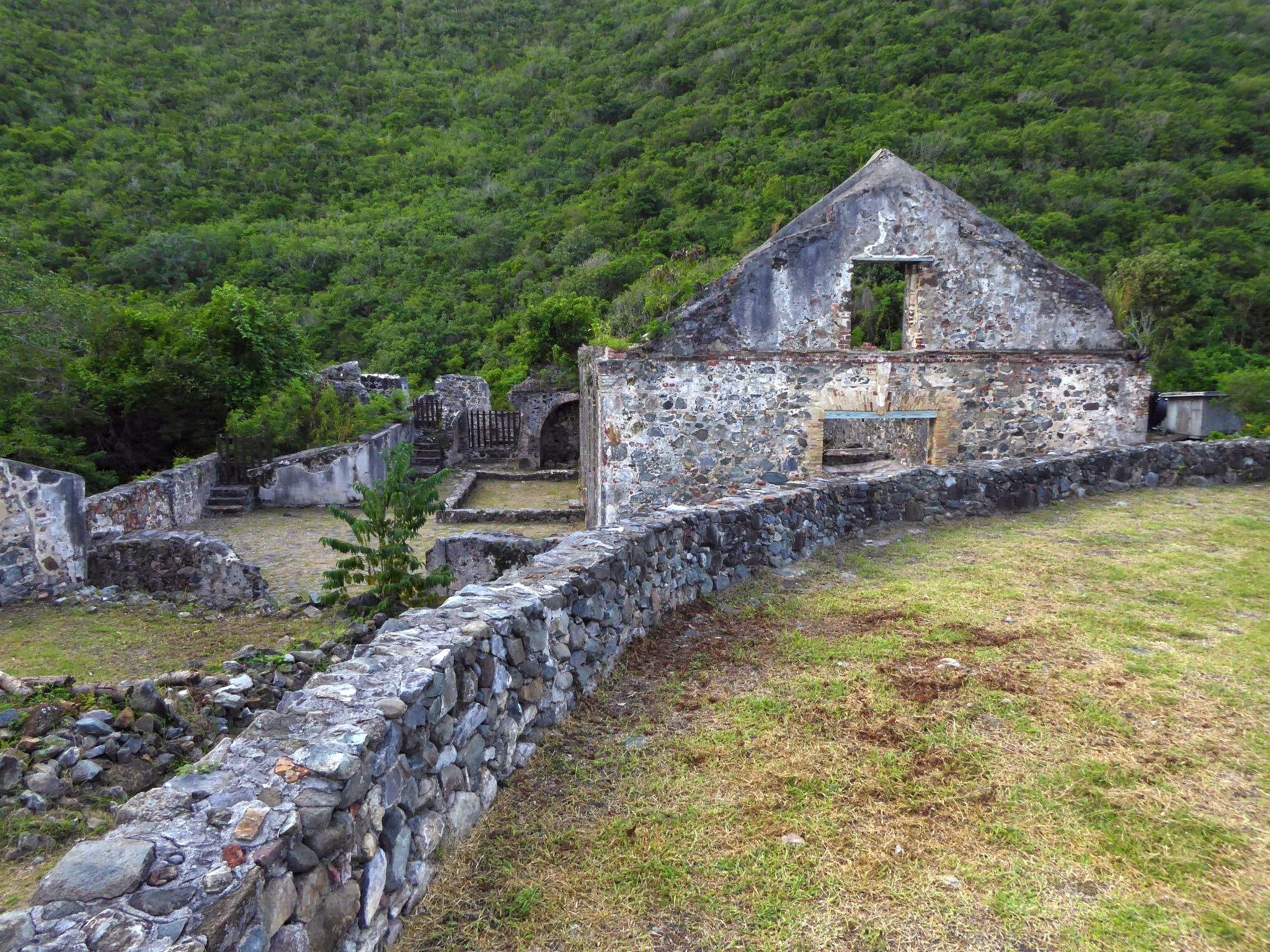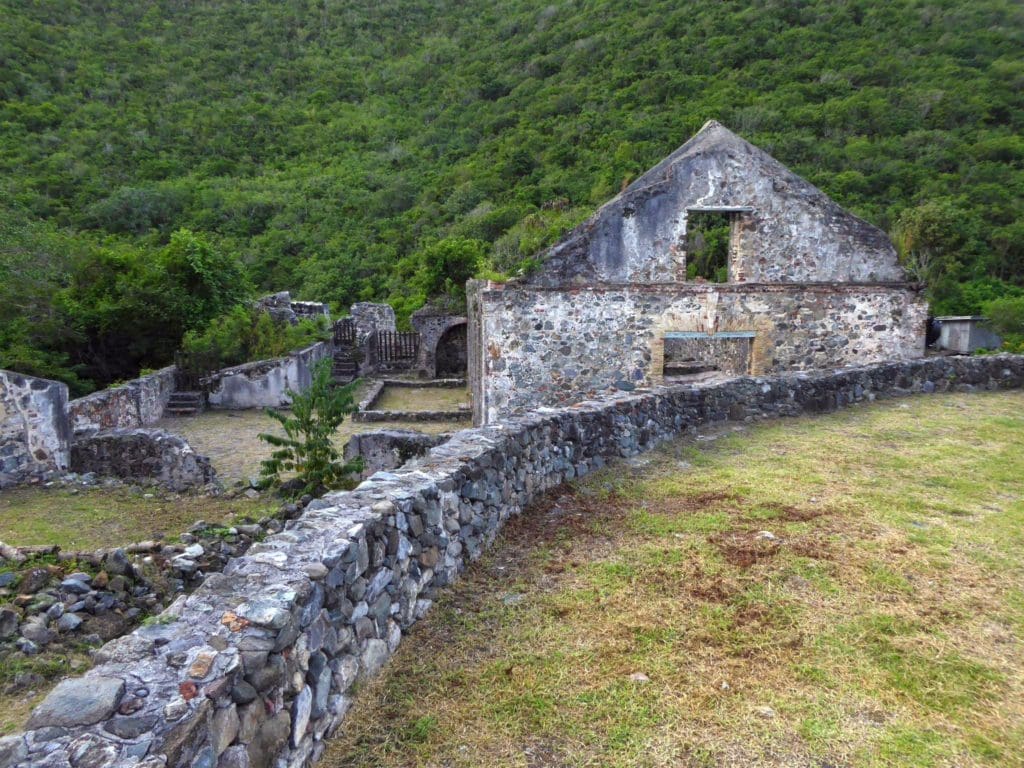 This is part 1 of a 4-part serialization of the first chapter of a book being written by Shaun A. Pennington about the historical and modern-day consequences of sugar that have plagued Virgin Islanders and Americans for 400 years. The excerpts – which have been edited for purposes of this Black history series – paint a grim picture of the ties between slavery's horrific place in Black history in the Virgin Islands, Caribbean and United States and the nature of the substance that secured slavery as an institution and whose side effects people of color often suffer disproportionately from to this day.
Rending terraces out of the rocky sides of steep hills to make a flat space to grow crops was and still is common throughout St. Thomas and St. John, and many other Caribbean islands, whose volcanic mountainous terrains rise immediately out of the sea.
Though several other crops were tried in the tropics, sugar stuck, becoming the primary commodity grown in and exported from the Caribbean and South America, all because of the availability of enslaved labor.
The history of sugar is one of cruelty, bondage, exploitation, infirmity and incalculable profits.
[adrotate group="6"]
It is repulsive to consider that human beings in the West Indies and America were considered property as recently as 150 years ago, and even worse to calculate their worth in dollars at that time. But doing so puts in perspective the immeasurable greed that drove a system that dragged people from their homes in distant lands, across an ocean in unthinkable conditions, to work them hard enough to extract every bit of their life energy, but not hard enough to kill them – in the interest of financial reward.
Even when slavery is touched upon in our educational system, which it was not when I was growing up, the deepest secret of all is what it was worth to those willing to consider and act upon the notion that there was something acceptable or worse, appropriate, about buying and selling human beings.
Actual dollar amounts are hard to come by, but on the eve of the Civil War – in America's South alone – the value of slavery was comparable to the wealth generated by oil and gas exploration today. In an article published in 2014 in The Nation, writer Christopher Hayes estimated – after much research – the amount to be the equivalent of $10 trillion in today's dollars.
Such a number, Hayes pointed out, is hard to fathom. To provide an image of what that meant back then Hayes quotes Civil War historian Eric Fromer. "In 1860, slaves as property were worth more than all the banks, factories and railroads in the country put together."
In the 400-year history of African slavery in the Americas, more than one commodity drove men to hold other men, women and children in bondage.
None was as lucrative as sugar.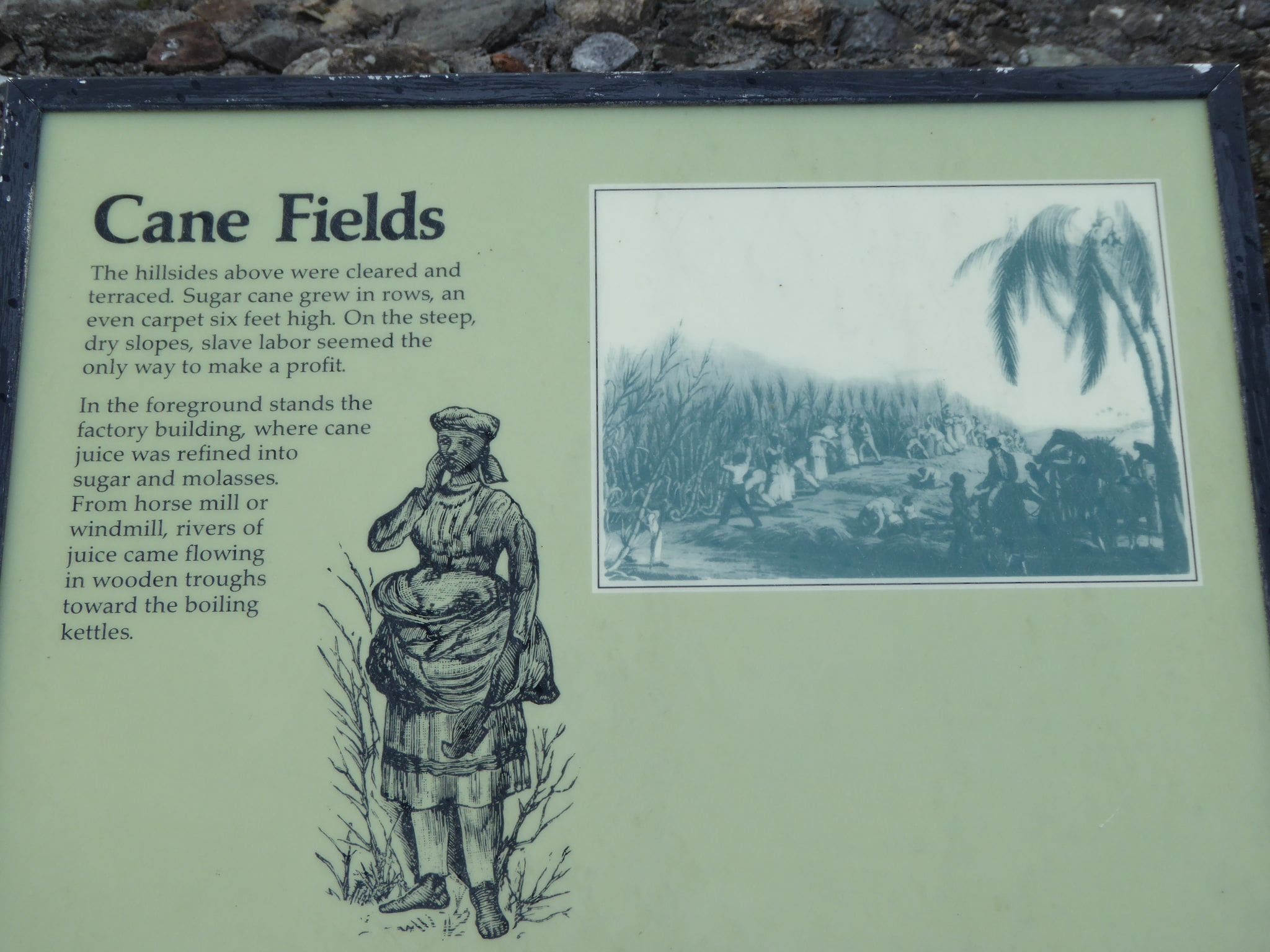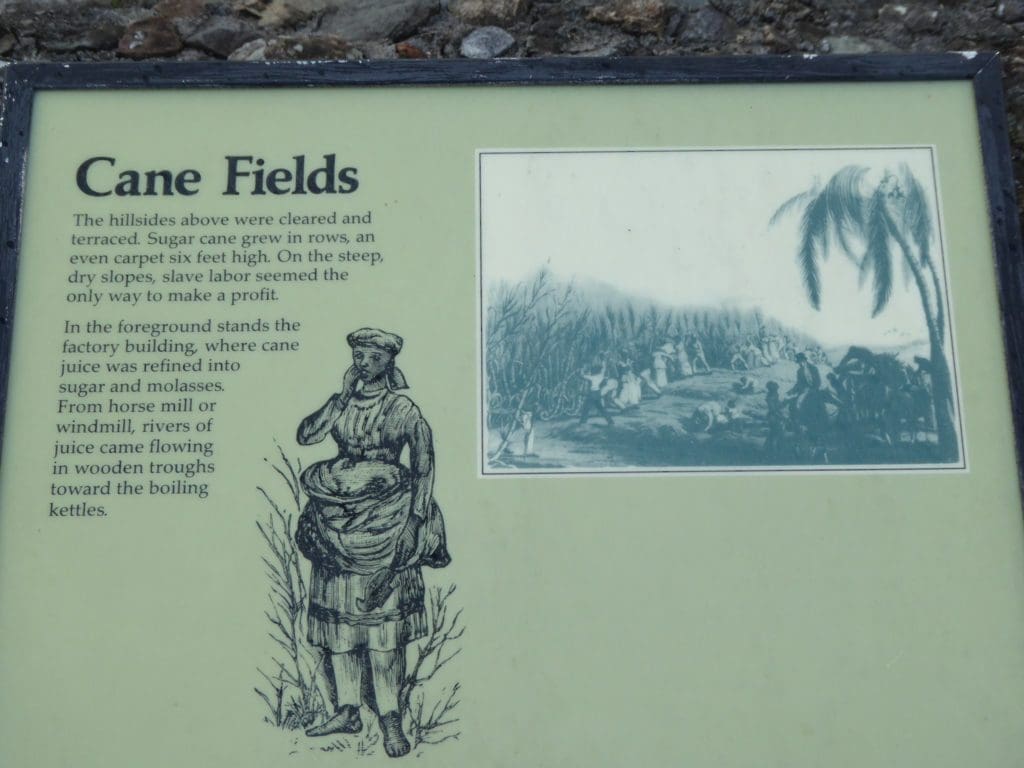 The shadowy terraces on St. John still visible from the sea due to two-thirds of the island being a U.S. National Park and thus protected from development have long been obliterated on neighboring St. Thomas. The once fertile terraces have given way to ever-growing condominium projects and McMansions in steadily expanding degrees.
In 1968, my mother bought a two-bedroom condo in one of the first such projects in Cowpet Bay on St. Thomas. From the sea, you notice a different set of parallel lines – the linear perfection of scores of identical light yellow domiciles clinging one above the other to the cliffs like so many bleached whelk shells.
At first glance, you can no more see into the sun-reflected glass of those award-winning luxury apartments than you can discern the dark secrets of the remaining terraces not yet consumed by construction, where sugar met slavery more than 300 years ago.
For a white girl growing up in the 1950s, that history was just as concealed in the classrooms of suburban America as are the terraces and ruins of the hundreds of plantations that once thrived across the landscape. What I have since learned, to my naive shock, is young people growing up on the Virgin Islands were also not taught this haunting history.
In the 50-plus years since I first stepped foot in the Virgin Islands, I have sailed around St. John innumerable times. I have also explored the ruins of sugar mills on St. John, St. Thomas and St. Croix. These remnants of sugar's deep footprint provide seemingly benign cultural attractions for tourists.
Today I live 200 feet below the ruins of what was once a slave village adjoined in the 1700s to the oldest consistently occupied great house and plantation on St. Thomas. The great house where the plantation owners lived one after the other for hundreds of years, along with the sugar mill ruins, lies in restored glory just across the black-topped road from my tiny, historically insignificant house.
When I first moved in, the new sounds that echoed around me at night, due in part to a retaining wall behind our house, which acts as an acoustically weird amplifier, were eerie.
I knew vaguely that the land above us had been part of the adjacent plantation and admit I was a bit spooked by the knowledge that there were former slaves buried there. Every misplaced rock could be a headstone, every pottery shard in my backyard a sliver of the past.
What sounded at times like the cries of a baby, or at others like vague low indecipherable murmurings echoing over centuries from what might have been hush arbors where slaves gathered in secret to practice their sacred traditions were most likely neighborhood cats echoing the moans and nightmares of people from another time.
We can never scrub ourselves 100 percent clean of the past. There are always echoes, however faint. Cats or spirits, I heard the past.
A year after we moved into our house, curiosity got the better of me and I asked the neighbor if she would give me a tour of the plantation.
A wrought-iron gate, painted white and bearing the scripted word "Eensomhed" on each side of the curlicued iron, bars the casual curiosity seeker from entering. There is nothing about the trucks parked behind the gate or the garage that would suggest what lies beyond.
The plantation established by Jurgen Hanson, a Danish Creole, in 1699 is known as Eensomhed, which means loneliness or solitude in Danish. It has been broken up and sold off over the years, but the ruins of the process that turned cane into gold remain.
When you enter the gate you first encounter outbuildings used as a garage and carpentry shop today. Past these additions lie the crumbled ruins of what was once a cotton gin and warehouse.
Before sugar, planters tried to grow cotton, the scattered offspring of which still unexpectedly appear with their soft white buds growing wild from roadside bushes that frame the bay below.
Cotton was not suited for the climate and soil of the Caribbean; but more importantly, it couldn't begin to compete with the profits promised by sugar.
Comparatively little has been written about the Danish colonizers. They were latecomers compared to the Spaniards, Dutch and British – and even the French.
Danish attempts to cash in on the land in the Virgin Islands began in 1622, 125 years after Columbus discovered and named them. After nearly 50 years of disastrous attempts, beset by hurricanes, pirates and disease, to capitalize on the enormous riches being reaped by other European countries, in 1672 an assortment of convicts, prostitutes, indentured servants and Danish West India Co. officials – 190 in all – set sail from Denmark and landed on St. Thomas. One hundred and four of this mixed bag of travelers arrived. Seventy-seven died on the journey; nine escaped.
Next: The Plantation Next Door