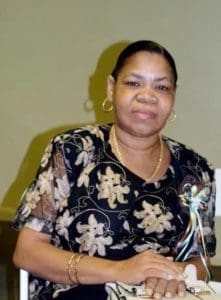 Mary U.P. Mathurin, also known as "Unisa," of Estate Upper Love died on Feb. 2.
She was preceded in death by her father, Eustache Perpie; mother, Roseline Perpie; sisters: Susan Perpie and Gena Justin; nephews: Raheem and Adrian; and cousin, Agatha.
She is survived by her husband, David Mathurin; sons: Mosely Joe, Daily Joe, Greenage Mathurin, Gavian Perpie and Endy Mathurin; daughters: Canditta Joe-Geh, Danesha Mathurin and Amanda Mathurin; grandchildren: Shakira, Shakayla, Meh'Khii, Jayden, Isabell, Zhayden, Nursai, Khing, Shacoy, Erick, Damian, Zainya, Josiah, Jyaire and Jadon; sisters: Vivian Mondeste, Claudia Charles and Kathy Perpie; brothers: Ryan Perpie, Julius Charles and Robert Perpie;
She is also survived by nieces: Kishma, Kisha, Nyomi, Natasha, Tshane, Aliyah, Kimberly, Z'nae, Marva, Jaya, Janila, Saadia, Zulimah, Shenelle, Samantha, Dorna, Hope, Kristin, Shamian, Iesha and Destiny; nephews: Joseph, Irvine, Ryan, Jareem, Meshach, Sammy, Marvin and Akeyeem; aunts: Lesha, Boonie, Sheila, Frances and Mira; uncles: Thomas Joseph and Pius; daughters-in-law: Shanika, Shaniece and Antonique; son-in-law, Martin Geh; brothers-in-law: Lionel, John, Vernon, Dickinson, Gelo, Ruben and Oven;
Other survivors include sisters-in-law: Joanicia, Leotta, Jennifer, Coletta, Molina, Lisha, Pauline, Celia and Merlinda; special friends: Theresa, Cynthia, Jeffrey, Julian and Vergis, Lucia, the Geh Family, Jeffrina, Beverly, Sonson, Lucy, Mrs. Benjamin and Pastor Benjamin; cousins and other relatives: Nadra, Puma, Precilia, Lauren, Laurena, Linda, David, Vince, Sadrina, Molesia, Ivenia, Beverly, St. Ross and Jenisa; as well as other family and friends too numerous to mention.
A viewing will be held at 10 a.m. followed by a funeral service at 11 a.m., Saturday, Feb. 27, at Calvary Baptist Church. Interment will follow at Kingshill Cemetery.
 The family asks that all attendees adhere to the COVID-19 guidelines. Masks are required to attend services.