Christmas is coming a bit late this year for local blues fans.
The Legendary Rhythm and Blues Cruise, which sails to the Eastern Caribbean every other year, is making a stop in the U.S. Virgin Islands on Wednesday, January 17, and a mini blues festival is planned for Cruz Bay.
The sailing blues extravaganza this year includes on-ship performances by Taj Mahal, the Fabulous Thunderbirds, Buckwheat Zydeco and Mel Waiters. A total of 17 acts are planned for the week with more than 70 performances in all.
The cruise ship, which leaves Ft. Lauderdale on January 14, will be docking on St. Thomas on January 17, and devoted blues fan — and Acting Chief Legal Counsel for the V.I. Legislature — Yvonne Tharpes has arranged for a Transportation Services ferry to bring the party to Love City.
Gillmore, Woods, Slammin'
Free concerts will take place at the Beach Bar, Mooie's and Infusions Lounge starting around 3 p.m.
Planned performances are blues legend Joey Gillmore, who will be rocking the house at the Beach Bar, the renowned Mitch Woods, who is no stranger to Love City, at Mooie's, and local favorites Slammin' at Infusions Lounge.
Surprise performances might be in store for the lucky blues fans as well, according to Tharpes.
"Les Burnside is in Slammin' and his cousin is legendary blues artist R.L. Burnside," said Tharpes. "Although R.L. has passed, his son DuWayne Burnside is playing on the ship and I'm hoping to get him to come and jam with his family member Les."
Surprise Performances Possible
While not making any promises, Tharpes is also hoping to lure a few other stars off the cruise ship.
"I'll try to get Taj Mahal over here to St. John," said Tharpes. "I am campaigning to get him here — I'll be asking. There is no telling who will show up."
One thing is for sure — there will definitely be a group of "blues cruisers" on hand, Tharpes added.
"Blues cruisers like to party with local folks, so I know there will be a big group from St. Thomas," said Tharpes. "It will be a great day. There will be a flurry of activity and it will be great for business."
Tharpes is speaking from experience, she has been sailing on the Legendary Rhythm and Blues Cruise since 1993.
"I'm going on the whole cruise, I've been going since 1993," said Tharpes. "Last year we had people from 18 different countries and a lot of the people who go on the cruise are repeaters. It's like a reunion or homecoming every year."
Over the years, Tharpes has seen performances by the likes of Etta James, Bonnie Raitt and Charles Brown.
"I've seen so many people on the cruise, they are almost too numerous to name," said Tharpes. "There are scheduled performances but also every night there are jam sessions that can go on all night long. You see a lot of people who you don't get an opportunity to see perform."
The blues cruisers are not the only people having fun on-board, according to Tharpes.
"What makes it so great is that the musicians really enjoy themselves," said Tharpes. "Unlike a lot of the other cruises, the musicians are not isolated. It's like you have a back stage pass."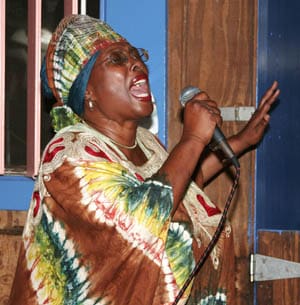 Local Musicians Welcome
Tharpes is hoping that Love City residents will come out in force to hear the Legendary Rhythm and Blues Cruise performers and mingle with the passengers.
"We want people to come out, especially to the three venues," said Tharpes. "All of the performers are going to welcome musicians from the boat and from St. John to come out and jam."