Blues musicians from around the country have banded together for the second time to bring a little heart and soul to the dedicated men and women serving in the military overseas.
The second Bluzapalooza tour, an all-star troupe of American blues headliners produced by Love City's own blues legend Steve Simon along with John Hahn, traveled to various military bases in Kuwait and Iraq to entertain the troops.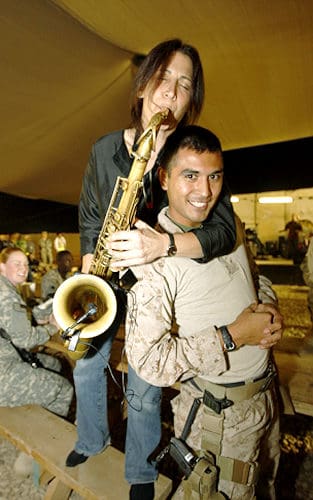 "To talk with them, to play for them, to share a little bit of home with them for a few hours each day — it was nothing short of wonderful," Simon said.
Bluzapalooza, which toured two different bases in Kuwait and eight bases in Iraq from October 26 to November 6, brought blues music to the stage each night and left 20,000 troops smiling in its wake.
Simon, who is deeply involved in the blues world, wanted to create a blues scene for American soldiers as a way to uplift the low morale of troops stationed overseas.
"I wanted to do this for a number of reasons, none of which had to do with politics," Simon said. "I was reading that there weren't a lot of musicians and entertainers there for our troops — that wasn't happening with our wars in Iraq and Afghanistan like it had in the past."
Inspired by the many men and women stationed overseas who are serving back-to-back tours away from home in an area of the world where there is war going on 24-7, Simon decided to take his natural talents to the troops. And he called up 50 or 60 major blues artists throughout the country and invited them to do the same.
"The initial responses were very positive," Simon said. "And after the first Bluzapalooza festival, which took place this past April, I have been inundated with hundreds of blues artists that want to be a part of Bluzapalooza."
For the last tour, Simon created a celebrity blues group called the Bluzapalooza All-Star Band, made up of blues headliners which put on three-hour long blues festivals night after night. Headliners Shemekia Copeland, Michael Burks, Zac Harmon, Deanna Bogart, Terry Wilson, Tony Braunagel, Dustin Arbuckle and Aaron Moreland went along for the second Bluzapalooza tour.
"We visited two different bases in Kuwait and eight all over Iraq with very little sleep," Simon said. "After the show, we'd sign autographs, visit with the troops, get a bite to eat, pack up all our gear and ship out in the middle of the night to the next base."
Simon recalled how one of the soldiers approached the band as they were signing autographs one night and told them that they were his heroes.
"We all just looked at him, and in unison, said 'Are you kidding? You are our heroes'," Simon said. "These guys are doing everything they are asked to with grace and style, and they are putting themselves in harms way 24 hours a day, seven days a week."
Simon also shared a story about a young marine from Atlanta who joined the reserves for educational and financial reasons, never really thinking she would end up serving in a war. Last year, she left her two young children at home with her husband who had just returned from serving overseas.
"She took me aside after the show and said that for the last 12 months she had been in Iraq, this was the first time she forgot she was in a war," Simon said. "That was the coolest thing to hear — it reduced me to tears."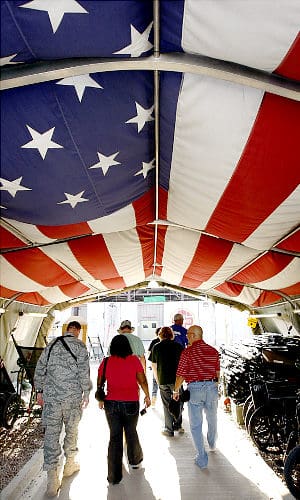 "And that is what Bluzapalooza is all about — it is about saving souls, and we saved a lot of souls over there and we will continue to do so," Simon said. "This music is about feeling good when you are feeling bad and we took that to a new level."
Bluzapalooza already has a minimum of three tours scheduled in 2009 — the third show touring FOBs (Forward Operating Bases) in remote areas of Iraq; the fourth show touring in Afghanistan and the fifth show touring through non-war zones in the Mediterranean.
Although Bluzapalooza is saluting the troops, Simon remains clear on one thing — the tour remains apolitical.
"We don't talk politics over there — we don't discuss how we feel about going to war or the current administration," he said. "None of that. That is not why we are there."
However, the Bluzapalooza all stars were actually overseas during the U.S. presidential election, making some degree of political discussion inevitable.
"There was an amazing amount of jubilation among the troops," Simon said of Barack Obama's presidential victory. "I am sure some of that was predicated on the fact that many of the troops recognized the historic event of electing an African American into office, and it is a huge relief to some that they may be coming home soon."
Simon also gave credit to Armed Forces Entertainment, the lead Department of Defense agency which provides entertainment to more than 500,000 troops each year.
"I would like to give a big, heartfelt thanks with huge respect to Armed Forces Entertainment," Simon said. "These men and women were terrific to deal with — their hearts were in the right place — do so much to bring a bit of home to all these men and women."
And some of the troops even showed Simon their appreciation, giving him a souvenir to take back to St. John.
"On the last night we were in Iraq, a couple of marines came up to me and said they would like to buy me a hair cut to show their appreciation," Simon said. "So they marched me down a path and they had my head shaved. I didn't hesitate for a moment and I cherished every minute of it."
For more information about Bluzapalooza, check out the MySpace page at www.myspace.com/bluzapalooza.