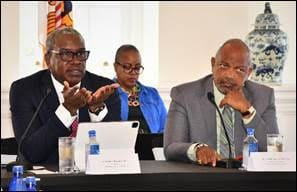 Gov. Albert Bryan Jr. and Lt. Gov. Tregenza A. Roach recently met at Government House on St. Thomas with members of the 35th Legislature's majority caucus to brief them on the second-term initiatives that the Bryan-Roach Administration has planned and on the progress being made.
The governor touched on a wide range of topics and issues as well as thanking the lawmakers for their support on the Cannabis Act legislation and the $100 million line of credit, which Gov. Bryan pointed out returns 5% into the economy from gross Receipts taxes as it is spent.
Among the initiatives the governor provided details about:
St. John Land Swap
Working with the Public Finance Authority to fund $17 million in dredging projects and reprogramming Department of Education appropriations
Other sources of funding available to the Government of the Virgin Islands
St. John Land Swap
Bryan said that the culmination of 50 years of effort to have a new school built on St. John will also yield $212,000 in cash from the land trade with the National Park Service and that money will go into the St. John Capital Improvement Fund.
In asking once again for the Legislature's support on his proposed legislation, Bryan said the new school will also provide a community anchor for local events and a storm shelter, as well as spur property development in Cruz Bay. He expects the new school to be completed in four years.
Downtown Initiatives
The Governor said the main target of the Administration's initiative is derelict and abandoned buildings, and that he is looking into ways to provide funding for owners who are ready to develop; establish trusts for properties in legal contention; acquire legal control of some properties; and bundle some properties with other GVI-owned properties.
Bryan also said the effort will explore restructuring historic preservation procedures and bring benefits that include improving towns' images; increasing residential development in downtown areas; increase the number of rental units available in the territory; increase the number of Airbnbs; and increase land tax revenues.
PFA Monies
Governor Bryan said he plans to work with the PFA to finance $17 million in much-needed dredging projects around the Territory. He also said he plans to reprogram Department of Education funds, as well as reprogram Department of Sports, Parks and Recreation funding.
Other funding sources
The governor also told lawmakers that the USVI has $100 million from the Jeffrey Epstein settlement, and he plans to use it for a $25 million makeover for the Justice Building on St. Croix; $20 million to purchase the former Seaview Nursing Home on St. Thomas and repurpose it as a mental health facility; and $20 million to be used restoring Mahogany Run on St. Thomas.
The Bryan-Roach Administration is investing in the territory's people, infrastructure and future through transparency, stabilizing the economy, restoring trust in the government and ensuring that recovery projects are completed as quickly as possible.