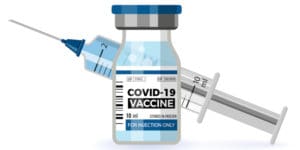 Following a briefing with President Joseph Biden and Dr. Anthony Fauci about the explosion of the Omicron COVID-19 variant, Gov. Albert Bryan Jr. delivered sobering news that active cases in the territory have jumped to 544 from about 70 a week ago and the seven-day positivity rate in the USVI has increased to 11.6% from 1.6% in the same timeframe.
The Omicron variant is an extremely contagious virus that is spreading globally at an incredible rate, particularly through the holiday season of parties and gatherings, while some medical reports indicate it is less virulent for those who have been fully vaccinated and have received a booster shot.
To halt the rapid spread of the variant in the USVI, Governor Bryan said he was adjusting some of the COVID-19 protocols currently in place, including:
Government employees should work from home if they can through January 10.
Government services to the public will be limited during that time.
Effective immediately, last call at bars and restaurants will revert to 11 p.m., with closing by midnight.
On New Year's Eve, bars and restaurants can remain open until 1 a.m. and close by 2 a.m.
Crucian Christmas Festival events for Jan. 4-6 have been canceled.
All persons entering the USVI must present a negative COVID-19 test taken within 72 hours of arrival.
"We're experiencing the same alarming rise in COVID cases here in the territory, and it has taken place, essentially in a matter of days. The evidence is clear it's here amongst us in the territory whether it's verified or not," Gov. Bryan said, noting that it is the highest number of active cases in the USVI's two-year response to COVID-19.
The governor said that the territory was doing very well with mitigating the spread of the virus, but the highly contagious nature of the Omicron variant has resulted in an exponential increase of active cases.
"Believe me, today I am just as frustrated as you having to continuously come back, but it's nothing that I have done and nothing that you have done. It is just that we continue to deal with this global pandemic that is just plaguing us and continues to plague us," Bryan said.
"If there's any good news at all, while we are seeing breakthrough infections, we are at least encouraged that the recovery rate has been quick, and as of today the hospitalization rates are very low here, locally," Bryan said.
"Dr. Fauci mentioned on the call we just had — whether it is in South Africa, England, Europe — what they're seeing is this is a milder version of the Delta variant," Bryan said. "People are not getting as sick, especially if you are vaccinated and you have your booster. There are breakthrough cases, but those people are not having rash symptoms… it's manifesting itself differently.
"At this time, while we are alarmed at how many cases we have, the real indicator is how many people are being hospitalized," the governor said. "If you feel like you've been exposed, just stay home. 'Home for the Holidays,' that's our theme for this year. Just stay home and avoid other people."
Government Offices
Gov. Bryan said several government offices are already experiencing the impact of the Omicron variant among their staff, and he has authorized the agency heads of the central government to allow all government workers who can work remotely to do so starting Tuesday, Dec. 28 until Monday, Jan. 10.
In-person government services offered during this period will be limited, and the governor asks for residents' patience and understanding during the Omicron surge.
Governor Bryan also asked local businesses to allow their employees to work from home when possible.
Bars/Restaurants
Bryan cited the added drain on V.I. Police Department resources and personnel from having to maintain compliance with restrictions on bars and restaurants during the holiday party season and said he is rolling back the operating hours for those establishments through Jan. 10.
Beginning immediately, bars, restaurants and night clubs are once again ordered closed at midnight and the last call for alcohol will be at 11 p.m. Establishments that are closed for noncompliance will be closed for 30 days, Bryan said.
"I have included an exception for New Year's Eve, where the last call for alcohol will be at 1 a.m. and all bars are ordered to close at 2 a.m.," he said. "The holiday season has been very busy, and we need to curtail the social gatherings to the greatest extent reasonable. In our response, we have seen that these are the things that help curtail the spread of this virus."
Cancellation of Crucian Festival Events
Gov. Bryan also said that the territory's predicament requires the cancellation of planned Crucian Christmas Festival events on Jan. 4, 5 and 6.
"Although we did our best to create a safe venue and institute strong COVID protocols, the extremely contagious nature of the Omicron variant requires us to be more careful. We would hate to have a government-sanctioned super spreader event to end the holiday season," Bryan said.
Testing to enter the territory
Beginning Monday, Jan. 3, all travelers into the territory will be required to submit a negative test taken within 72 hours prior to their arrival, whether vaccinated or not and including persons who were vaccinated in the territory.
Bryan said this requirement will continue for at least 30 days.
In-Person Schooling
Governor Bryan said the administration has not made any decisions on the planned reopening of schools on Jan. 10.
"We are monitoring that situation closely, particularly mindful of the kindergarten to third-grade students who have already returned to their campuses. A large number of our students have been unable to benefit from in-person learning for the last two school years," the governor said. "It is our mission to find a safe way to return them to campus. However, in light of this, we will be making some decisions in conjunction with the Department of Education and the Department of Health within the next week."
Vaccinations
Residents age 5 and older can get vaccinated at no cost at the Community Vaccination Center (CVC) located in each district; both facilities accept scheduled appointments and walk-up requests for the vaccine.
Please make sure to have a parent or guardian accompany any minor wishing to get vaccinated and bring an ID for both the minor and the parent or guardian.
For information about the COVID-19 vaccines or to schedule an appointment to get vaccinated, call the V.I. Territorial Emergency Management Agency (VITEMA) hotline Mondays-Fridays betweem 8:30 a.m. and 3 p.m. at 777-VACS (8227). Vaccination appointments also can be scheduled online at www.covid19usvi.com/vaccines. The Department of Health will bring the COVID-19 vaccine to children and adults who are homebound.
Anyone who thinks they may have contracted COVID-19 can call the Epidemiology hotline at 712-6299 or 776-1519. For more information, visit www.covid19usvi.com.
COVID-19 cases as of December 26
11.60% seven-day positivity rate
Currently tracking 544 active cases (240 STX; 296 STT; 8 STJ).
242,706 individuals tested to date.
8,213 individuals tested positive.
7,581 individuals have recovered.
88 fatalities.
There is one (1) COVID-19 patient hospitalized at Juan F. Luis Hospital on St. Croix.
There are 3 COVID-19 patients hospitalized at Schneider Regional Medical Center on St. Thomas.
The Bryan-Roach Administration is investing in the Territory's people, infrastructure and future through transparency, stabilizing the economy, restoring trust in the government and ensuring that recovery projects are completed as quickly as possible.